In a hurry to smear PM Modi ahead of Gujarat elections, Rahul Gandhi had exposed his notorious intentions in front of the media. By this, he unwillingly revealed how he is was and will help the Chinese youths to fetch employment.
"When you click a selfie and click that button, every time a Chinese youth gets employment" this was the statement made by Rahul Gandhi in Gandhinagar.
This kind of statement was not expected by the next Congress party President. But by looking at the past track records in the field of creating blunders, this sentence seemed to be totally fine.
No one knows what Rahul Gandhi meant to say by giving out that statement. But it was apparent that this created troubles to himself.
How is Rahul Gandhi helping the Chinese youths to fetch employment?
Look at the below picture where Rahul Gandhi is seen with Alpesh Thakor who recently joined Congress to defeat the secular government of BJP in the Gujarat state. In the below picture, Alpesh is seen clicking a selfie with Rahul Gandhi. By using Rahul Gandhi's logic, these both are supporting Chinese youths to fetch employment.
"When you click a selfie, and press that button, a Chinese youth gets a job": @OfficeOfRG #Profound pic.twitter.com/sPOddH1MLE

— Kanchan Gupta (@KanchanGupta) October 23, 2017
Rahul Gandhi generating jobs for Chinese youth from Gujarat … 😂😂😂 pic.twitter.com/EBZY27gWi8

— Rishi Bagree 🇮🇳 (@rishibagree) October 24, 2017
Look at the below image where Rahul Gandhi is spotted helping a Chinese to get an employment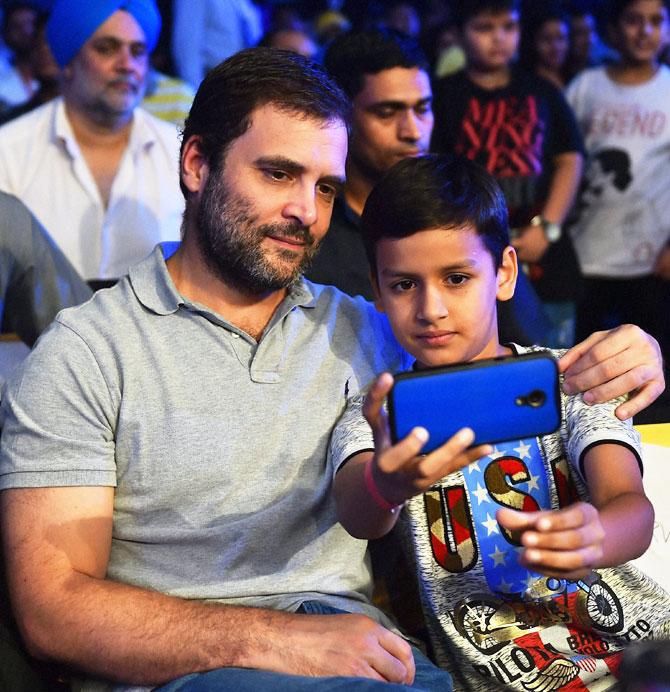 Again, the below image shows how Rahul Gandhi is helping the Chinese youths in every possible way. "When you click a selfie and click that button, every time a Chinese youth gets employment". The internet shows dozens of pictures where Rahul Gandhi was clicking selfies which proves that he has the credit of providing employment to several Chinese youths. Isn't this an injustice done to the Indian youths? If this is the condition now, what will he do to Indians if in case he becomes India's Prime Minister?
Rahul Gandhi's rally was more like a comedy show where is kept on giving out controversial and false statement. "PM said I don't like 500-1000 notes so I'm discontinuing them" by saying this statement, Rahul Gandhi mocked India's historic move against corruption i.e. demonetization. If he has forgotten then let me remind him that it was his grand mother who imposed Emergency in India for 21 months in order to eliminate her political rivals.
Congress GST= Genuine Simple Tax

Modi ji's GST= Gabbar Singh Tax =''ये कमाई मुझे दे दे"

— Rahul Gandhi (@RahulGandhi) October 24, 2017
He further said that GST is  Gabbar Singh Tax. By saying his, he is spoiling his own image. Yes, in order to implement GST, there was the efforts of several economists and tax experts. So Rahul Gandhi has mocked all of them.
Few others bashed Rahul Gandhi in unique way. Yes, few held Sonia Gandhi responsible for the irresponsible statements of Rahul Gandhi.
hahaha.. too bad a day for RaGa. Feel bad for him at times. All his mother's fault.Why don't she leave him alone. @OfficeOfRG

— Asha Bisht (@AashaBisht) October 23, 2017
Few expressed pity on social media head of Congress i.e. Divya Spandana a.k.a Ramya
@divyaspandana Seriously, he makes ur job so difficult. Do you really want to do this. Do you regret now??

— ganesh (@ganeshbabuab) October 23, 2017
I'm from Blore & I confirm she is as dumb as RaGa.. its her SM team who are making it look like her..

— sid (@JaySiddarth) October 23, 2017
---
Hansika Raj