Today all the channels are dancing to the tune of Congress giving different colours to the Mandsaur violence. Rahul Gandhi is very happy to create chaos and create law and order situation to elevate the violence in Madhya Pradesh.
These Congress people are giving big lectures to BJP government on how to treat farmers. But it is now time to remind them about the Multai Massacre which happened in 1998, when the Congress man Digvijay Singh was the Chief Minister.
Before the Multai Massacre happened on 12 January 1998, there were farmers protest since 10 months in which they were continuously demanding minimum support price to be declared for their crops which were destroyed in severe rain and hailstorms. The Congress government had repeatedly refused to give compensation or MSP or waive off their loans.
So the farmers were on warpath against the government since 10 months. On January 12th of 1998, thousands of farmers holding hoarders got down on the ground demanding compensation, as soon as the farmers started marching, 100 policemen opened fire at them and killed 17 on the spot and injuring several others.
The farmers were demanding compensation under the banner Kisan Sangharsh Morcha which was lead by Dr Sunialm, a PhD from Delhi University and Janata Dal had extended their support. The farmers had put forth 11 demands, and the most important being Rs 5000 compensation/hectar crop loss and farm loan waiver. But the Digvijay Singh government had rejected the demands which had lead to massive protests.
According to Outlook Magazine, On January 12, a 15,000-strong farmer contingent gathered outside the building and as tempers ran high, a few farmers started pelting stones at the policemen. At about the same time, a BSP election meeting, which was being held nearby, broke up and the crowds spilled over to the road and to the tehsil building. This added to the confusion and as the crowds swelled, the policemen tried to disperse the people. In the melee, two police vehicles were set on fire and superintendent of police G.P. Singh was stoned. The police who were enraged opened fire and killed 17 at the spot.
During firing, 14 year old young boy who was playing nearby was killed, a women who was accidentally pushed into the crowd was also killed and a man who was in his shop working was hit by a bullet and had died on the spot. So these were the number of innocents who were killed during Digvijay Singh rule!
But this is not the shocking part, as this was the sixth time the police had opened fire in a span of 10 months on farmers. Yes, the police had also killed farmers many times before during their protest against the Digvijay Singh government in 1997.
So the Congress should probably keep their mouths shut as they have no morality to speak on behalf of farmers. Moreover the people who hijacked the farmers protest in Madhya Pradesh was none other than Congress workers. They were well paid to create violence and riot like situation to build their political narrative in Madhya Pradesh.
If not why would the state's most richest farmers who grow OPIUM ask for Minimum support price in Mandsaur?! Why would Congress party leaders openly give a call to attack police and private vehicles? This is exactly what they wanted! After 2005, when Chivraj Singh took over as CM, the farmers situation and agricultural growth grew to be one of the best in the country.
Rahul Gandhi who wants to take pictures with dead farmers today should answer what did their government in centre do to 52,000 crore farm debt waiver?!
The CAG had reported that Congress government had misused Rs 52,000 crore which was sanctioned for loan waivers and had given it to undeserving farmers and omitted the small and marginal farmers.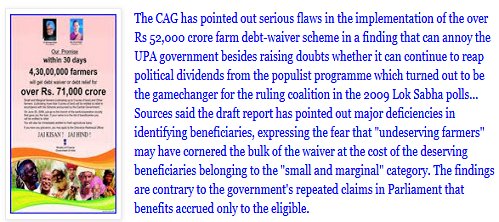 So Congress and Rahul Gandhi should probably come clean before they point fingers at others and stop his vulture politics of feasting on dead people.
---
Aishwarya S