Suddenly since 6-7 months, few people from Kannada film industry have turned very active in politics. These were such people that who did not bother to stand with the Karnataka people when the state faced Cauvery crisis, when the state suffered severe drought for consecutive 2 years, when our farmers committed suicide, but today suddenly these people have turned philosophers and are posing themselves as though they are the great saviors of Karnataka.
In India its a tradition for few people to get politically active and vocal against BJP when they need awards, site and opportunity from their favourite government, so many people transform into political analysts and part time seculars to gain personal benefits. One such person is Prakash Raj who has become very active since the time of Gauri Lankesh murder. This man was literally no where to be seen all these years apart on big screen where he played roles for money. But now he seems to have adapted acting in his real life as well to please some people for personal benefits.
Prakash Raj has been very critical against the Modi government calling PM Modi communal, anti minority and blaming him for every other incident that happens in the country. This man who claims that he has no political ambitions and is only speaking to save the country should know that our country survived the 70 years of misrule of Congress and came out of the dark days of Emergency posed Indira Gandhi. These people who claim democracy is in danger under PM Modi, never talk when our army jawans are attacked in Kashmir, they never oppose when some goons in JNU chant Bharat Ki Barbadi, Pakistan Zindabad on our land, they never speak about the 23 murders of Hindu activist in Karnataka, they do not speak about 50 murders of BJP/RSS members in Kerala…why? Because it doesn't favour their stand of pseudo secularism!
All these days Prakash Raj kept spewing venom against PM Modi, BJP and right wing activists calling them in most abusive language as murderers. Even before the SIT completes the investigation of Gauri Lankesh murder case, Prakash Raj declared that Right wing activists were responsible for her death. Although Gauri Lankesh's brother repeatedly said he doesn't trust state government's investigation and demanded CBI investigation, Prakash Raj along with Congress has continued spreading blatant lies against PM Modi and right wingers.
Everyone used to wonder what made Prakash Raj speak so venomously against PM Modi and BJP, but never questions the state government which is responsible for maintaining  law and order of the sate.We wondered why does he hate Hindus and use cheap words to attack them…but now his move has completely revealed his vested interest.
Take a look with whom he shared the platform yesterday!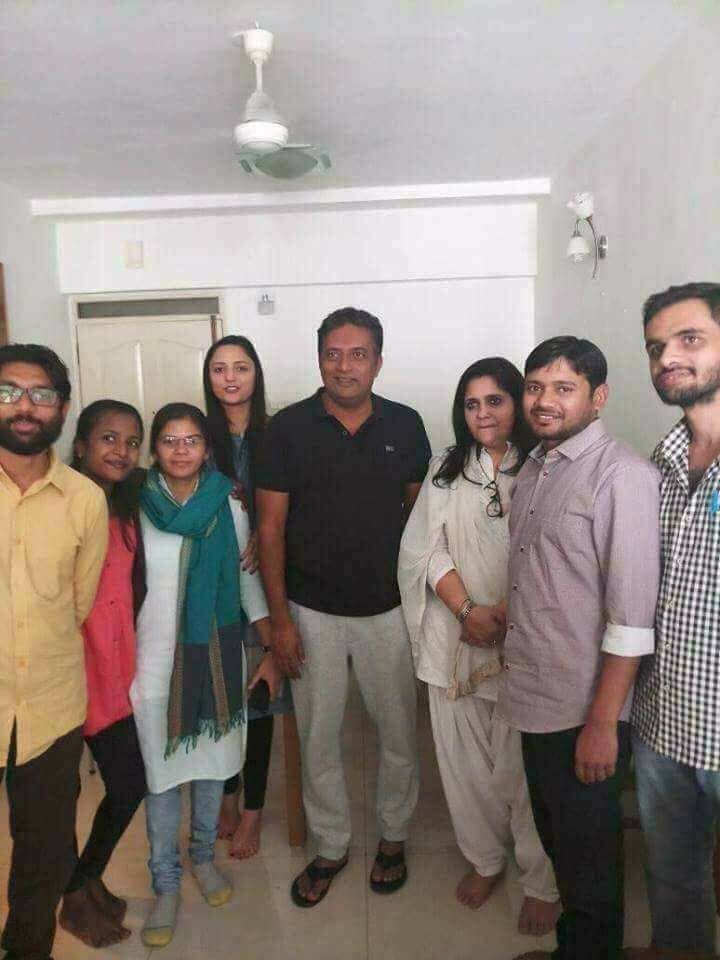 This one picture is sufficient to reveal the motive behind his constant attack against Hindus and right wingers. This is the same gang of JNU, which chanted anti India slogans 2 years back which lead to massive uproar against anti National elements. In the picture you can see Kanhaiya Kumar, Umar Khalid who were the organizers of terrorist Afzal Guru event in JNU for which they are facing sedition charges. Along with them are Teesta Setalvad, the lady who supported another terrorist Ishrat Jahan and spewed venom against  Modi for 15 years. Jignesh Mevani is another person who got funds from terror organisation PFI and anti India writer Arundhati Roy to contest elections in Gujarat. Shela Rashid called RSS a terrorists group.
So this whole team has come together not for Gauri Lankesh, but to stop BJP coming to power in Karnataka. Yesterday, the entire team organised a program of Gauri Lankesh which more so looked like a hate camapign against BJP and PM Modi with Kanhaiya Kumar making sexist remarks against PM Modi and his wife Jashodaben. Jignesh Mevani was no less and called RSS workers Chaddidharis. These people without showing minimum dignity in public made most disgraceful comments and called themselves youth icons. And Prakash Raj is teaming up with such people.
In April, I'll be in K'taka for 2 weeks,will tell 20% Dalits in the state that not even their 20 votes should go to them (BJP).An alliance of all mainstream political parties&concrete people's alliance should come together to defeat 'chaddidharis' in the state: J Mevani in B'luru pic.twitter.com/4ibANmviLF

— ANI (@ANI) January 30, 2018
Take a look at this video to know what Kanhaiya Kumar called PM Modi
#TukdeGangGauriPolitics | The Debate with Arnab is now LIVE, on air and online. Watch it here: https://t.co/lpnVZxoMbs pic.twitter.com/a9fJ0AOshq

— Republic (@republic) January 29, 2018
This is sufficient to say how Prakash Raj has teamed up with the Tukde tukde Azadi gang not for the country or Gauri Lankesh but with the sole intention to stop PM Modi and BJP in Karnataka. No wonder the Congress which is funding this Azadi gang will go to any extent to stop PM Modi. They do not mind breaking the country or even gifting away the country to terrorists like PFI and Azadi gang.
---
Aishwaraya S