Probably the Nirbaya rape case that happened in 2012 awakened the conscious of every India as to how brutal the rape incidents are. The Nirbaya gang rape was one of the most horrific act on humanity which had shaken the entire country.
The whole of India had stepped out demanding justice for Nirbaya. The entire country spoke in one voice asking the then government to hang the rapists. But the congress government did not show any interest in passing law to hang rapists and instead many of the so called liberals and seculars spoke against death penalty which gave a free hand to rapists.
After the Narendra Modi government came to power, finally the government has passed an ordinance to bring amendment to the POCSO act declaring death sentence for child rapists. The Kathua incident in Jammu and the rape of a 8 month old baby which became a major national news made the government rethink on the POCSO act. This decision to pass ordinance against the Child rapist was headed by Prime Minister Modi himself who made it clear that child rapists cannot be spared. Just hours after he arrived from his UK tour, PM Modi called for an emergency cabinet meet in which the decision to amend the existing POCSO act was taken.
#BREAKING Ordinance on death for child rapists approved, Centre clears criminal law amendment ordinance, POCSO part of this amendment @MeghaSPrasad shares more details #DeathForChildRapists pic.twitter.com/Rn8UliPQfU

— TIMES NOW (@TimesNow) April 21, 2018
The cabinet has made many changes which would definitely decrease the number of child rapes in the country. The important amendments made to POCSO act are as follows: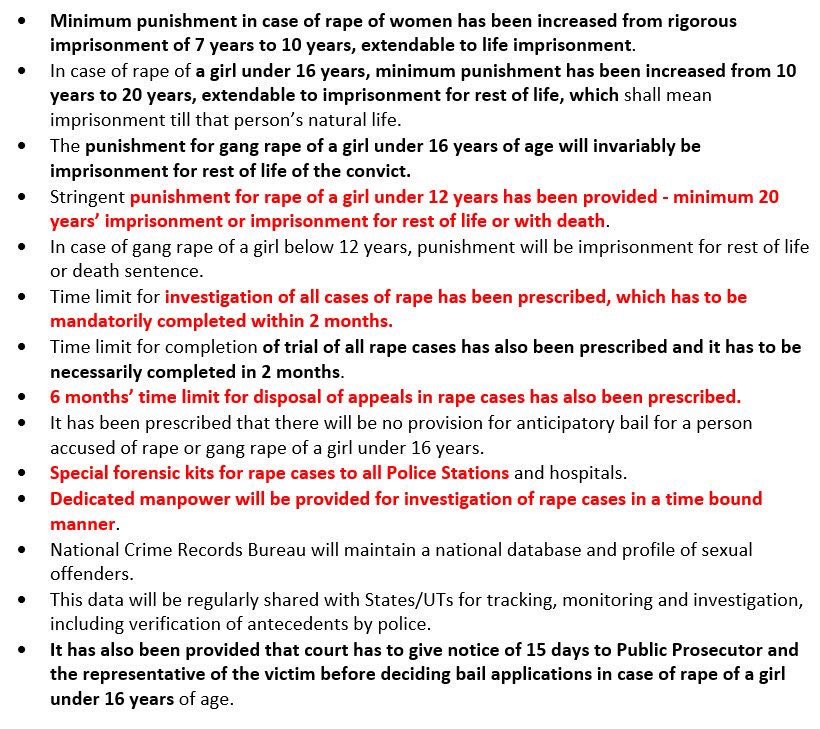 When Nirbaya rape incident happened in Delhi, the courts took nearly 5 years to pass judgement which was a shame on judiciary. Many people felt betrayed when the court pardoned the most brutal rapist Mohammed Afroz just because he was 17 year 8 months and considered a minor. But this time the Modi government has not given any chance to crooks to escape law and has made amendments in the POSCO act.
However the same liberals and seculars who came on streets after Kathua incident are now speaking against the ordinance and do not want the rapists to be hanged. This simple incidents shows these shameless people are the ones who use brutal incidents like rape for their political benefits and only want more such incidents to happen so as to play politics.
The entire country has welcomed the move and applauded Narendra Modi for taking a stringent action which was long overdue.
Take a look!
It was long overdue, it is in the right direction. Children are now becoming an easy target. Why would anyone oppose this?: @thekiranbedi, Lieutenant Governor of Puducherry | #DeathForChildRapists pic.twitter.com/DDJ90eexcI

— TIMES NOW (@TimesNow) April 21, 2018
#BREAKING Ordinance on Death for child rapists approved, Centre clears criminal law amendment ordinance, #POCSO part of this amendment.

Credit to the #Modi Govt for this much needed tweak in the law. Only question is, why didn't earlier Governments do it?#DeathForChildRapists

— Jagrati Shukla (@JagratiShukla29) April 21, 2018
I'm glad gov. took this step. But also make sure that no innocent gets this capital punishment for somebody's foul play#DeathForChildRapists

— Rahul Kumar (@urstruely_rahul) April 21, 2018
#DeathForChildRapists Thankyou @PMOIndia ?? This ordinance is most welcome .

— SURYA Mamidi (@surya_mamidi) April 21, 2018
Great & much appreciated decision. In fact this would have been done so earlier. #DeathForChildRapists https://t.co/W03yjTqkt7

— Kumar Rajnikant (@iRajnikantKumar) April 21, 2018
Death for Rape of children below 12, the much needed amendment in #POCSO act .Yes, Definitely there z relief Bt why this decision is only for rape of girls upto 12 yrs old,death shud be made mandatory for all rapists! Infct it must be awarded for any rapist#DeathForChildRapists

— nandini sinha (@nandinimee) April 21, 2018
Well done Modi Jee
much needed,Thanks!#DeathForChildRapists

— *Naaz* (@NaazSpeaks) April 21, 2018
Thank you P M @narendramodi Sir for the decision, #DeathForChildRapists wish to see more strict rules to eradicate criminals

— sunita pandey (@sunitap17188169) April 21, 2018
PM Modi mulls new law to punish child rapists
Existing Law: No set deadline for appeal
Proposed Law: 6 months time for appeal@MeghaSPrasad shares more details #DeathForChildRapists pic.twitter.com/E30oUuQjq0

— TIMES NOW (@TimesNow) April 21, 2018
---
Power Punch