The NDTV has been the front runner to divide society on communal lines. The way they are propagating lies against India and Hindus has turned out to be a nuances in the recent times.  With no action being taken against their lies, they continue to mislead people with fake stories.
Recently they were caught red handed while trying to protect the mob lynching incident in Kashmir where Dy SP Mohammed Ayub Pandit was killed brutally outside a mosque. The NDTV deliberately twisted the facts and projected the police man opened fire at the mob and therefore the mob attacked him. But the real story turned out to be that agitated mob attacked the police officer while he was providing security for Separatist leader Mirwaiz Umar Farooq.
The media again spread fake news about a fight which erupted due to seat sharing in train and gave it communal turn to blame it on gou rakshaks.The family of the victim later gave statement expressing anger over fake news generated by media.
Despite NDTV getting a bad name as Anti National and communal, they still continue to do spread fake stories. Yesterday, the NDTV again reported that a Hindu mob attacked a man accusing him of carrying beef. But later it was found that the man was accused of rape and the family members along with villagers had attacked him.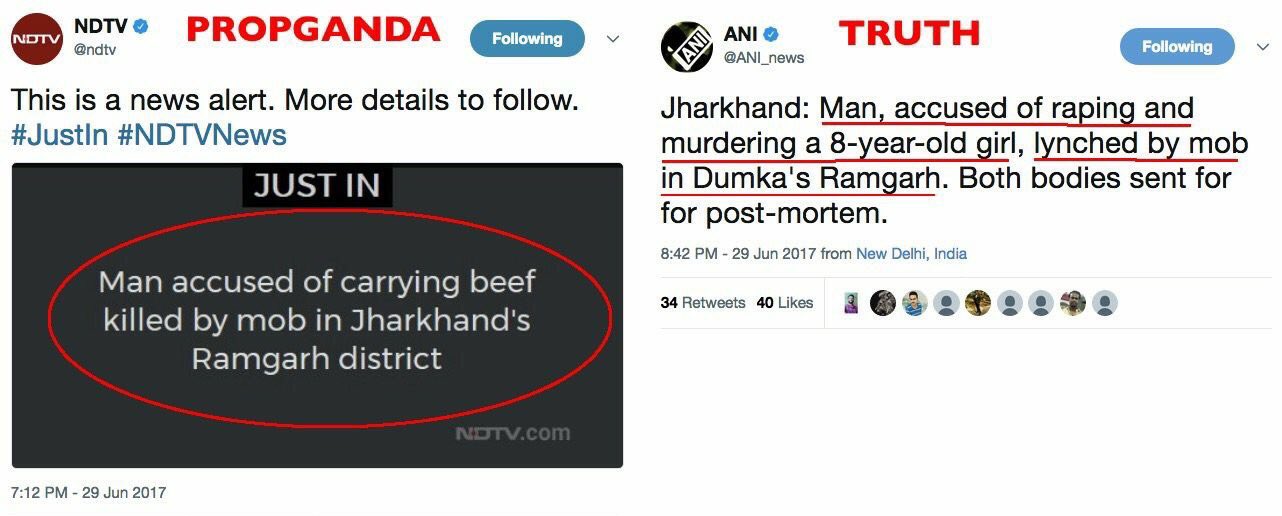 This is how NDTV is building fake stories just to favour Congress party and malign the Modi government in the name of intolerance.
But check how conveniently they hide the real issues!
Mob strips Dalit kids, beats them. @ndtv deletes names of prime accused, Mehmood, Irfan & Salim from report. So not on list of #NotInMyName pic.twitter.com/4jGjRKvPyX

— Kanchan Gupta (@KanchanGupta) June 29, 2017
These media house do not fear law and think they are above questioning. If stringent action is not taken against these hate mongers, sure the country will be torn into pieces with these fake propaganda.
---
Aishwarya S