Next time if Rahul Gandhi speaks anything about women empowerment he should be made to apologize in public. Rahul Gandhi just three years back had rambled non-stop about women empowerment to Arnab Goswami, but today suddenly he has forgotten the plight of Muslim women who have been the victim of triple talaq. Today the Congress party has decided to join hands with their age old allies NCP, AIMIM, RJD and TMC to oppose the Triple Talaq bill which makes Triple Talaq practice a punishable offence with a jail term of 3 years.
The LAW!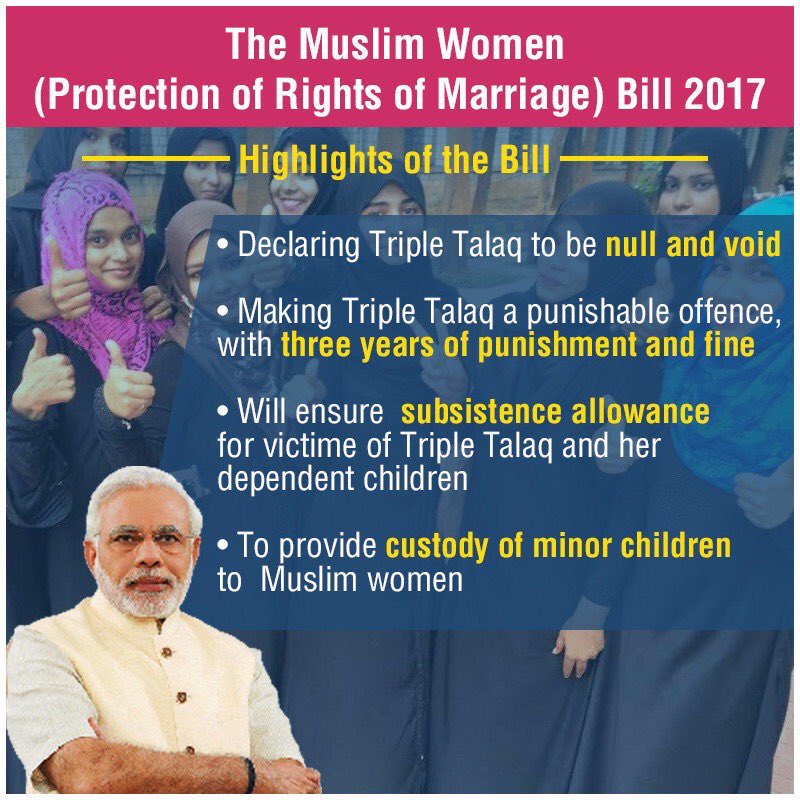 The AIMIM leader Asaduddin Owaisi has been opposing the Trible Talaq Bill since before claiming it is draconian and against the Islamic laws. It is a very expected move by Owaisi who doesn't believe in gender equality and wants to use it as a political tool. The main aim of these people is to keep women deprived of every rights so they remain slaves to such unethical practices. The main thing which is making them worry is, they will lose control and dominance over women which they are not used for decades.
Congress leader also spoke against the bill saying if the husband is put to jail for silly reason, then who will care for the family.
I don't think we can support it because they didn't made us understand how this criminality of Triple Talaq will benefit women. If someone is lodged in prison as a punishment for saying Triple Talaq, who will take care of his family: Salman Khurshid, Congress on #TripleTalaqBill pic.twitter.com/C6OgzzGH07

— ANI (@ANI) December 28, 2017
This will be a sad day for Muslim women if this Bill is passed, says Asaduddin Owaisi, AIMIM Chief #TripleTalaqBill pic.twitter.com/FeDfY1uCaF

— EconomicTimes (@EconomicTimes) December 28, 2017
To put it bluntly, those political parties who are opposing the Bill clearly have a vested interest of using women as a 'Child producing machine.' Most of the so called secular parties use Muslims as vote banks to win elections and many leaders have openly declared that Muslims need to produce more kids to defeat parties like BJP. It is a clear indication of how these political parties are aiming to change the demography of the country and make the Muslim population highest in next 20-30 years.
According to a survey conducted by Pew Research centre, India will have highest Muslim Population by 2050 said the report. So opposing Triple Talaq bill is not just a random move by the Congress and other parties, but a well planned agenda with a larger interest in mind. This is exactly the protocol being followed in Kashmir. Increasing the Muslim population, not allowing others to enter the state by opposing the removal of Article 370 and turning the entire state into a Muslim dominated area.
So this no secret and this is what pseudo secular parties are aiming at. It is also one of the reason why the same parties support Rohingya refugees even though they have posed serious threat to National security.
But the Muslim women who have suffered due to Triple Talaq have welcomed the move and said they are very happy that their long fight has now been rewarded. Many Muslim women have thanked the Modi government for banning the unethical and inhumane practice of Triple Talaq and said the law will definitely benefit those who have suffered and thrown out of house for silly reasons.
Lucknow: People like us who have been divorced & those who are threatened with divorce would be benefited from this law. If a law is formed for Triple Talaq just like there is a law for domestic violence, we will get some relief: Huma Khayanat, victim on #TripleTalaqBill pic.twitter.com/k3ygNopAme

— ANI UP (@ANINewsUP) December 28, 2017
This is a historic day, victims have suffered for years and they have been rewarded for their patience. Request all MPs to help pass #TripleTalaqBill : Shaista Ambar, All India Muslim Women's Personal Law Board (AIMWPLB) pic.twitter.com/1hAzNz0OS1

— India TV (@indiatvnews) December 28, 2017
---
Aishwarya S