In has become a tradition to mock the medicinal values or any other benefits that are reaped by cow urine and cow dung, even though scientific study has revealed that cow urine and its dung has medicinal values. This is only because of the fact that cow is worshiped by the Hindus. So even if Hindus say that cow milk is good to health, few lunatics argue otherwise.
But now in what is termed as a bath breaking invention, the Union minister of state for micro, small and medium enterprises Giriraj Singh launched a paper made from cow dung in the city of Jaipur. In Kumarappa National Handmade Paper Institute (KNHPI), a unit of Khadi and Village Industries Commission (KVIC), this paper was manufactured.
How this paper was manufactured?
The Kumarappa National Handmade Paper Institute has manufactured the paper by mixing cow dung and rag paper. Now this will be a game changer in the sector agriculture not just because the income of the farmers will be increased but also will ensure that trees are henceforth not cut-down for the purpose of manufacturing paper.
Otaram Devasi, minister of Gopalan department said "One gaushala has started making paper in Jalore. Our department always encourage gaushalas to contribute to the state economy through various cow produce. The state government is providing funds to private gaushalas also".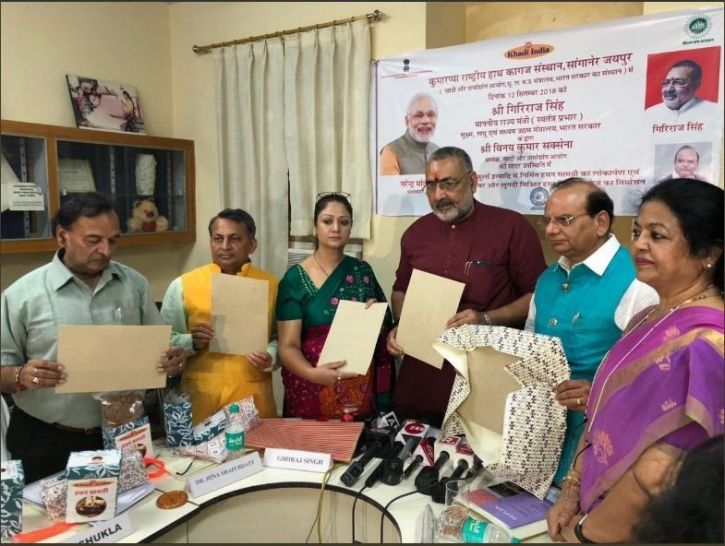 It should be noted that more than five lakh cows are taking shelter in 1,160 registered gaushalas in Rajasthan. An official said "One of the missions of Gopalan department is to reestablish the holistic and economical significance of cow and its progeny by increasing the production and value addition of its products".
In 2010, a study revelaed that "Walking on fresh cowdung is very healthy. It kills all the germs and bacteria and heals wounds. And dry cowdung is a great scrub to get rid of dead skin and improve blood circulation."
An oncologist, Mayur Patel, working at the Gujarat State Cancer Research Centre had said "I've read about the benefits of cow urine and dung. My patients take it and I allow them to do so. It's an alternative form of medicine and it has no negative effects".
There is no much hatred towards cowdung from the pseudo liberals and seculars but this brigade can't tolerate any good news about cow urine. Recently the darling of pseudo seculars, Dhruv Rathee had said that there is no evidence to prove that cow urine cures ailments, which was indeed a fake news.
Almost a decade back, a woman named Nila Parmar, a housewife in Ahmedabad who starts her day by drinking cow urine said "Trust me. I tried allopathy and homeopathy to cure my liver disease but nothing worked. I kept changing doctors for over two years but it's gau mutra (cow urine) that did the trick".
Its no more a secret that a lobby is working towards spreading wrong information regarding the benefits of cow-urine and other cheaply available Indian medicines. That's because if the products related to cow replaces the other medical products (that has high amount of side effects on health), then it will totally demolish the foreign funded pharmaceutical mafia in India.
Now its on the Indians to replace the pharmaceutical medicines that are harmful to one's health with the natural medicines.
Source:Times Of India
---
Hansika Raj