Surprised? At present, exactly 22 states have been Saffronised by the Bharatiya Janata Party under the able leadership of Prime Minister Narendra Modi. The strategies formulated by the BJP President Amit Shah have been systematically executed by the Karyakarthas of the BJP, and there is no doubt in it. But these are not the only reasons for the victory spree of the Modi government.
The crores of women who love PM Modi and consider him as their god and saviour are the reason for BJP's victory march. Perhaps this is the first time in the history of India that women have supported a Prime Minister like this. After all, why the Indian women love and respect PM Modi to that extent?
"Yatra Naryastu pujyante! Ramante tatra Devata" (Where women are respected, Gods make their Home) says Sanathan Dharma. PM Modi has followed every word from this sentence. On May 3rd in one of the rallies that was held in Bangalore, a woman tried to touch PM Modi's feet as a sign of respect but PM Modi stopped her before she could do it and said that never do it. Yes, have you ever seen PM Modi allowing a woman to touch his feet? No, he doesn't even tolerate that and there is a reason for it.
He is of the belief that a woman represents Aadi-Shakthi Lakshmi and that's why if he meets an elderly woman, he touches her feet and seeks blessing; if he meets a women younger to him, then he keeps his hand on her head but never ever allows a woman to touch his feet. India has rarely seen a Prime Minister who considers women equivalent to Devi.
What are the decisions taken by PM Modi in favour of women?
In an effort to assist women in distress, PM Modi launched one-stop crisis centres. The scheme "Beti Bachao Beti Padhao" was yet another success as it helped the girl child in various ways. PM Modi educated the Indians the importance of a girl child. During his Independence Day speech in the Red Fort, PM Modi asked the parents that why doesn't they question their son "Where are you going" like how they question their daughter while she leaves her home. This was another step to ensure women empowerment. Since Independence, several Prime Ministers had just promised the safety of women but PM Modi enforced rules and schemes that could strengthen the women.
Here are the historic decisions taken by Prime Minister Modi for women!
The happiness of women can't be expressed when she comes to know that she is pregnant. After 9 months of keeping her child in the womb, she finally delivers. But the pain can't be expressed when she has to leave her baby child and go for work to meet the ends of the family. At this helpless situation, PM Modi came to their rescue. He extended the leave period of 12 weeks to 26 weeks–more than doubled—to the mothers after the delivery of their child. After all these, won't the women have a never ending smile of their face?
Who can forget the "Ujjwala Yojana" which aims to safeguard the health of women and children by providing clean cooking fuel? Earlier women had to sit front of smoke risking their lives.
Even though women are equivalent to goddess in India, there was no scarcity of lunatics who abuse and harass these goddesses. It was PM Modi who put an end to the triple talaq practise and brought a smile in the face of lakhs of Muslim women.
For the betterment of girl Muslim children and their education, Prime Minister Modi allotted Rs 51000/- under the scheme "Shadi Shagun". There was a rule that women cannot go to Hajj without the accompany of men but PM Modi brought a rule under which Muslim women can go to Hajj on their own. Still, the women won't love and respect PM Modi?
While felicitating the women who won medals in the Olympics, Prime Minister Modi said "Beti Bachaao, Beti Padhao, Beti Khilao".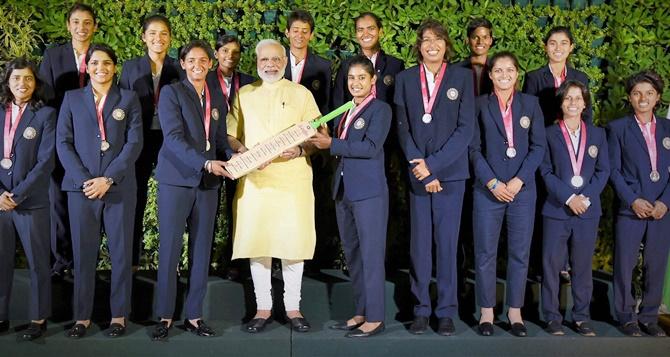 It was PM Modi who has the highest number of women in his cabinet. Yes, India has 6 central women ministers after 70 years of Independence. Prime Minister Modi trusts women to the extent that he has handed over India's safety to Mrs Nirmala Sitharaman who has taken charge as a defence minister. Even the speaker of Lok Sabha—Sumitra Mahajan– is a women. For the first time a woman lawyer named Indu Malhotra entered the top judiciary directly. Isn't this a fantastic development?
To the poverty ridden women "Swadhar Greh" scheme, for the agriculturist women of rural India "Mahila Kisan Sashaktikaran Pariyojana" scheme; has helped them to lead a self-dependent life.
Women become more self-reliable due to "Jan Dhan" and "Mudra Scheme". Death penalty if a girl child below the age of 12 is raped was a historic decision by Modi government. It was Mr Modi's government that said that women can have passports without attaching a man's name to theirs. Even in the Army, Navy and Air Force, many changes were amended to benefit the women.
Perhaps for the first time since Independence, women were able to walk with their head held high. PM Modi had seen how his mother had faced hardships since his childhood and that's what motivated PM Modi to ensure a better life to crores of women in India.
India has changed; India is back on the age-old principle of respecting the women. India believes women are not just fit to run the house but even the nation. This trust was planted in the minds of Indians by PM Modi and it is yielding results in a super speed. India is considered as a woman (Bharat Mata) and the Mata is rightly honoured by PM Modi.
So, let me reiterate that not just Amit Shah and the Karyakarthas but the Modi government is capturing one after another state with ease due to the support of crores of Indian women.
---
Hansika Raj