PM Modi has attained another feather in his crown as Facebook has declared him as the world's most popular leader on Facebook with 56 million cumulative likes. On 11th April, a report stated "Prime Minister Narendra Modi, with over 43.5 million likes on his personal Page and 13.7 million likes on his official Page on Facebook, is the most popular world leader on the social network as more world leaders are now paying to promote their posts".
Facebook–a social media networking site where people from all the age groups are largely found–is used by political parties across the globe. But PM Modi topping the list is a symbol that he is accepted as a global leader.
As per the "2019 World Leaders on Facebook" report, the second placed is bagged by the United States President Donald Trump who has more than 23 million likes. The third place is bagged by Jordan's Queen Rania who has 16.9 million likes. Note that the report is prepared by leading global communications agency BCW (Burson Cohn & Wolfe).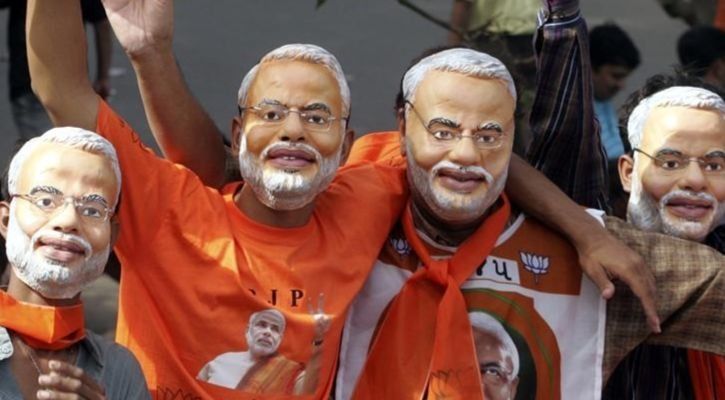 The findings also stated that "Followers of world leaders' Facebook pages grew by 10 per cent (year on year) but the interactions on their Pages have dropped significantly. While world leaders registered 1.1 billion interactions in 2016, that number has decreased by 32.3 per cent compared to their interactions in 2018".
Not just on Facebook, PM Narendra Modi is very popular on several other social networking sites like Twitter and Instagram. PM Modi has 19.9 million followers on Instagram and has 46.8 million followers on Twitter.
The awards received by him in the past holds a mirror to his achievements. Zayed Medal, Seoul Peace Prize, Philip Kotler Award, UN Green Award, Grand Collar of the State of Palestine, King Abdullaziz Sash Award, Amir Abdulla Khan Award and The Order of St. Andrew are some of the awards received by PM Modi from other nations and global organisations.