Kill everyone except Muslims!!!
"What is happening in India? Hindu fools are worshipping cows, snakes and even Shiva Linga. Why doesn't anyone doing anything to them? Allah says all non-believers must be killed. There should not be Democracy, Hinduism, Christianity or anything else left in the world".
Poison Kumbh Mela waters, use trucks to kill all non-Muslims in India!!!
You should think of ideas to kill non-Muslims. You are students, you must use your brains. Poison them, use trucks against them. Attack gatherings like Thrissur Poram and Maha Kumbh. You should follow methods used by Mujahideen around the world. If you get weapons, attack non-Muslims, plan a train accident to kill them. Why isn't anyone doing anything to them? Allah says all non-believers must be killed. There should not be Democracy, Hinduism, Christianity or anything else left in the world.
Guys, My request is to spread this case ?. Media who reported this News are misleading facts, I am getting trolls as i highlighted voice of Victim https://t.co/JzLQnz7vCZ

— Anshul Saxena (@AskAnshul) November 14, 2017
Contribute money to kill Non-Muslims!!!
Ask those who aren't part of the Caliphate to migrate to ISIS territory. If you are not able to do 'Hijrah', support the caliphate by donating cash. Several nations are trying to destroy the caliphate. Our aim is to have Muslim rule across the world. No non-believer must be allowed to rule. We must not follow human rules in the new world. We are fending off attacks from non-believers across the world. Everyone must take up the fight against non-believers.
This is the reality of Islamist extremist group PFI which is supported by ex Vice-President Hamid Ansari!!!
Are you stunned, shocked, terrified after reading the above statements? This is the plan of Popular Front of India (PFI) to eliminate Hindus, Christians, Sikhs, Jains and all other religion from the world. This is one among the 50 such messages in the whatsapp from Daulatul Islam – a regional IS outfit.
Islamic State warns of Las Vegas-like attack on Kumbh Mela, Thrissur Pooram in new audio.
Govt must ensure this doesn't happen. Indian #Muslims must take a stand against #ISIS, because if this happened,nothing would be able to stop Riots which nobody wantshttps://t.co/jYhFfqUef7

— Jagrati Shukla (@JagratiShukla29) November 15, 2017
Kerala Police recovered this video!!!
This video has been recovered by the Kerala police from Whatsapp groups in which PFI members were active. Abdul Rashid is the man behind the audio tapes, the alleged leader of the Islamic State module in Kasaragod who had left the country to join the outfit in Afghanistan.
This man has been charge-sheeted by NIA under IPC sections 120B r/w 125 and Unlawful Activities Prevention Act (UAPA) Sections 38, 39 and 40. Not just this, Interpol Red Notice has been issued against Abdul Rashid.
"This is very serious. They are going to take the battle to India from Europe and the Middle East". These were the words of fear from former special director of Cabinet Secretariat, V Balachandran and the Kerala DGP Loknath Behera said that this issue is being investigated.
PFI and its link with Hamid Ansari!!!
Before leaving his office as a vice-President, Hamid Ansari made a disgusting statement saying Muslims are not safe in India. Due to this, he received praises from pseudo seculars and liberals but very soon he was found in an event which was organised by "Popular Front of India" (PFI). Now this organization is exposed of its notorious intentions and it is interesting to see whether Mr Hamid Ansari will give out any statements on this.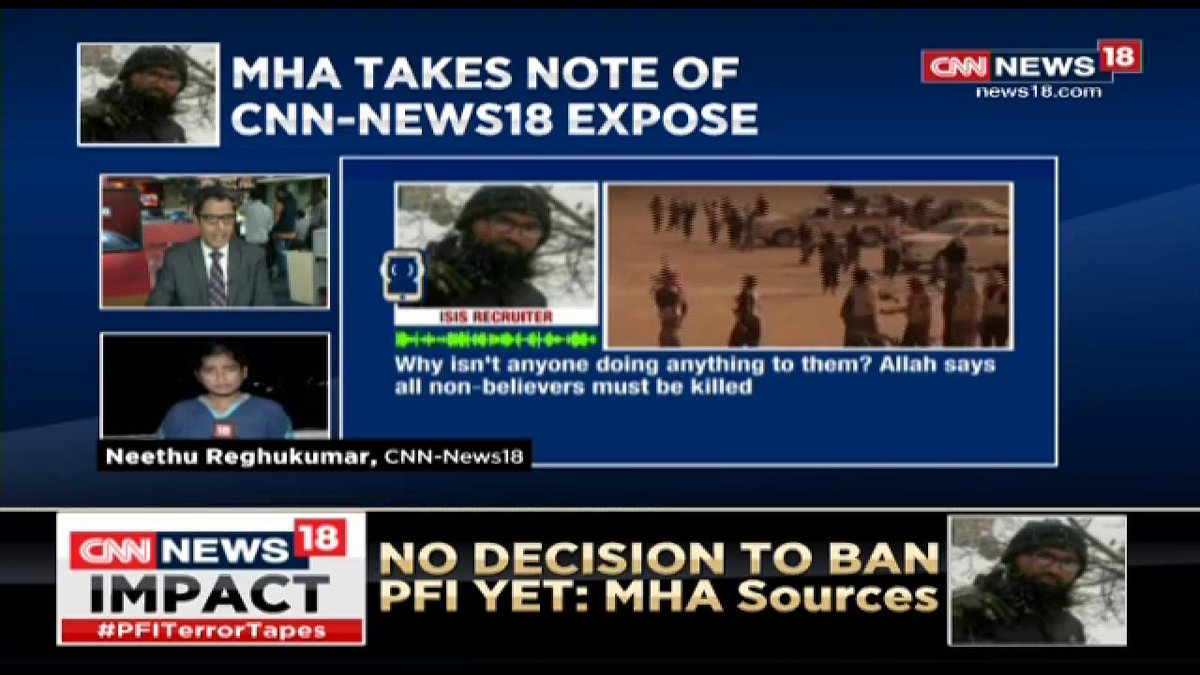 #EXCLUSIVE | Listen in to Part 2 of #PFITerrorTape accessed exclusively by CNN-News18 pic.twitter.com/ZWtR3z8Z5Q

— News18 (@CNNnews18) November 14, 2017
Source: https://www.dnaindia.com/india/report-audio-clip-of-isis-threatening-to-attack-kumbh-mela-thrissur-pooram-has-cops-on-high-alert-2560138
---
Vimarsh Kumar