Even after the supreme court gave a clean chit to the Modi government in the Rafale deal, the Congress party isn't ready to accept that there was no scam in Rafale deal. On 8th February, Rahul Gandhi once again brought back the Rafale debate and this time he hooked on to a fake report published by the left leaning "The Hindu" news portal.
In what it called as an exclusive news break, The Hindu said that the Defence Ministry had protested against PMO undermining Rafale negotiations. The report added "Stating that it was clear that such parallel discussions by the PMO had "weakened the negotiating position of MoD and Indian Negotiating Team," a Defence Ministry note dated November 24, 2015 brought this to the attention of the then Defence Minister Manohar Parrikar".
The Hindu published this letter to push its fake story: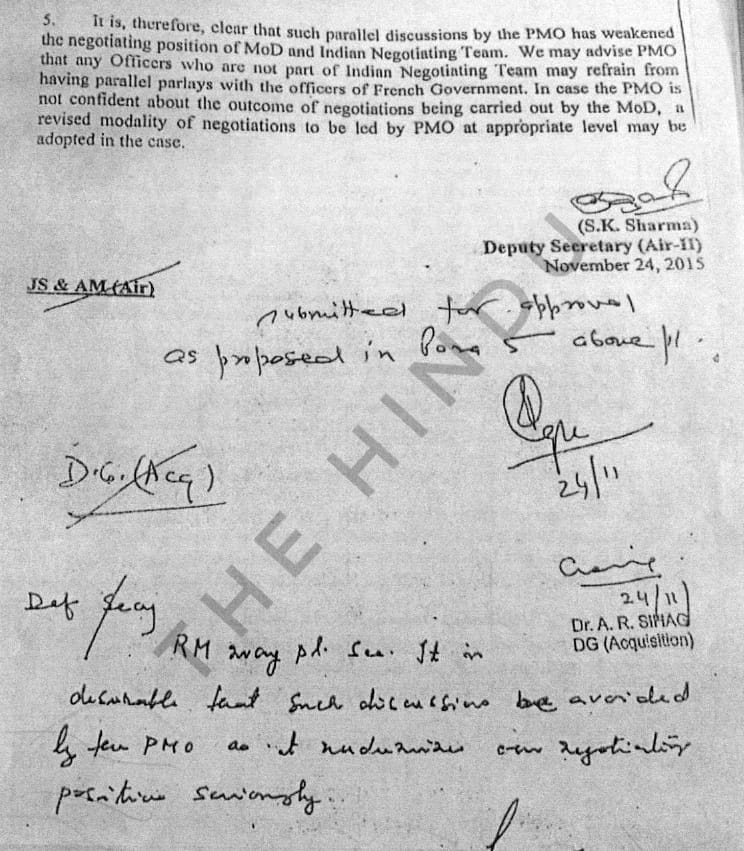 This was enough for Rahul Gandhi to attack the Modi government and once again shouted that a scam took place in the Rafale deal. Congress chief had blabbered that PM Modi and his office had interfered in the pricing of the Rafale deal, which was objected by the Ministry of Defence.
But when the non-distorted letter was published by ANI, the lies of Rahul Gandhi and The Hindu got exposed. Yes, the full letter proves that there was no objection raised by the MoD. Mr Manohar Parrikar who was the then defence minister said "It appears that PMO and French President's office are monitoring the progress of the issue which was an outcome of the summit meeting. Para 5 appears to be an over reaction. Def Sec may resolve issue/matter in consultation with Pr. Sec to P.M".
Here is the non-distorted letter which has a note from Mr Parrikar:
This proves that The Hindu deliberately omitted the note of Mr Parrikar just to give Rahul Gandhi some fake material. Even after the lies of N Ram led by The Hindu got busted, he didn't apologize. N Ram said "the government not only failed to give the information it should have given to the Supreme Court, but it actively misled the Supreme Court".
Did @the_hindu wilfully not publish full notesheet with Def Secy's comment on #RafaleDeal? Full notesheet has RM Manohar Parrikar's reply. If N Ram did have the full notesheet yet quoted it partially, it's a mockery of facts and travesty of truth. @ANI throws it back! RT and ask. pic.twitter.com/IGDLVKUtUt

— Kanchan Gupta (@KanchanGupta) February 8, 2019
---
Hansika Raj