Just few days back Rahul Gandhi made a very silly comment in UK where he compared a Nationalist organisation like RSS to a terror organisation Muslim Brotherhood which was founded in Egypt by Hassan al-Banna.  He said that RSS was indulged in spreading hate and divide society just like the Muslim Brotherhood.
The RSS is trying to change the nature of India," the Congress chief said at the International Institute of Strategic Studies in London last week. "There is no other organisation in India that wants to capture India's institutions… What we are dealing with is a completely new idea. It's an old idea being reborn. It is similar to the idea that exists in the Arab world of the Muslim Brotherhood. The idea is that one ideology should run through every institution and one idea should crush all other ideas."
But it is now time to remind Rahul Gandhi if he knew that Muslim Brotherhood was a terror organisation which was indulged in carrying out terror activities, why was his own party leader and former Prime Minister of India Manmohan Singh engaged with the Muslim Brotherhood key leader Morsi in 2013.
In fact, Morsi even visited India and the Congress government hosted the Muslim Brotherhood person dinner, which the Congress-friendly media called it a new era in Indo-Egyptian ties. The Congress even signed seven agreements and expansion of defense ties was a key achievement of Morsi's trip. Just few months after his India trip, Morsi was thrown out of power following massive protest in Egypt.  Today Morsi is serving a jail term for his terror activities.
So, Rahul Gandhi rather blaming the BJP and RSS of having terror inclination, should introspect his own party and ask his party leader Manmohan Singh as to why did he host a terrorist like Morsi in India.
Manmohan Singh who today wrote a so-called strong letter to Prime Minister Narendra Modi, advised him not to convert the Teen Murti complex to all Prime Minister's museum, should question himself where was his strong attitude when his own government was in power. Sonia Gandhi and Rahul Gandhi who are likely speaking through Manmohan Singh made him write a letter opposing the central government's move to convert Teen Murti Complex to a museum where all Prime Minister's legacy is displayed.
However, the Gandhi's which are on a habitual mode of treating all government houses and residence as their personal property did not want the Teen Murti Complex to be converted into a museum. So, Manmohan Singh on behalf of the Gandhi dynasty wrote a letter quoting "Jawaharlal Nehru belongs "not just to the Congress" but to the "entire nation", and thus, the Teen Murti complex be left "undisturbed" (Indian Express Report).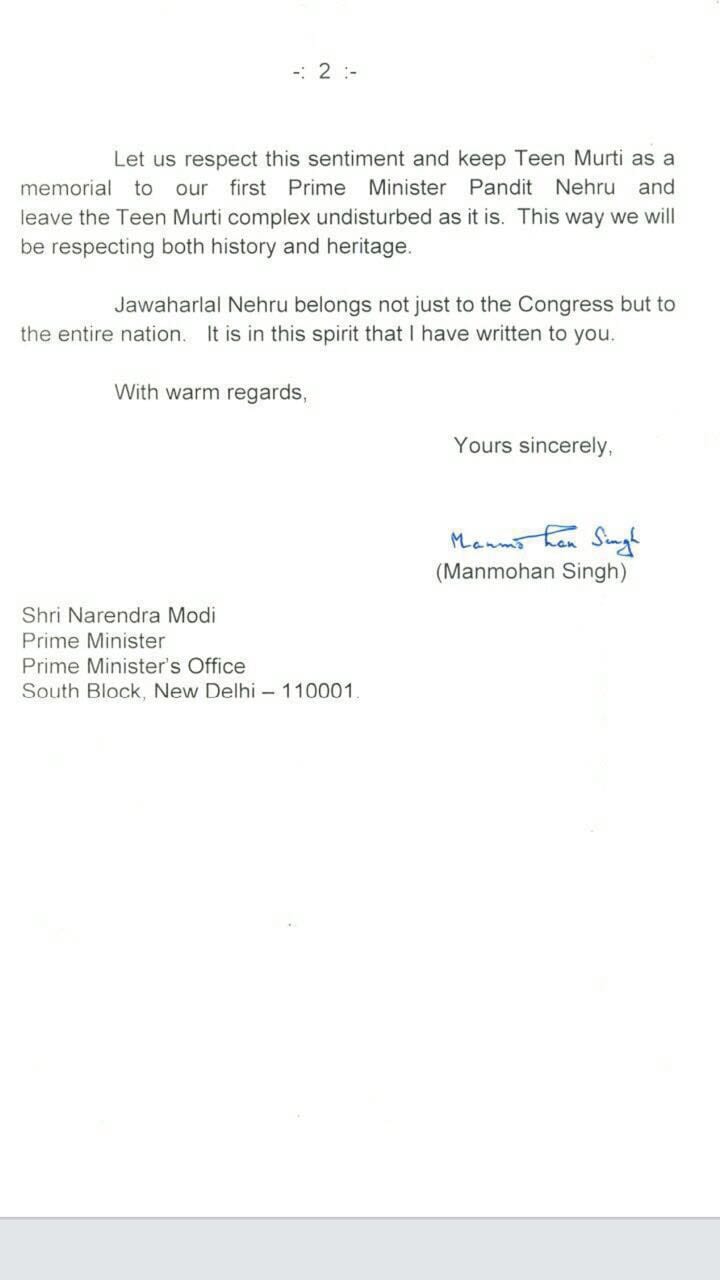 Singh wrote that NMML "must remain a centre of first-rate scholarship and professional excellence. The museum itself must retain its primary focus on Jawaharlal Nehru and the freedom movement because of his unique role having spent almost ten years in jail between the early 1920s and mid-1940s. No amount of revisionism can obliterate that role and his contributions."
Manmohan Singh who now tries to show his attitude against PM Modi should also question Rahul Gandhi who on a global platform is maligning India.
---
Power Punch