Since many years there has been a massive debate on the Rafale deal. During the Congress government, it was exposed that there were many flaws in the deal and many Congress ministers were involved in getting huge kickbacks from this deal. BJP had then raised issues and produced some documents relating to discrepancies in the deal. The deal hit a deadlock and even after 8 years, there was no fighter delivered to India, except that the rates kept increasing.
But the critical part here was the Indian Air Force was out of crucial ammunition and war accessories which had caused a great concern in the armed forces. Although this information was not revealed at first, on later stages it was understood that the Congress government had completely neglected the defence purchases and the total ammunition was sufficient for 10 days if at all any war was declared.
But after the Modi government came to power the armed forces made a request to clear the defence deals as it was pending since long and the severe shortage of ammunition and war jets was a matter of concern. The Modi government along with many other defence deals took up the Rafale deal as the top priority. In a span of 1 year, the deal was sealed with their weapon packages, associated supplies and logistics, after scrapping the long-pending and deadlocked $20 billion MMRCA (medium multi-role combat aircraft) project for 126 fighters. The first set of 36 Rafale jets were signed to be delivered by 2019.
But the Congress immediately rose objections over the deal calling it fraud and demanded revelation of details on Rafale deal. Without producing credible documents or data, the Congress President Rahul Gandhi simply alleged that there was a scam in the deal of the Modi government and wanted them to declassify all the files related to Rafale. When the deal was done by Modi government, everyone in the defence sector and the political analysts had appreciated about the hard talks done by Modi government which not only brought down the cost of the Rafale deal but also got an upgraded version of fighter planes.
Now, before explaining why Rahul Gandhi desperately wants the government to release details of Rafale deals lets see why Congress argument falls short of facts and data which is purely a fake narrative propped up to attack Modi government.
Allegation 1 by Rahul Gandhi: 'PM Modi indulged in corruption and money was made'
Firstly, when Congress made a deal, the partnership was made with HAL (Hindustan Aeronautics Limited). But the deal with HAL hit dead block after HAL put a precondition that it would be the lead integrator, and, hence, a partnership between the selected OEM (original equipment manufacturer) and the HAL would be mandatory. But precondition was not accepted by Dassault company which supplies Rafale jets. The Congress showed no interest to clear the clash between HAL and Dassault which finally lead to cancellation of the project.
The main reason Dassault refused partnership with HAL was because of its inability to showcase the state of art facility, man power and required high end technology to handle the OEM. And hence Dassault Aviation was not prepared to risk the reputation of their industry and thus selected Reliance defence limited as their partner.
Allegation 2: The NDA government paid excess money than UPA
According to Congress, they got a proposal in 2007 to procure 126 Medium Role Combat Aircraft for the airforce. The Congress said that they had discussed the deal for $12 billion (Rs 42,000 crore) and 18 aircrafts were going to be delivered in flyaway condition and another 108 flights were to be made in HAL. They alleged that in 2016, Modi government cancelled this deal and agreed to pay $8.7 billion (over Rs 56,000 crore).
But the Congress here conveniently spread fake news that they had made a deal with Dassault for Rs 42,000 for 126 Aircraft. But in reality, the deal was never done and the Dassault company had never agreed to this deal. If you analyze closely, you will rather get to know the deal made by Congress was much more expensive, as it had agreed to only 18 aircrafts in flyaway condition and another 108 would still had to be manufactured in India by HAL without the help of Dassault company. The Congress had falsely claimed that there would be transfer of technology, but the documents suggest that no such proposal was made by Congress government and the original equipment manufacturing responsibility was on HAL. So this was exactly why the Dassault company had rejected the deal proposed by Congress government.
So, the Congress government was ready to pay Rs 42,000 crore just for 18 aircrafts in flyway condition and agreed to spend extra money on manufacturing 108 aircrafts in HAL without Technology Transfer to again loot money in that project. Another important thing to be noted is, the Congress government had never made agreements on weapons package, logistic support or supplies for aircraft and up-gradation.
But the current Rafale jets procured by Modi government has the latest technologies which includes lethal weapons package, performance-based logistical support, 13 India-specific capabilities, associated supplies and the works. According to Air Marshal (Retd) Bejoy Pandey, former air officer commanding-in-chief of Training Command, the Congress claiming Rs 42,000 crore for 126 Aircrafts was very illogical as it did not include the specifications like product support, weapon systems, state-of-the-art avionics, upgrades, and training which were presented by the IAF themselves. (As reported by The Quint)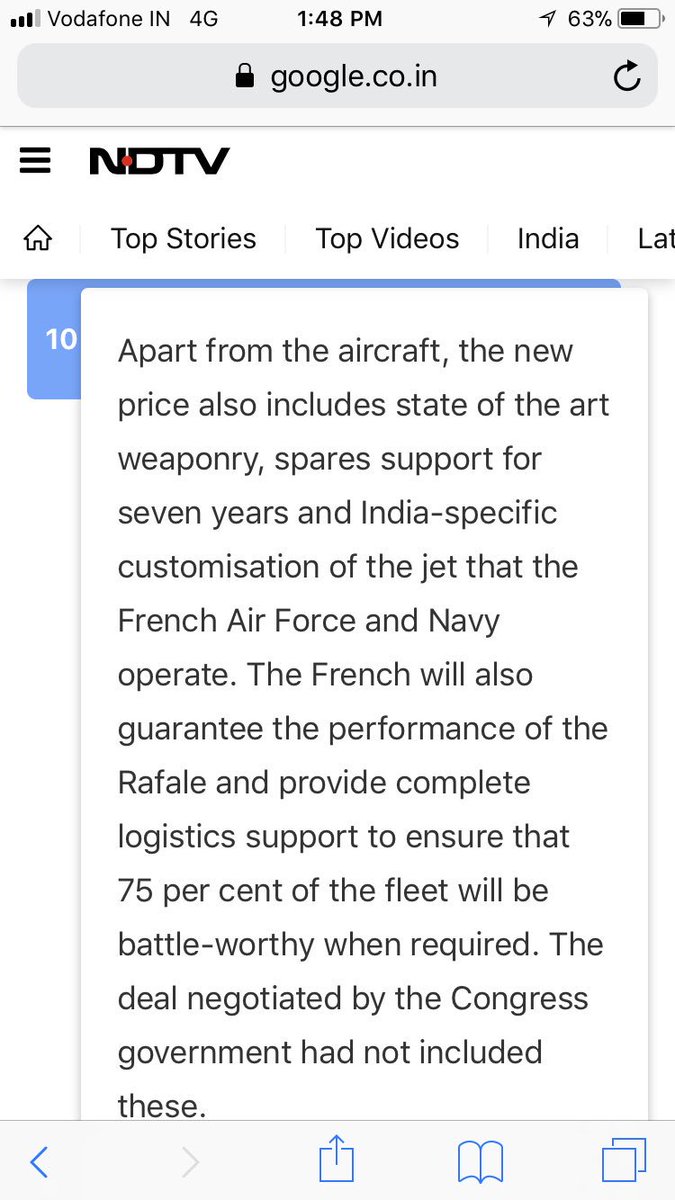 When Manohar Parrikar was the defence minister he understood the stale mate caused by the Congress government and decided to purchase 36 aircrafts with twin-engine, that has longer combat range from 780-km to 1,650-km depending on the mission, and can carry a 9.3-tonne weapon load. It also includes potent weapons package, all spares and costs for 75% fleet availability, free training for Indian Air Force and "performance-based logistics support" for five years.
Since the deal was already made with Dassault company scrapping it would have lead to India paying HEFTY PENALTY double the price of Rafale jets. And the intense pressure the IAF faced without combat aircrafts was a serious issue which had to be dealt without delay. The government has now further taken the deal to get 200 fighter jets with state of art facility which is more superior than American F35.
But now Congress is upset as India procured Rafale jets within 1 year after Modi government came to power. The first ones who are perturbed about Indian advancement is Pakistan and China as first 18 Rafale aircrafts will be placed in Hasimara (West Bengal) to cater for the eastern front with China, while another 18 jets will be placed at Ambala (Haryana) for the western one with Pakistan.
Rahul Gandhi somehow wants the Doklam issue with China and Kashmir issue with Pakistan to aggravate for the sole intention that he can project Modi government as weak. This is why he held secret talks with Chinese envoy when there was a tense situation at the border. Now, forcing Modi government to reveal Rafale details will only help China and Pakistan which will get to know the logistic details of the IAF.
Rahul Gandhi followed the same trick when he demanded proofs from the Indian army after surgical strikes were conducted on Pakistan. Releasing video footage would have only helped Pakistan and this is exactly what Congress wanted. Now, one can understand what is the game plan of Congress and why they want to delay the purchase of Rafale jets.
Credit and Source: https://www.firstpost.com/india/congress-allegations-against-centre-over-rafale-deal-are-low-on-facts-high-on-rhetoric-obfuscation-and-half-truths-4223729.html
https://www.thequint.com/voices/opinion/rafale-deal-congress-allegations-misses-out-on-facts
https://timesofindia.indiatimes.com/india/iaf-pitches-for-36-more-rafale-fighters-after-it-gets-the-first-36-from-france/articleshow/60226329.cms
---
Aishwarya S