Seems like there is no end to Rahul Gandhi's bloopers. One after the other, Rahul Gandhi comes up with these weird ideas and statements which is not only an embarrassment to himself but also the Congress party.
His funny statements have become a talking point in the entire political class which is one of the main reasons he is earned the name Pappu and Buddu. Since 2013, when he became active in politics he has been making very dumb statements which have turned into comedy quotes in politics.
Just days after he returned from US/Germany/UK (whichever country he had been) he addressed the OBC community in Delhi where he made a very funny statement which caught the attention of people immediately. In his speech, he was trying to attack PM Modi as usual and said PM Modi was not in favour of farmers and failed to give farm loan waiver. He went on to say that he has never seen a single farmer in PM Modi's office.
But that was not it, he suddenly changed his topic to Coca Cola founders and asked whether people knew who started Coca Cola Company….He went on to explain that those people who founded Coca Cola were selling Shikanji (Lemonade) before. He said his product was liked by all so the government gave him all support to start the Coca Cola company. He gave another example about MC Donald's founders and said they were running a road side Dhaba before they started Mc Donalds.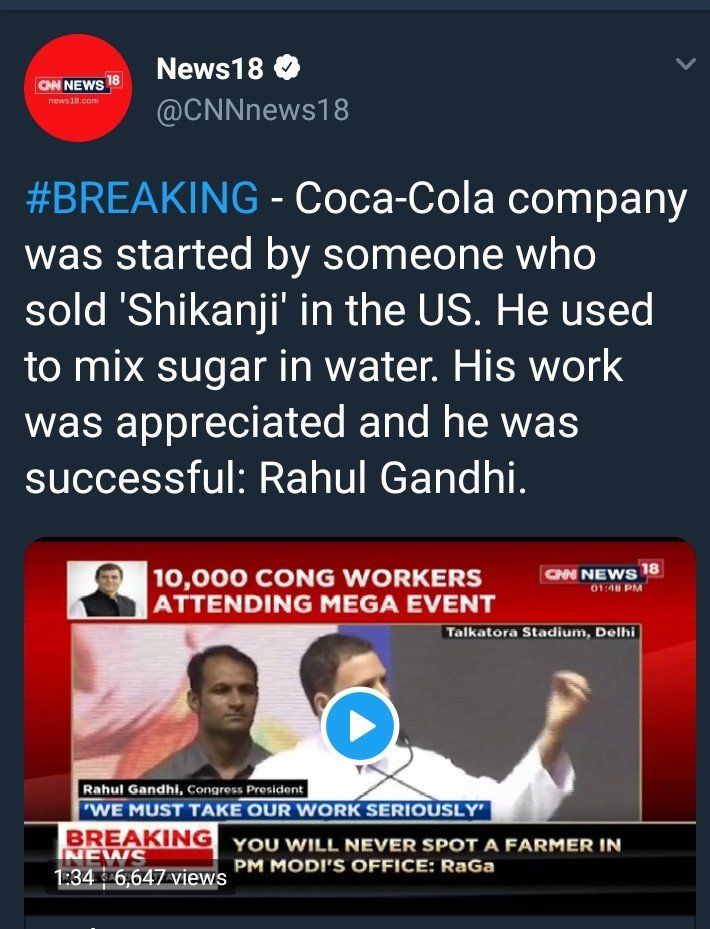 It was unbelievable and shocking that the President of the Congress party made such bizarre statement about the founders of Coca Cola Company. According to the available data, the founders of Coca Coal were John Stith Pemberton and Asa Griggs Candler.
John Stith Pemberton was an American pharmacist. He entered the Reform Medical College of Georgia in Macon, and in 1850, at the age of nineteen, he was licensed to practice pharmacy. During the American Civil War, Pemberton served in the Third Cavalry Battalion of the Georgia State Guard, which was at that time a component of the Confederate army. He achieved the rank of lieutenant colonel.
During his army days, he sustained severe injury in his chest after which he started taking Morphine to ease his pain. As a result he got addicted to Morphine which was dangerous to his health. Seeking a cure for his addiction, he began to experiment with painkillers that would serve as opium-free alternatives to morphine. His first invention was Dr. Tuggle's Compound Syrup of Globe Flower", in which the active ingredient was derived from the buttonbush (Cephalanthus occidentalis), a toxic plant that is common in Alaska. He next began experimenting with coca and coca wines, eventually creating a recipe that contained extracts of kola nut and damiana, which he called Pemberton's French Wine Coca. According to Coca-Cola historian Phil Mooney, Pemberton's world-famous soda was "created in Columbus, Georgia and carried to Atlanta.
Since the drink was alcoholic, Pemberton had to produce a non-alcoholic alternative to his French Wine Coca. This prompted him to make a beverage with trail and error methods and finally blended the base syrup with carbonated water by accident when trying to make another glassful of the beverage. (Richard Gardiner, "The Civil War Origin of Coca-Cola in Columbus, Georgia", Muscogiana: Journal of the Muscogee Genealogical Society (Spring 2012), Vol. 23: 21–24.) This is how Coca Cola formula was invented.
On the other hand, McDonald's was started by brothers Richard and Maurice McDonald who first opened a hot dog stand at local racetrack, then a bigger hot dog stand at San Bernardino. After being denied credit by several banks, the Bank of America finally cleared $5,000 in capital for them in 1940 (Republic TV)
But Rahul Gandhi twisted the entire story and made the Coca Cola founder a Shikanji shop owner and Mc Donalds founder a Dhaba owner to attack PM Modi.His statements has set the Twitter on fire with people trolling him left and right.
Watch what Rahul Gandhi said!
#WATCH Congress President Rahul Gandhi talks about origins of the Coca-Cola & McDonald's company, says, "Coca-Cola company ko shuru karne wala ek shikanji bechne wala vyakti tha…" #Delhi pic.twitter.com/MATnaR734J

— ANI (@ANI) June 11, 2018
Check the reaction of people which is filled with laughter!
Whoever is writing his speeches is a RSS/BJP agent??#AccordingToRahulGandhi#CocaCola #Shikanji pic.twitter.com/LrKAShrVXt

— Maj Surendra Poonia (@MajorPoonia) June 11, 2018
The Beatles drinking Shikanji.#AccordingToRahulGandhi pic.twitter.com/x08DmGd4Nr

— PhD in Bakchodi (@Atheist_Krishna) June 11, 2018
Rare childhood Photo of Wright Brothers who use to sell Kites #AccordingToRahulGandhi pic.twitter.com/8bNFsslUml

— Rishi Bagree ?? (@rishibagree) June 11, 2018
Coca Cola's owner in his earlier days.. selling Shinkanji.. #AccordingToRahulGandhi pic.twitter.com/BMc2UNHByO

— Paresh Rawal fn (@Babu_Bhaiyaa) June 11, 2018
Starbucks owner #AccordingToRahulGandhi ? pic.twitter.com/zs8VnBojXE

— Smoking Path-Breaking Skills (@SmokingSkills_) June 11, 2018
#AccordingToRahulGandhi Steve Jobs in his childhood days was selling Apples. pic.twitter.com/Rg3sjfr5y3

— ಏನ್ ನಿನ್ ಪ್ರಾಬ್ಲಮ್ (@arunbtgbd) June 11, 2018
McDonald Dhaba Owner found. pic.twitter.com/n7SemhZKQb

— भारत वर्ष (@gprasad28) June 11, 2018
Shikanji owner at United States#AccordingToRahulGandhi pic.twitter.com/cMzNJNrwb9

— Attraversiamo !! (@i_upasana) June 11, 2018
Graham Bell #AccordingToRahulGandhi pic.twitter.com/DQ1PYboGCF

— Uttara Prachand se hu Bhench*d (@delhichatter) June 11, 2018
---
Power Punch