Congress has looted the nation since last 70 years. It is the party of corrupts and goons. Then and now we have seen the Goondaism of this party. And now with this new move of Congress party, party has once again proved that it stands taller with the terrorist, goons and all the Anti-India elements
The Congress Party has yesterday released the first list of candidates selected to contest the upcoming LokSabha Elections. As per the list, the Congress President Rahul Gandhi has been selected to contest from his existing constituency Uttar Pradesh's Amethi, while his mother and UPA chief Sonia Gandhi will once again contest from her bastion Rae Bareli.
But what is the avid part of Congress list which they never forget to do is the addition of goons. Yes! The Congress has given a ticket to the man who said that "He will chop Prime Minister Narendra Modi into pieces". Congress has fielded Imran Masood from the Saharanpur Seat in Uttar Pradesh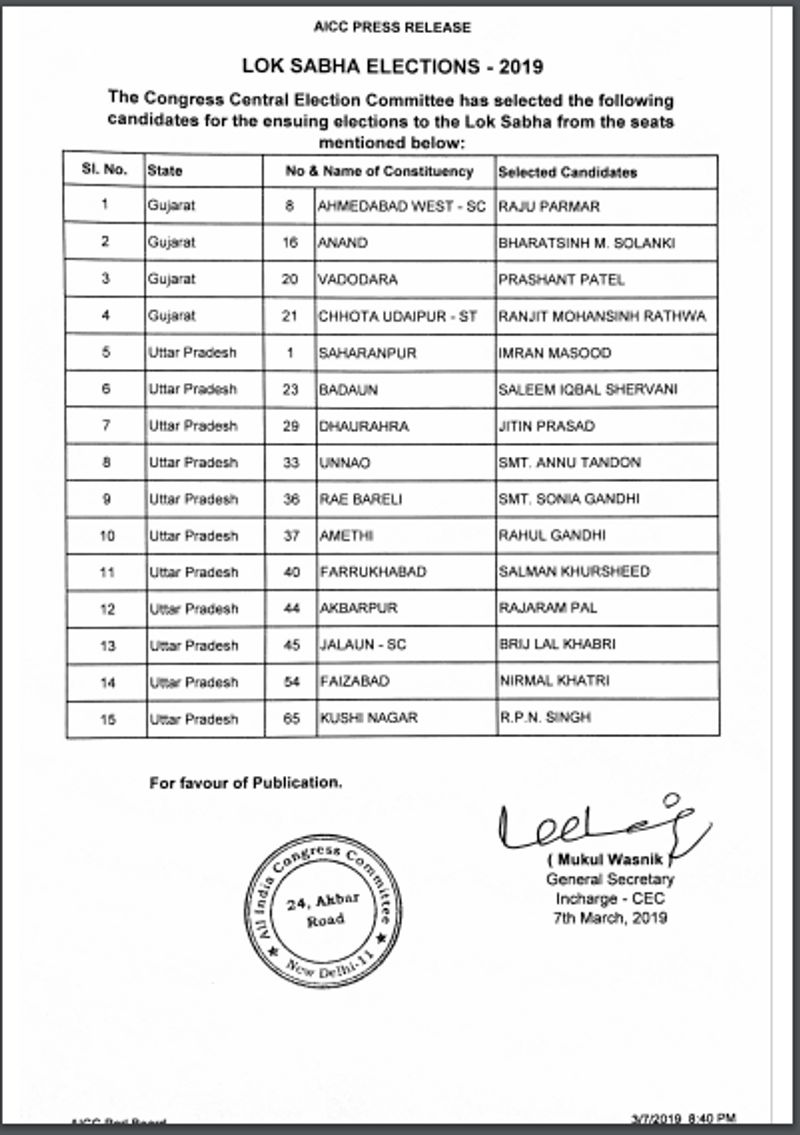 Imran Masood is the same man who threatened PM Modi and was jailed for threats and hate speech he delivered in 2014.Even after being arrested this man hold no shame for his acts and was firm on his words. He neither took back his statement nor did he apologize. He said "It's all BJP plotting. I don't have any remorse as I did no wrong. I will not apologize either to Narendra Modi or to the BJP"
Several sections like section 295 A (deliberate and malicious acts, intended to outrage religious feelings or any class by insulting religion or religious beliefs), 504 (Intentional insult with intent to provoke breach of peace), 506 (criminal intimidation) of IPC, Section 125 (promoting enmity between classes in connection with election) of Representation of People Act, and 310 SC/ST Act was filed against him.
Not only this he came from a family having such accolades in their name.He is the nephew of former minister Rasheed Masood, the first legislator to be disqualified in September 2013. The disqualification took place soon after the Supreme Court gave a strong verdict, stating that any lawmaker against whom cases are pending cannot be a Member of Parliament.
This is not the first time Congress is promoting the Goons. Earlier also he was made the Vice President of Congress in Uttar Pradesh. Few days back the same man was also seen campaigning for the party with Priyanka Vadra during her roadshow in Uttar Pradesh
This is the representation of the Congress party and its leaders. Be very careful while choosing a leader and casting your vote. Your vote will destine in whom hands you are giving your nation. It's your choice what you want Goondaism or Development. This will destine future of you and your children
---
Niharika