"To the soldier, luck is another mere word for skill." While PM Modi recognizes the immense contribution of our soldiers, other ministers from the Government are also trying to emulate the PM. Home Minister Rajnath Singh broke protocol on Thursday to hug a BSF soldier. Godhraj Meena, the soldier sustained 85% disability after being hit by terrorists' bullets during an attack in J&K's Udhampur in 2014.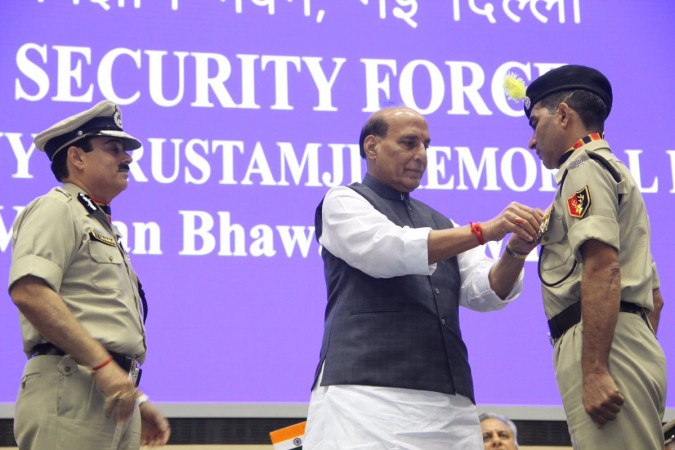 Meena was a part of the BSF convoy that was ambushed by terrorists on August 5,2014 near the narsu nalah area in Udhampur with a heavy gunfire. Meena's citation said that he was on guard duty in the business and his bravery and acute presence of mind kept the 2 terrorists away. The 44 year old trooper also succeeded in preventing the terrorists from entering the bus and target around 30 BSF personnel who were onboard that day.
According to the BSF protocol, after pinning the medal and handing over the trooper's citation, the home minister has to shake hand with the awardee and the person moves ahead after according a salute to the minister. However, Singh, in a rare gesture, stepped aside from protocol on Thurday to embrace Meena.
A Senior officer told IBT that what happened was very,very rare. He said that Meena's was a special case with 85 percent disability and despite the fact that Meena could not walk or talk properly, he took pride in donning the uniform. The Home Minister, Rajnath Singh said that he was proud of Meena's bravery & grit.
The senior Army officer also added that Meena was now appointed administrative duties. A total of four BSF personnel, including Meena were awarded with Gallantry medals. The 3 other heroes are constable Subhendu Roy, driver Daljit Singh and constable rocky who was awarded the 'Shaurya Chakra'.
Credit &Source: Namrata Tripathi
http://www.ibtimes.co.in/home-minister-rajnath-singh-breaks-protocol-hugs-bsf-jawan-disability-729035
---
Tony Joseph