Look who is supporting NDTV Channel in their fake protest against CBI and Modi Government for killing their freedom of expression. Pakistan, of course! To divert the focus from CBI raids on NDTV Co-Founder Prannoy Roy for financial frauds, all the NDTV journalists and their Secular supporters are peddling a fake narrative of being a target of vindictiveness by Modi Government
Arun Shourie, Fali Nariman among those present in solidarity with NDTV at Press Club of India protest meet. pic.twitter.com/d10eMXpYDk

— Nidhi Razdan (@Nidhi) June 9, 2017
As it is well known, NDTV is the only Indian Channel that is broadcasted in Pakistan. And one can safely assume that NDTV must be giving Pakistani Channels a run for their money. No channel in Pakistan is said to be as anti-India as NDTV. And patriotic Pakistanis, this nonstop anti-India, anti-Hindutva, pro-seperatists and pro-Pakistan rant of NDTV must be music to the ears.
Pakistan is always grateful to NDTV for being their mouthpiece in India. The globally wanted terrorist and the mastermind behind 26/11 Mumbai Terror attacks Hafiz Saeed had openly praised BarkhaDutt of NDTV along with Congress for doing a great job in India. This Lashkar-e-Taiba Co-founder, Hafiz Saeed says that all Media people are not bad in India. There are some good Media Journalists like Barkha Dutt who speaks good things about us (Pak Terrorists). About Indian politicians, he says that all politicians are not as bad as Modi and his ministers. There are some good politicians like Congressmen who rebuke BJP for targeting Pakistan over Kashmir Issue.
This is not the first time that NDTV has got a full-fledged support from Pakistani journalists. Barkha Dutt, Rana Ayyub, Sagarika Ghosh and other NDTV journalists always retweet or quote the anti-Indian tweets of Pakistani Journalists and vice-versa. Pakistani public and Media had stood in full support of NDTV when the Central Government had declared a one-day ban against the channel for breaching national security laws of the country by revealing sensitive information during the coverage of Pathankot Terror Attack. A hashtag #BringBackNDTV on Twitter was trending successfully in Pakistan.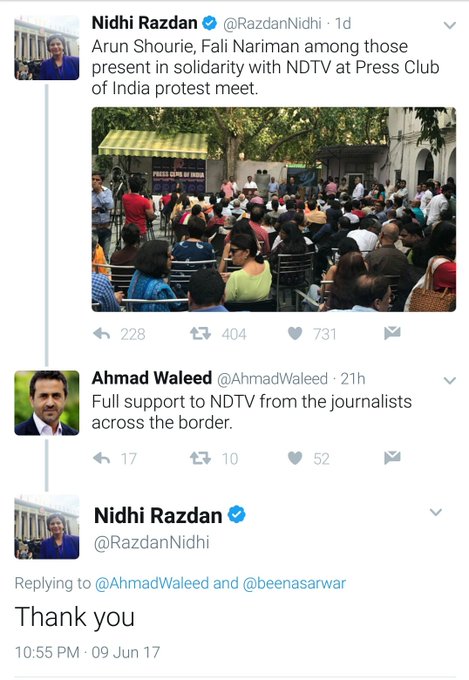 NDTV, with its money power has spread the word across the globe that it is being harassed by Modi Government for its critical views and not towing the line with the Ruling party. The fact is that the CBI enquiry against Prannoy Roy had been initiated during Congress era. Modi Government has just given a free hand to CBI just like it has given to our Defence Forces. CBI has issued a Clarification in response to the allegations of NDTV calling it a 'Witch Hunt'. CBI clearly states that the CBI raid has been conducted on the residence of Prannoy Roy on the basis of the search warrant of the Competent Court.
(Image Courtesy- www.pgurus.com)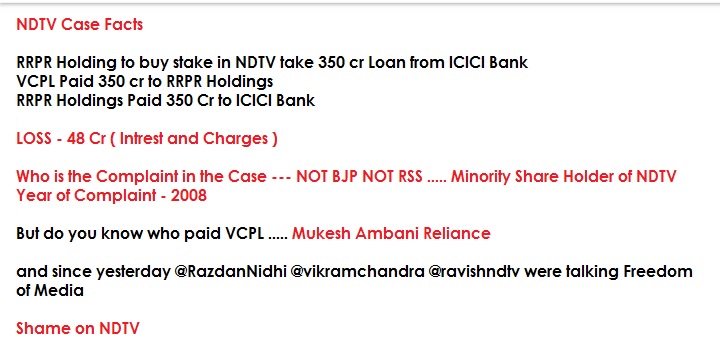 ---
Jyothi Suparna Chincholi