Do you know why the International Women's Day is celebrated today, on 8th March? Well, it is a proof of how women in the Western world had to struggle for the equality in voting rights. But haven't we been made to believe that only Indian women have been downtrodden by the society? The fun fact is that, in spite of British rule, Indian women got the right to vote along with men without any discrimination in 1920.That was the same year the women of the USA fought for their voting rights! Our Islamic sisters in Saudi Arabia had to wait till 2015 to get voting rights! But no liberal feminist connects Islamic nations with regression! Today's day is for celebrating equality for women politically, socially and personally. Let's see how the 'Naari shakti' is growing in India.
Rural Women-
When we speak of Indian women, we shouldn't forget that around 70% of Indian women belong to rural areas. Under the visionary scheme of 'Beti padhao, beti bachao' , Modi Government launched 'Sukanya Samruddhi Yojana' to build a fund for the future of the female child. Till date, Indians have deposited Rs 19,183 Cr in the scheme for the bright future of their daughters!
PM Modi's Ujjwala Gas Yojna has facilitated 3.5Cr rural women of India from 713 districts with a smoke-free kitchen with the free gas connections.
With the mission of building toilets, Modi Government has restored the dignity and safety of our rural women. Till date, more than 3 Cr toilets have been built in India. It also helps young girls to continue with their education when schools have separate toilets for girls.
The life of our rural sisters has definitely reached the next level in last few years.
Relief to Muslim Women-
With the historic ban of Triple talaq , our Muslim sisters have been spared of allhe domestic atrocities.
Career for mothers-
Motherhood often causes a break or compromise in the careers of women worldwide! Be proud that India is the only country that sanctions 26 weeks Maternity paid leave while other countries are still giving only 12 weeks leave for new mothers. The Maternity Benefit Amendment Act was passed in Parliament in 2017 with the added option of 'Work from home' for tension-free moms!
Entrepreneurship-
To encourage the small scale women entrepreneurs, Modi Government has provided 7.88 Cr women a Mudra Loan to fulfill their dreams.
Respect and No Sexist approach towards women-
Two third of the female politicians across the globe are subjected to humiliating 'Sexist' remarks by colleagues, Media and public as per the latest Report of Inter-Parliamentary Union (IPU) . The audacity of Western Media to pass remarks on 71 year old Hillary Clinton's voice, her outfits and mannerisms was astounding during US Elections! Have you ever seen Sushma Swaraj, Jayalalita ,Mamata Banerjee or Mayawati objectified by our Media? Even our biased and paid Media is scared to offend public sentiments .The fact is, our relationships with our female leaders is that of a Mother and her children! The public addresses them as 'Amma', 'Didi' and 'Behenji'. This has helped our female politicians to grow in the field of Politics on their merit! So, just feel proud about India where our female politicians are not treated as 'Sexual objects'.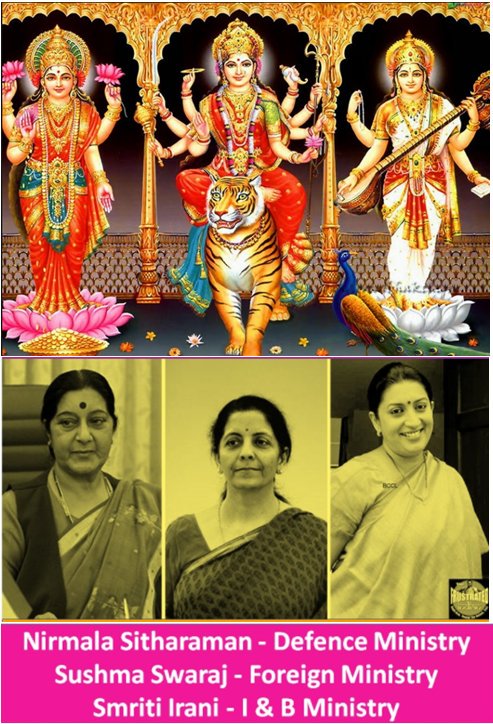 Recall the public outrage caused by Nirbhaya's rape among all Indians! In the USA, rapes are so commonplace that nobody bats an eyelid over them! Here in India, it's a common practice to address an elderly women as 'Maaji' or Amma and young women as Didi, Behenji, Akka or Beti. We should feel proud that such addresses are in practice only in India! We can connect this pure respect for females with Hindu scriptures and teachings. All Goddesses like Lakshmi, Saraswati , Parvati etc are 'Mothers' to their devotees. One can't expect such respect from the Christianized West. Their image of 'Eve' is that of a temptress. No wonder western women are treated as sex objects!
We are from the nation where women are treated as superior to men! A Mother is the first image of God! मातृ देवो भव। Manu Smriti that has been targeted by Leftists as biased towards women, says, 'Where women are honored, Divinity blossoms there.' यत्र नार्यस्तु पूज्यन्ते रमन्ते तत्र देवता: । So, let's proud to be a Bhartiya Naari. East or west, we are the best!
---
Jyothi Suparna Chincholi