It was in the month of May 2017, the Hadiya case became a talking point through out the Nation. The Kerala high court had then given verdict against the forcible conversion of Akhila (Hadiya) and declared the marriage of Hadiya with Shafin as null and void.
But the story all started in January 2016, when Hadiya's father Asokan filed a complaint in the Kerala High Court alleging that his daughter Akhila was kidnapped by the PFI (Popular Front of India) and forcibly converted to Islam.
What is the Case?
Akhila was basically a Hindu girl belonging to Kottayam district in Kerala. She joined a college in Salem, Tamil Nadu for pursuing Bachelor of Homeopathic Medicine and Surgery. No body knows who she met or what happened to her in Salem but on January 6, 2016 Akhila went missing from the college. Akhila's father who knew about whereabouts and her connection with few Muslims women who were involved in conversion filed missing and abduction complaint in the police station. He alleged two of Akhila's friends called Faseena and Jaseena and their father Aboobacker had taken his daughter away.
Despite the police leading the search operation, Akhila could not be traced. Finding no other way, Akhila's father filed a habeas corpus petition at the Kerala High Court requesting the court to help him find his daughter. On January 19, 2016, Akhila appeared in the court and gave a statement that she was converted to Islam and had changed her name to Hadiya. She said that she was impressed with Islam and her Muslim friends and hence decided to convert to Islam. She said on January 2nd, 2016 she left the house and went to Faseena and Jaseena's house in Perinthalmanna in Malappuram district. Aboobacker, had later taken her to Therbiathul Islam Sabha, an Islamic study centre, in Kozhikode where she was given instructions of Islam.
She was later taken to Sathya Sarini institute in Manjeri, Malappuram where she was introduced to a lady called Sainaba. The Satya Sarini institute is a place of religious conversions which is supported by PFI and many terror supporting groups and heavily funds them for conversions. Sainaba also is a PFI recruiter who is well known to convert Hindu girls to Islam and use them for terror activities. It was here Sainaba is said to have made Hadiya a drug addict and brain washed her against Hindu religion.
When Akhila gave a testimony in the court that she was staying in Satya Sarni institute with her own will, the Kerala High court dismissed the habeas corpus petition filed by her father. Judges CK Abdul Rehim and Shaji P Chaly said, "The original petition is hereby disposed of by recording the fact that the alleged detenue is staying in the above said institution on her own free will. It will be left open to the petitioner and her family members to make visit to her at the above institution, subject to regulations if any regarding visiting time."
Same time, Asokan came to know that the Satya Sarini institute was now planning to get Akhila married to a Muslim man and shift her out of country immediately, he desperately filed another complaint on August 17, 2016 in Kerala High Court requesting them to stop the marriage and prevent Akhila from going out of country. The court which accepted the petition ordered that Akhila should be under constant watch and in no circumstance should be taken out of country. Sainaba who got petrified by the courts order immediately shifted Akhila to an undisclosed location.
December 21st shock
The next court proceeding was scheduled on December 21st. But what happened in the court shocked everyone including the judge. On 21st December Akhila had arrived to the court with a stranger, all of a sudden her lawyer told the court that Akhila got married to a man called Shafin Jahan, on December 19 according to Muslim laws. The court was shocked as the marriage took place on the same day of December 19, when the court had heard the case and yet they kept the matter hiding. Akhila's lawyer said that the marriage took place in Sainaba's house in presence of a qazi of Jama Masjid.
It was then the judges raised serious concerns about Akhila's case and questioned if the alleged marriage was performed to shift her out of the country? They said the court has no idea who was the man, what was his background and how he came in contact with Akhila all of a sudden!
The court put several questions to Akhila's lawyer….How did Shafin come into contact with Akhila?, How did she agree to marry him?, Why was the marriage conducted at Sainaba's house?, Who issued the marriage certificate?, why wasn't Akhila's parents informed about marriage? for which Hadiya's lawyer had no answers. The court also noticed that Sainaba was also involved in another case of forcible conversion and marriage.
The court which was completely dissatisfied with the turn of events ordered an investigation into the case. The investigation revealed that Shafin Jahan, the man who married Akhila was an active member of Popular Front of India (PFI) and had many criminal cases against him for supporting terror organisations. He was mainly involved in luring women of Hindu community and converting them to Islam. The investigation also revealed shocking truth that Shafin wanted to take Akhila to Gulf or Syria. It was found that Shafin had links with a man called Mansy Buraqui, a man arrested by NIA in 2016 for involving in anti National activities and having links with ISIS.
Noting the serious flaws in the case, the court on May 24, 2017 declared the Akhila's marriage Null and Void and declared that parents should take over the custody of Akhila without further delay. Following the judgement, the Muslims Ekopana Samithi and the PFI held a huge protest against the Kerala High Court and threatened the judges of impeachment for giving verdict against Hadiya.
The Islamic protest lead by Abdul Razack Moulavi and V K Showkat Ali called for Ernakulam Bandh and tried to enter the courts. The police almost lost control of the crowd and the situation turned violent. According to senior police officer, the Kerala government had instructed them not to take action against the Muslim radicals which made the police remain mute spectators.
But Shafi Jahan moved the case to Supreme Court against the High court order and demanded the custody of Akhila. The Supreme Court which noted the High Court's order handed over the case to NIA for a complete investigation.
Surprisingly, Shafin Jahan who calls himself a common man and has no proper income has hired high profiled lawyers to represent him in apex court. He doesn't disclose who is funding him, where is the money coming from. He surprisingly doesn't give any interview to news channels saying they do sting operation. So what is he scared off?!
The hapless father of Akhila says his daughter has been brainwashed to such extent that she now forces her mother also to convert to Islam. He says Akhila argues that despite praying so much to Hindu Gods, they have seen no prosperity and tells if they embrace Islam, they can go to Heaven and not Hell like most non Muslims do.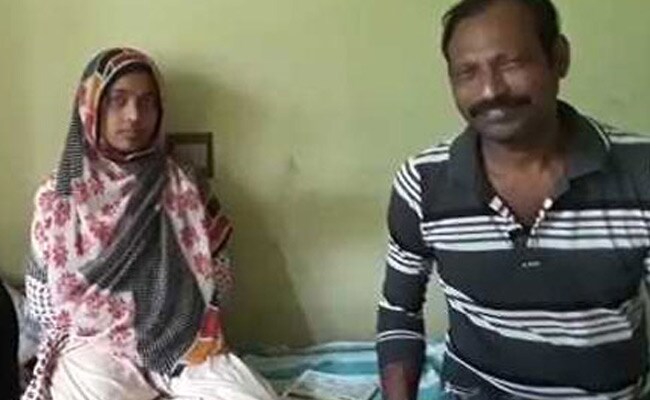 Some reports now suggest that Akhila might have undergone a type of hypnosis treatment, a method which was first developed by CIA (Central Investigation Agency) of the USA. This particular strategy involves 4 stages, 'Conditioning', 'debilitation', 'deception thinking' and 'dissociation hypnosis suggestibility'. This method makes a person lose confidence, lose faith and incapable of thinking on their own and get influenced by others thoughts.
The NIA which has taken up Akhila's case has submitted many evidence which suggests that Akhila was forcefully converted and the Satya Sarini Institute has a history of many such forceful conversions. Another case where a girl called Nimisha of Thiruvananthapuram saw the same fate where she was converted to Islam and sent to Afghanistan to join ISIS.
So this is the real situation of Kerala where radicalization of Hindu girls has turned rampant and the innocent girls have no voice that can reach courts or National channels. Like Akhila's parents, hundreds of Hindu parents wait for justice, wait for their daughters to return home.
---
Aishwarya S