The Lok Sabha speech of PM Modi today literally sent shivers down Congress exposing the biggest secret of the Congress era. All these years, we thought 2G, CWG, NH or Coal scam was the biggest scams of UPA government. But there was something very important that most people do not know about. We all know that in 2014, the economy of the country had hit the rock bottom, there were no investments, no FDI, no projects, Sensex had fallen, but what was the reason for all this?
If you think, the main reason was corruption in 2G, Coal or others you are wrong. It was a mammoth scandal which literally ruined India's economy. It is NPA – Non Performing Assets.
What is NPA (Before we speak how Congress ruined the country, lets see what is NPA)
NPA is called the Non Performing Assets in bank terms. It is a kind of loan or credit given by the bank to business people/ financial institution that is in jeopardy of default or in a position that they cannot stick to normal loan conditions. So, generally when you take loans, the customer is supposed to pay the bank interest and the principal amount borrowed in a prescribed period of time. If not, the banks will seize/auction the property of the customer and recover the money given….Right???
But what happens when a bank gives you loan with no surety? What if the person who took loan never returned the money? This is exactly what has happened with Indian banks in the past 10 years. Imagine the impact when banks give out thousands of crores loans to businessman and never gets them back! A classic example is VIJAY MALLYA!
Yes, in the 10 years of UPA government, every bank of India gave massive loans and credits to big industrialists and businessman without any surety or guarantee. The loans were not just in lakhs but in thousands of crore. Over 30-35 big industrialists in India got such huge loans claiming that their company was in jeopardy and literally emptied the banks of India.
One may wonder why did the banks give such huge loans??
Yes, here lies the secret. The Congress government which took huge favours from industrialists and businessmen returned their favour through this. The Congress never followed any transparency in allocating any government projects, instead, few selected Businessmen and industrialists were chosen and made deals within closed rooms. The Congress received huge kick backs in such deals. Example: 2G, Coal Scam, Aircel Mais, Bofors. So obviously the industrialists expected favours from the Congress government for which the Congress ministers forced the banks to give thousands of crores interest free loans to industrialists and businessmen.
This kept growing in past 10 years of UPA rule and eventually the banks started experiencing huge deficit and were unable to pay interests, loans to common people and the economy started to slow down and ultimately hit rock bottom by 2013. But these big industrialists took money from banks and coolly fled the country without repaying a single rupee. Vijay Mallya did exactly the same and there is a due of over 10,000 crore which he needs to pay the banks.
This is what PM Modi spoke in his Lok Sabha speech today. He for the first time disclosed that the total amount of NPA in the banks were not 36% as claimed by the Congress but a whopping 82% of bank loans were NPA, which means that 52 lakh crores bank money was given to industrialists by the Congress government without guarantee.
PM Modi said the economy was in a disaster when he took over and if he had disclosed the real state of Banks and economy, every investor in India would have left the country which would have caused a catastrophic effect on the country.
PM Modi said…"Earlier calls used to be made for facilitating loans to their people (close to those in power). Crores of money was given (through loans)…. Had I kept the facts before the nation earlier, it would have hurt the economy." "I have remained silent for the sake of Nation, despite knowing what Congress has done, but time has come to reveal truth as banks were getting back into good health and people should know what Congress did in 10 years."
After the NDA took over, not a single loan was passed which could turn into an NPA, added Modi.
So, one may now realise what is the extent of damage Congress did to our country and economy. This just one scandal lead to a loss of Rs 52 lakh Crore to the Nation.
Yes….520,00,00,00,00,000 crore was the total amount given to these industrialists, now compare this with 2G, CWG Coal and NH scams!
Do you want to know who are those industrialists and businessmen???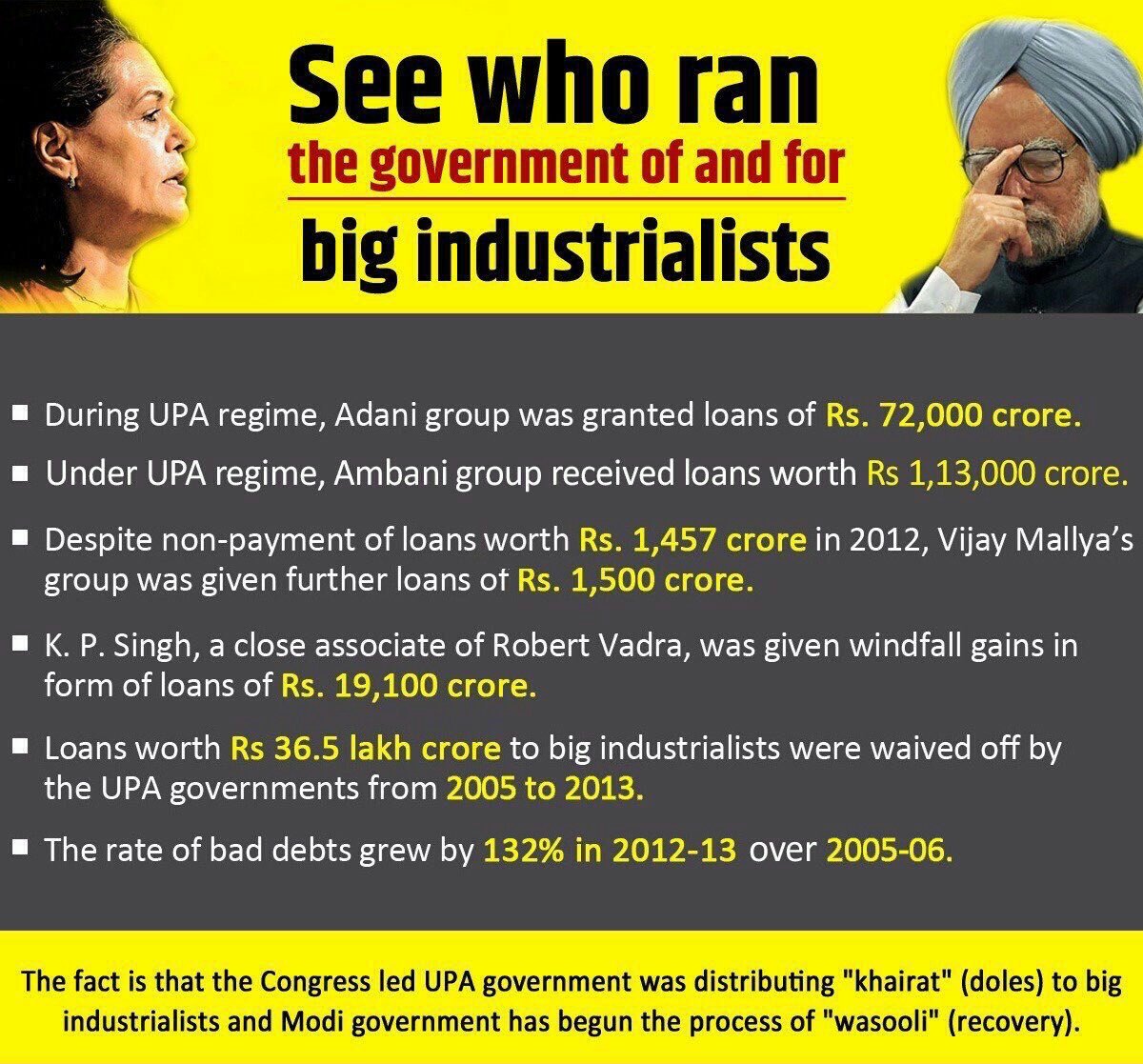 This is why it is taking so long for the Indian economy to recover. Many people mocked Modi government's demonetization move and questioned what did he do with the black money recovered. The answer is, most of the money recovered was used to ease the banks from NPA trouble so banks can pay common people interests for deposit amounts and provide loans.
Now let people decide whether Congress has any morality to question the government on economy or governance!
---
Aishwarya S