Probably many who would have followed 2002 Gujarat riots closely would definitely remember this famous picture of a man with an iron rod!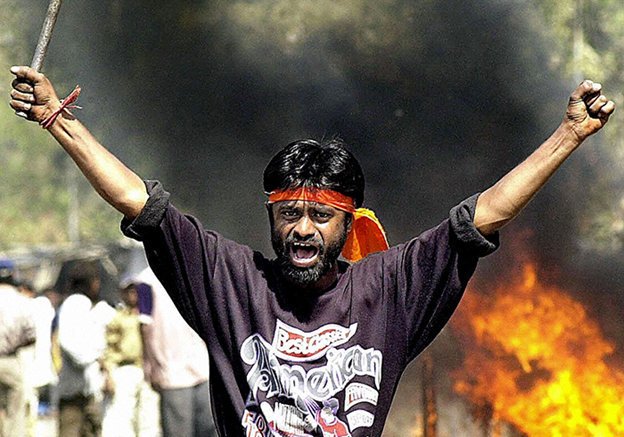 This picture was taken 16 years back during the Gujarat riots in 2002. This picture may have angered every person who had seen and am sure they would have cursed then Chief Minister Modi, Hindus and everyone related to BJP-RSS.
The picture depicted the cruel face of a Hindu man who was posing to kill people or butcher innocents…..this is what most people believed right?
But how many of you know who really is this man and what was the intention of posing himself with an iron rod?!
The man in the picture is Ashok Parmar aka Ashok Mochi who was made the face of Gujarat Riots. But the fact is, the picture was taken to mislead people and depict Hindus as murderers and criminals by a journalist.
Yes, you heard it right, this man, Ashok Parmar was neither a rioter or murderer but was a cobbler and had a small shop in Gujarat. He was married just few weeks before the Gujarat riots broke. His life and business was badly hit after the riots broke and was completely devastated. On one fateful day he was out on streets and noticed many people going on a rampage on streets.
Ashok Parmar who then had beard made him look like Muslim and feared that he may get attacked and therefore tied a orange band on his forehead. At the same time, a photographer called Debastian D'souza of Mumbai Mirror approached him and asked him to pose like a rioter. This man foolishly picked up an iron rod fallen nearby and posed for the picture. He even showed his anger by shouting and the picture was taken!
This picture which was taken by a publicity hungry journalist became the poster for Gujarat Riots. Overnight, Ashok Parmar became the Hindu rioter and a villain in the eyes of Muslims and entire country. He was even booked by the police for riots and landed in jail for 14 days. He was released after the police could not find any evidence against him.
This shows how journalists tried their best to depict Hindus in bad light at every occasion using fake pictures and news. Today Ashok Parmar realises what mistake he made posing for a journalist.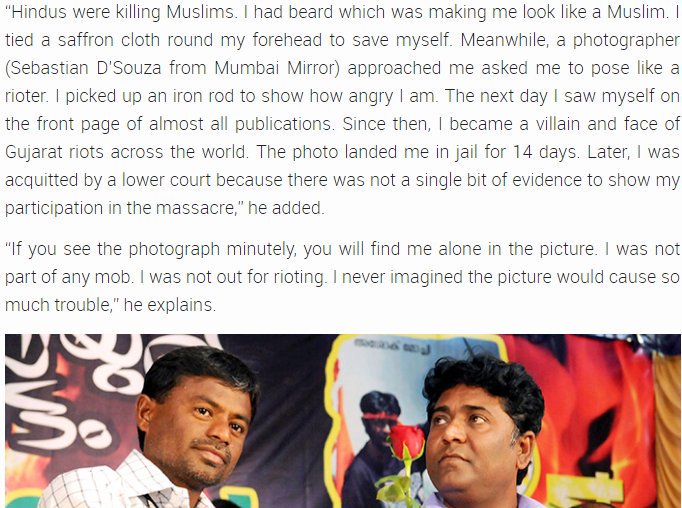 Another picture which became quite famous during the riots was that of Qutubuddin Ansari who was seen begging to spare his life. But according to many sources, it is said this picture was taken after the mobs left Ansari's house. It is said that the photographer Arko Dutta asked him to pose with folded hands to create sympathy and showed Hindus in bad light. They wrote numerous articles and stories saying that Qutubuddin Ansari was pleading a bloody thirsty mob when the picture was taken.
But in the picture, one can neither see the mob or rioters. Did the mob allow the journalist to pose himself this way? Did the rioters not destroy the camera? Did the rioters let him bandage his fingers?
His picture was used by Congress and media to attack BJP and Modi in every election for which Ansari himself had slammed Congress for misusing his pictures.
There are numerous such fake stories which were created by media during 2002 Gujarat riots. They made people believe it was true and escalated the hatred between communities. People suffered and died but it was the media and journalist who gained name, fame and made money on people's tragedy!!!
Source: https://timesofindia.indiatimes.com/city/mumbai/Stop-using-me-says-face-of-Gujarat-riots-Ansari/articleshow/51788397.cms
https://www.gujaratriots.com/index.php/2008/05/myth-12-the-photo-of-qutubuddin-ansari-is-genuine/
---
Aishwarya S