Anti nuclear protests in India is not new topic and did not start few years back. But has been going on since decades. The opposition started in the year 1960's when the nuclear scientists of our country wanted to test missiles and make India a nuclear power country.
It was Homi J Baba and Vikram Sarabai who were the pioneers of the nuclear program in India. But unfortunately the man who opposed their move 50 years back was none other than the Prime Minister of India Jawaharlal Nehru. He never encouraged nuclear programs in the country saying India is a peace loving country and do not require nuclear weapons.
The unbending attitude of the two scientists made them lose their life in the battle for nuclear program. Lal bahadur Shastri was another person who encouraged nuclear programs in the country. He also saw an unfortunate death, which is said to be linked with nuclear deals with Russia and Subash Chandra Bose's mystery.
So one can imagine the seriousness of the word NUCLEAR PROGRAMS in India! The nuclear programs in India which may be either nuclear weapons or power plants, is being closely watched by western countries. The use of nuclear power will make any country most powerful in the world in terms of weapons and in energy.
This is exactly why massive amount of funds are being poured in by Western agencies to build organisations within India to stop all developmental activities. These are not only specific to Nuclear plants but also economic corridors, dams, roads, ports and many other.
In simple terms, NGO's in India get money from west which is mostly sponsored by Christian missionaries, Ford Foundations, Green peace organisations. They come here claiming to protect environment, provide education to tribal and backward people. Their first job is to convert these people into Christianity promising to give food, shelter and jobs. Later they are made puppets in the hands of the NGO's and they are utilized for obstructing all developmental project in those areas.
What is the role of the church in #ActivismForAPrice? Republic TV exposes the anti-nuke protests in Kudankulam

— Republic (@republic) June 20, 2017
So the Kudankulam Nuclear Power Plant issue also started on similar line. A group of people who call themselves activists and environmentalists came together to oppose the nuclear plant in Tamil Nadu. Their main intention was not about security or threat to people, but to stop the power plant which will be a massive blow to Indian economy and Indian growth.
SP Uday Kumar was the main person who lead this movement against Nuclear plant. He started a party and movement called  People's Movement Against Nuclear Energy. He worked as professor at Monmouth University, New Jersey, United States, during which he got in touch with many institution which was targeting India. He received massive funds from these foreign organizations since 2011 after which his protests became a movement in Kudankulam. In the year 2014, he joined the Aam Aadmi Party and became a very close aide of Kejriwal. It is a well known fact that kejriwal's NGO also was receiving funds from the same source as Uday Kumar. But he quit AAP in the same year but continued to work for AAP unofficially.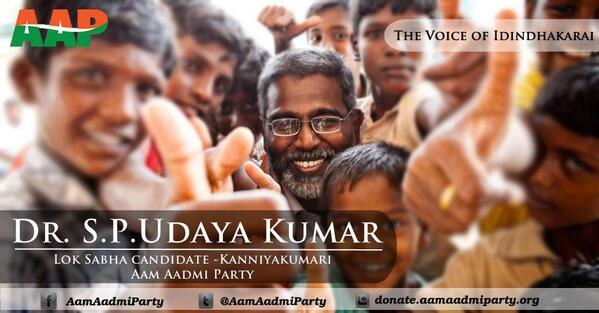 There were many reports from the intelligence which suggested that he was involved in Anti India protests and had not filed Income Tax returns since many years. But the previous Congress government which was hand in glove with these organisations never took any action against him. The result was many deals related to Nuclear plant were hung up without proper negotiations which was cleared in 2014 after PM Modi came to power.
This is the exact reason why the Home Ministry cancelled the license of many such foreign funded NGO's which were working against the interest of India.
The republic TV's conducted sting operation which revealed shocking truth about SP Uday Kumar's organisations and how the Church was playing crucial role in anti National activities. Uday Kumar himself revealed how he was misusing the funds for anti India activity.
Republic TV exposes #ActivismForAPrice, stings anti-nuke activist Udayakumar. pic.twitter.com/3obOfDwLmp

— Republic (@republic) June 20, 2017
Watch to see how churches were involved!
Money used for Nuke protest? Arnab debates #ActivismForAPrice. Join The Debate now and share your opinion pic.twitter.com/iZEBaKdmGR

— Republic (@republic) June 20, 2017
This is just one organization! Similarly, The Narmada Bachao Andolan run by Medha Patkar to oppose the Sardar Sarovar dam in Gujarat was also funded by foreign organistaions to stop the construction of dam which helps lakhs of farmers today.
Some of the pseudo human rights activists, lawyers are hired by these organisations to fight their cases in India spending crores of money. Just check how Prashant Bushan whose name was not even taken during the expose reacted after Republic Tv's sting operation. This is called frustration, when they are caught red handed!!!
Goswami's 'Republic' is a 'terrorist' channel masquerading as media.Pseudo Nationalist,Jingoistic lapdog of the govt https://t.co/vv3xDyMhG8

— Prashant Bhushan (@pbhushan1) June 22, 2017
These people are living under the same shelter taking all benefits from foreign organisations to malign India, destabilize the Indian economy and support terrorists in Kashmir. The sting operation of Republic TV is a real eye opener for those who do not believe missionaries role in anti National activities.
---
Aishwarya S