This sensational news has shaken the entire nation. The 47 years old "Youth Icon" of Indian is been missing and this hit the political fraternity of India like a storm. This had been a huge blow to the Congress as Rahul Gandhi was considered as a tough contender against Prime Minister Modi in the 2019 elections.
"Anyone giving information about Rahul Gandhi will be rewarded", posters carrying this message was seen all over the walls of Uttar Pradesh.
Who kidnapped Rahul Gandhi?
BJP would never kidnap Rahul Gandhi because till date he hasn't harmed them. So the Congress party lost the chance to blame on BJP using those two magical words "Vendetta Politics".
"Rahul Gandhi missing", this was found in Uttara Pradesh's Amethi constituency from where Rahul Gandhi was elected as a Member of Parliament.
The poster, which has text printed in Hindi with a large photograph of Mr Gandhi reads, "Amethi ke maanniya saansad Shri Rahul Gandhi Amethi se laapata hain" (Respected parliamentarian from Amethi Rahul Gandhi has been missing from his constituency).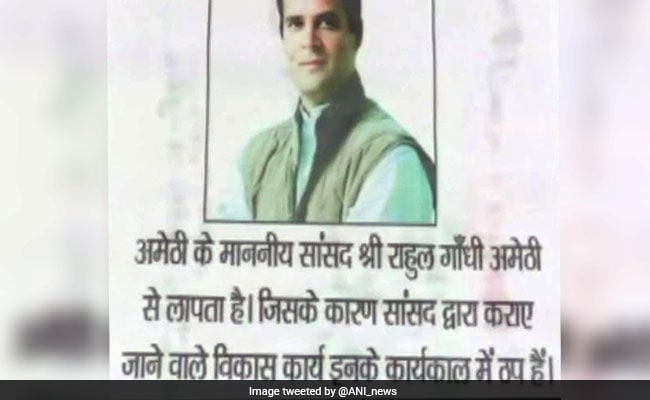 In reality, no one had kidnapped Rahul Gandhi but the people of his constituency who were frustrated by his negligence towards the Amethi constituency decided to stick posters in the walls of his constituency. Mr Gandhi was seen more in foreign nation than with his voters.
Whenever Rahul Gandhi lands in India, he starts to blame PM Modi but his people are seen complaining that Amethi hasn't seen even a slightest development under him. The posters said that due to his negligence, the government projects have been stalled.
The poster further states that "The common man is feeling cheated and humiliated due to his behaviour." It even goes on to offer a reward saying, "Anyone giving information about Rahul Gandhi will be rewarded."
Poster politics: A conspiracy of BJP?
As expected, the District Congress Chief, Yogendra Mishra said that this was a conspiracy set by BJP. This allegation is really hilarious!!! Did the BJP prevent Rahul Gandhi from undertaking developmental works in Amethi? No, it was Rahul Gandhi who was least bothered to work for his people. So posters like these are expected to be seen in the streets of Amethi.
BJP slammed the allegations against it as baseless and said that "had Rahul Gandhi done something for Amethi, the situation would not have arisen."
---
Nishika Ram