This BJP Star Campaigner is the biggest terror for Congress Party. No, I'm talking about Congress President Rahul Gandhi who beats even the best orator of the nation, PM Modi to grab this honour! Nowadays he is in the news for his rallies in Karnataka for upcoming Assembly Elections. He is addressing rallies and public meetings, not just in every single city in Bangalore but every single city in the Karnataka state as well! CM Siddaramaiah's traumatic period has finally begun!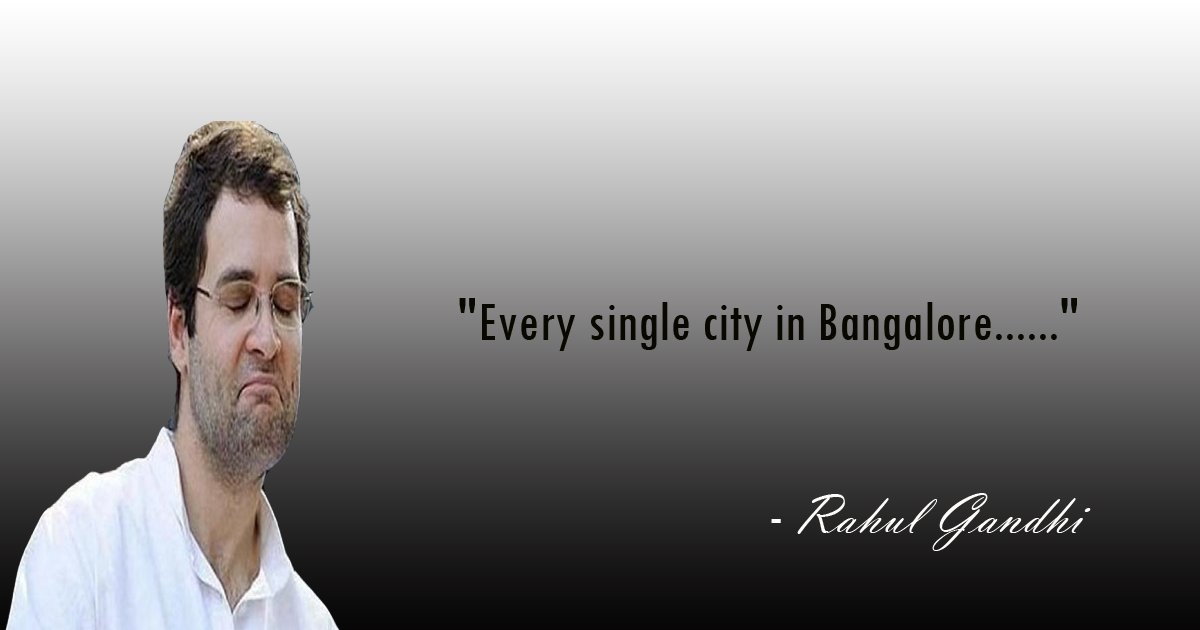 There has emerged a video proof of a Congress worker distributing money yesterday in Koppal district as a compensation for attending Rahul's road rally. It's not a secret anymore that Congress has to pull the crowd by using its money power for all their rallies. Haven't we come across many hilarious videos on Whatsapp, Facebook or Twitter showing the liberal distribution of money, liquors or eatables to the crowd by Congress workers? It's an irony that Rahul Gandhi has to pay the audience in spite of delivering such funny, comic and entertaining speeches!
The Congress Party, in an attempt to conceal its embarrassment, clarified that the man seen in the video was making payments to the Pandal workers. It was reported by the people present there that the same truck in which the man was seen sitting distributing money, was used to transport people from places around to attend the rally. Well, can't blame the Congress Party for its struggle to beat the low turnouts at each of Rahul's rallies. In the wake of Social Media, the Dynasty ruler of the Congress Party, Rahul Gandhi has become a matter of joke for Indians.
Watch the pathetic ways of the oldest political party to lure the crowd when the Party's Dynasty Ruler fails as a crowd puller.
Another incident that caused Congress Party a huge humiliation was a protest by Dalit Activists by showing black flags to Rahul Gandhi and Siddaramaiah in Sindhanur, Raichur District. The peaceful protestors just wanted to draw the attention of Congress President Rahul Gandhi towards their long pending case of quota Reservation. The Karnataka Police beat the peaceful protestors and arrested them for voicing their concerns. It's an irony that a party which is a self-acclaimed Messiah of Dalits treats them so inhumanly.
The Dalit Community, comprising of Madiga, Chaluvadi, Vadda and Tribal communities had warned beforehand to protest with black flags at Rahul's rally. The Dalits are fed up with the total neglect and fake promises of Congress CM Siddaramaih towards the implementation of the Justice Sadashiva Committee Report that has been pending for more than a decade and a half now. The agitated Dalit people blocked the way of the 'Janashirwad Yatra' bus which carried Rahul Gandhi. But unfortunately, the so-called Dalit Sympathizing Party got the Dalits beaten and arrested by the Police!
Watch the video showing how Dalit voices are silenced by Congress.
Rahul Gandhi, who eats in the Dalits' houses for publicity, later on, doesn't even recognize them in public. Rahul Gandhi who does Vulture tourism to Dalit houses for publicity, hides in a hole when Dalits are raped and killed by Muslims. The protest by Dalits in Raichur is an eye-opener of the injustices to Dalits done by Karnataka CM Siddaramaiah.
Recently, Bengaluru Palace Grounds saw a massive ocean of people more than 3 lakhs for PM Modi's rally. The thrilled crowd echoing and responding to each and every sentence of PM Modi and its deafening cheer of 'Modi Modi Modi' denote his popularity which is growing multifold by every passing year. All over India, people are glued to Television for the live coverage of his speeches. On the contrary, Congress President Rahul Gandhi's speeches get viral on Social Media and Mainstream Media for his hilarious blunders.
It is unfortunate for the sinking ship of Congress Party that their incapable Captain does their ship a more harm than the Tsunami called PM Narendra Modi!
---
Jyothi Suparna Chincholi