In January this year, Maharashtra witnessed one of the worst violence in recent times. January 2nd marked the 200 years anniversary of the Bhima Koregaon battle which was fought between Peshwas and British in the year January 1, 1818, in which the Peshwas had lost the battle. The British army used large number of Dalits to fight against Peshwas to create rift between the communities. But sadly, the pseudo-historians of our country twisted the fact and projected the win of British over Peshwas as win of Dalits against upper class people.
Since then, the people were misguided and made to believe that Bhima Koregaon battle was between upper and lower class people. Since 200 years, a section of Dalit community gathered at Bhima Koregaon in Pune every year and paid tributes to their people. Not once in 200 years was there violence or clash. But this time, the criminals of Azadi gang along with Congress wanted to use this opportunity to create communal violence and gain political advantage.
Just a day before the violence, a rally was organised by Jignesh Mevani, Umar Khalid and many other terror sympathizers who made provocative speeches calling for STREET WAR. They racked irreverent issues and incited violence making provocative speeches. They called people to vent their anger on streets. The mob which was already brought to create violence, went on rampage attacking innocents, burning houses and public property. It was very well known this violence had nothing to do with Dalits, but it was an orchestrated attack by the Congress with Azadi gang to disrupt peace in the state.
The mob started chanting Azadi slogans against India, just like how they shouted in JNU and called for destroying India.
Take a look!
Every last vestige of it being a "Dalit protest" disappears on hearing these JNU slogans of "Chheen ke lenge azadi". #IndiaAgainstHate #EndCastePolitics pic.twitter.com/CyXSLPIzt8

— Amit Thadhani (@amitsurg) January 3, 2018
The Congress and Azadi gang until now were denying their role in the violence. But now scathing evidence has emerged which has shown how Congress was involved in the Bhima Koregaon violence. Since the time of violence, the police have been tracking the links of those criminals who instigated violence and were responsible for large scale destruction of property. The police along with Maharashtra ATS (Anti Terrorism Squad) who got lead in the case, arrested 5 Maoist sympathizers from whom they have seized letters which names Congress as the main sponsors of the violence. The arrested five belong to a group called Elgaar Parishad which is found to have naxal connections. The ATS confirmed that they have recovered mass evidence that shows this group had links with Maoists and naxal terrorists who were working against India. The arrested people include, Sudhir Dhawale from Mumbai, prominent human rights lawyer Surendra Gadling, activists Mahesh Raut and Shoma Sen from Nagpur, and activist Rona Wilson from New Delhi. Pen drives, hard disks, CDs and other allegedly 'incriminating' electronic evidence were seized from Mr. Prakash Gadling's residence.
Police sources said the arrested have been booked under the Unlawful Activities (Prevention) Act (UAPA). "We are probing possible Naxal-Maoist links to the 'Elgaar Parishad' and have gathered evidence to point to the same. The suspects will be produced in local courts for seeking transit remand and then will be brought to Pune for further investigation," said a senior investigating officer (The Hindu).
A major breaking development that will alter the discourse nationally

An explosive letter details a spine-chilling conspiracy@RShivshankar on #MaoistLetterNamesCong pic.twitter.com/WGUme8dW0x

— TIMES NOW (@TimesNow) June 6, 2018
The arrested people have confessed that they were sponsored by the Congress party to incite Bhima Koregaon Violence which was also proved by the letters seized by ATS. The letter revealed that Jignesh Mevani and Umar Khalid acted as conduit between the Maoists and the Congress. The letter also exposed the support given from the RFI organisation headed by Prakash Ambedkar to incite violence between Dalits and upper caste people for political gains.
A major breaking development that will alter the discourse nationally

An explosive letter details a spine-chilling conspiracy@RShivshankar on #MaoistLetterNamesCong pic.twitter.com/WGUme8dW0x

— TIMES NOW (@TimesNow) June 6, 2018
This letter was written by a Maoist commander to another Maoist Sympathizer saying they had spoken with their Congress friends and they had agreed to extend all help to incite violence on 2 January.
Excerpt 1: Whatever legal and financial aide that is required for the violence, the Congress is ready to provide through Jignesh Mevani.
Excerpt 2: Dalit sentiments are against Brahmin centred agenda of BJP/RSS, This should be converted into large scale mobilization and CHAOS.
Excerpt 3: Comrade Jignesh and Comrade Umar are young fighters of our revolution and with strong support from Comrade Prakash Ambedkar, we can foresee the outcome of their efforts in consolidating Dalit agitation across India in few years.
Excerpt 4: Last year in July August, higher committee provide two rounds of funds to Comrade Sudhir to consolidate Dalit struggle and agitation. Comrade Shoma and Surendra have authority to provide more funds for future programs.
Excerpt 5: The Bhima Koregaon violence has been very effective. The death of the youth must be exploited to prepare future agitation and propaganda material.
Excerpt 6: We must keep up the pressure through simultaneous protest programs across many states, it will undoubtedly help  take down Modi government in 2019
.@RShivshankar takes you through the excerpts of the letter which reveals the 'Cong Link' with Maoists #MaoistLetterNamesCong pic.twitter.com/DCSYxpjR0y

— TIMES NOW (@TimesNow) June 6, 2018
This shocking evidence shows how Congress used Dalits for their dirty anti National game to divide India and incite violence every where. This is shameful and disgraceful act of Congress who have joined with Maoists and Naxals. Since before many political experts had made it very clear that Bhima Koregaon violence was not spontaneous but an orchestrated riot in which Congress played crucial role.
It is well know fact that Congress has always supported terrorists and Naxals with whom they are mainly responsible for the Kashmir unrest, Naxal problems in the East. But now the scathing evidence has proved every word of it. People like Jignesh Mevani and Umar Khalid are pawns of Congress who are getting crores of money from Anti National elements and terrorist organisation like PFI.
Now, let people decide what should you call such shameless characters of Congress, Azadi gang, Jignesh Mevani, Prakash Ambedkar, Arundhati Roy….??? Should they be called Nationalists? They are burning the country for their political gimmicks, joining hands with terrorists who kill our soldiers every day, joining hands with Maoists who have destroyed the Nation and people in the North East, they have gone to the extent of seeking Pakistan's help to remove PM Modi….should they be called patriots???
What difference do you see between Congress and terrorists? Terrorists/Maoists hold guns and kill people, where as Congress is sponsoring and helping the same people buy guns. This is a party which ruled India for 70 years. While in opposition if Congress can join hands with terrorists, One can imagine to what extent our National security was put to stake when they were in power.
This is a direct blot on Sonia Gandhi and Rahul Gandhi and they are obligated to come and answer the people of the country as to what was their connection with Maoist and terrorists in Bhima Koregaon violence.
The original letter written by Maoist about Congress link can be seen here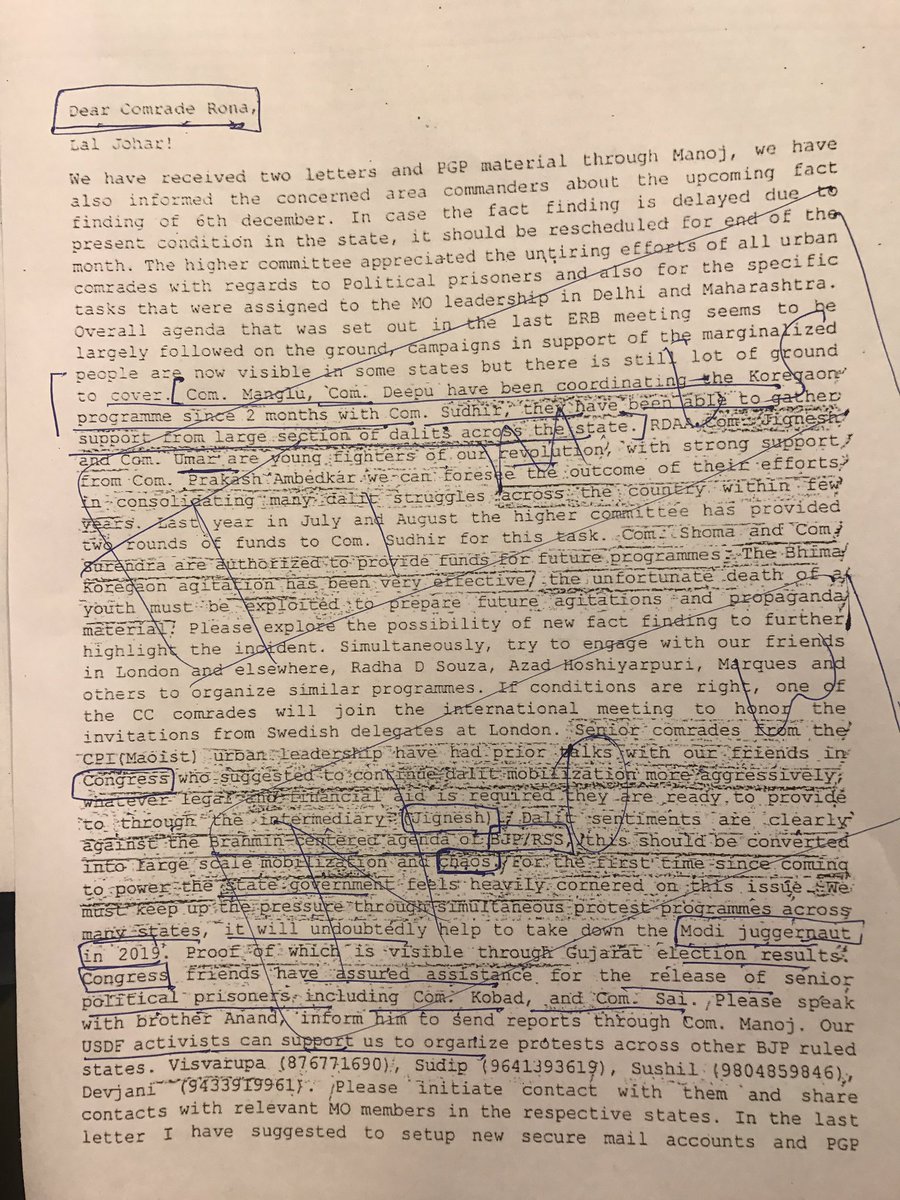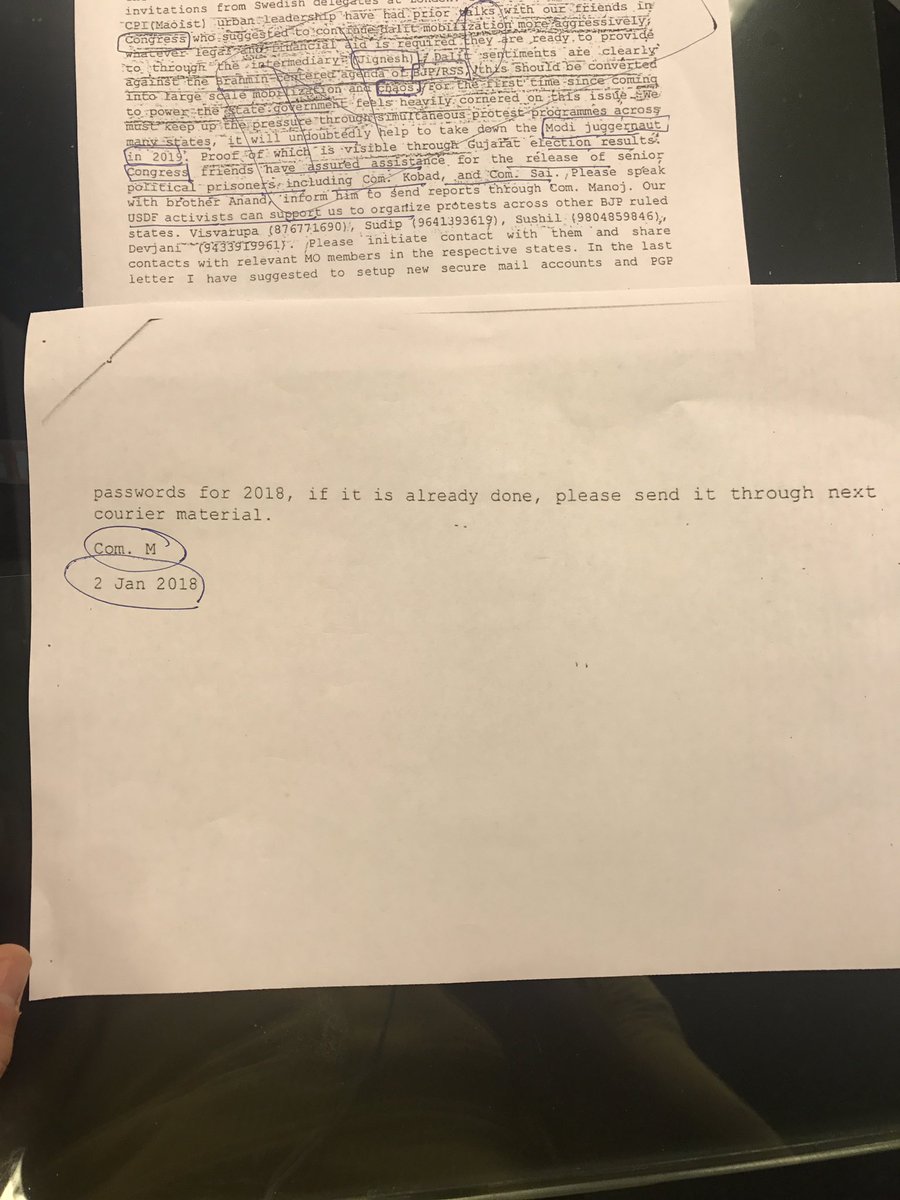 ---
Power Punch