In a very shocking development, the former Vice President Hamid Ansari today attended a function organized by Popular Front of India (PFI). The PFI has been the most notorious organisation and is believed to be another form of banned terror outfit SIMI (Students Islamic Movement of India).
It was indeed shocking to see Hamid Ansari who held a constitutional position for 10 years seen attending an event organised by a radical islamist group.  An event called "The role of women in making a humane society" which was organised by PFI also invited people of the banned SIMI organisation who shared the dias with former Vice President. Hamid Ansari was even seen presenting momentous to the PFI members in the function.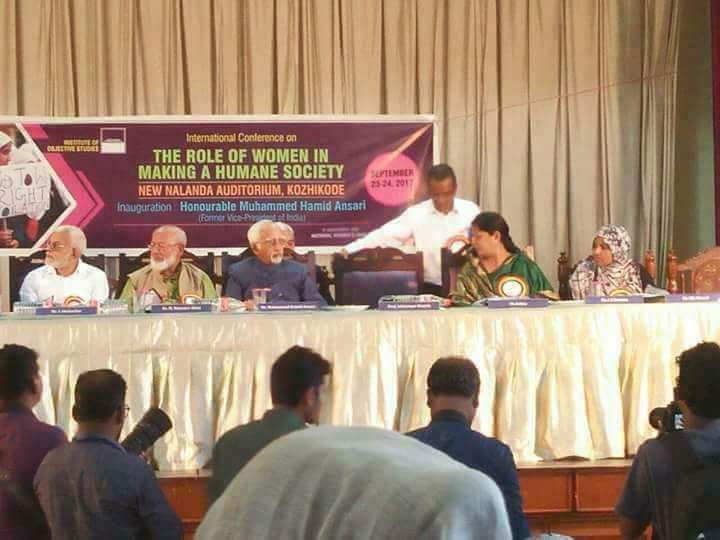 Shocking! Former VPrez Hamid Ansari presenting memento to terrorist outfit PFI National Chairman&former SIMI activist Aboobekkar in Kerala! pic.twitter.com/dPBeazf1bO

— Ex-Comrade ☭ (@excomradekerala) September 23, 2017
His move has definitely shocked the people of the country and exposed his double standards and hidden love for terror organisations.
It is well known that SIMI and PFI are two faces of the same coin and NIA had produced evidence showing their involvement in various terror activities in the country and killing of many BJP workers in Kerala and Bangalore. In July 2010, Kerala Police had unearthed country-made bombs, weapons and CDs and documents containing Taliban and Al-Queda propaganda from PFI activists. in April 2013 a series of raids by Kerala Police on PFI centres across North Kerala found lethal weapons, foreign currency, human shooting targets, Bombs, bomb making materials, gunpowder, swords etc. which police claim to reveal the "terror face" of the PFI. The NIA also submitted details to the Home Ministry which is considering to ban the terror outfit PFI.
The SIMI which was banned in 2008 after it was found recruiting and radicalizing youths for terror organisations from India started similar organisations in different names to continue their terror activities. In 2012, the Government of Kerala informed the High Court their opinion that the activities of the Popular Front are inimical to the safety of the country and that it is "nothing but a resurrection of the banned outfit Students Islamic Movement of India (SIMI) in another form".
So, what message does it send the country when a Former Vice President attends an event organized by terror supporters? This man who said India is not safe for Muslims after he enjoyed 10 years of power should feel ashamed to join terrorists events! No wonder these people have problems when stringent action is taken against terrorists in the country. Have to applaud Sonia Gandhi for giving such a Vice President!!!
---
Aishwarya S