Probably all those who came from no where  to support the #MeToo campaign propped for political mileages are now themselves getting caught in sexual harassment cases. Starting from Congress Rahul Gandhi team who was found to be vocal in #MeToo campaign was alleged of sexually abusing one of their women working in the team. Finding no help from Rahul Gandhi and Congress It cell head Ramya, she filed a police complaint which came as a massive embarrassment to them.
All those people who called themselves to be liberals, thinkers and jumped on streets holding placards are not to be seen when their own members are caught naked on their abusive behaviour. One such shameless person is singer Raghu Dixit who is well known for his songs in Karnataka.
This man who poses himself as the liberal God and cool chap has been accused of sexually abusing a colleague of his. Singer Chinmayi went on social media to expose this man Raghu Dixit whom she accused of speaking ill about his own wife and trying to misbehave with a women during a recording.
From a co-singer, a friend. I believe her.
Raghu Dixit – Your #TimesUP pic.twitter.com/gzgwy6Io9e

— Chinmayi Sripaada (@Chinmayi) October 10, 2018
More Raghu Dixit pic.twitter.com/5ZOucRdxlR

— Chinmayi Sripaada (@Chinmayi) October 10, 2018
Following this expose, Raghu Dixit has himself confessed that he tried to kiss the women and tried to get close with her. He has infact defended himself saying that he misjudged the situation and thought the women was trying to kiss him and made a move on her. He has also given a ridiculous statement where he says that he supports #MeToo campaign and women empowerment. It is indeed an irony that a man himself caught in sexual abuse is speaking about protecting women. It is more so like a terrorists speaking about propagating peace message to the world.
In order to save himself from embarrassment, he says he would learn from his mistakes which itself confirms that he misbehaved and sexually abused a women.
Take a look!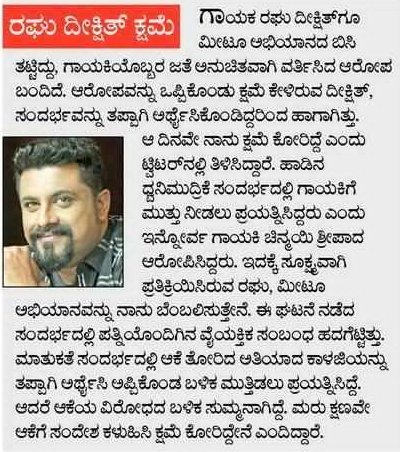 This was the same Raghu Dixit who had held placards during the #MeToo campaign and posed himself as a gentleman. It is a shame that these people who themselves behave as vultures trying to abuse and harass women whenever they get chance preach society about women safety. If at all women needs to be protected from anyone, it is these double faced pseudo activists.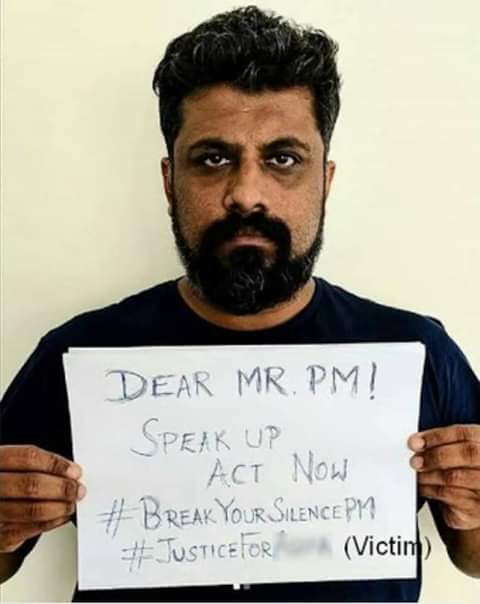 It is not just one lady singer who is accusing him of sexual abuse, but many women have complained against him of misbehaving with them. This man should be thrown out of the movie industry for the act he has committed and falsely projecting himself as a saint.
It is apparent that #MeToo campaign has more sexual predators within its circle than outside. Before these people preach others and call themselves women activists, they should first clean up their own history and filth in their minds.
---
Power Punch