Ever since the Mamata Banerjee government came to power in West Bengal, seems like the entire state has tuned into dictatorship rule where no one has the freedom to speak anything against the government or question them. There has been various incidents where social media activists who questioned Mamata Banerjee have landed in jail.
Now her dictatorship has stretched up to pressurizing the State Election Commission as well. Just days before the Panchayat elections in West Bengal are scheduled, it is being said that the Election Commission is facing severe pressure and influence through government. This information was revealed by none other than ex-Lok Sabha speaker Somnath Chatterjee.
While speaking to the media, Mr Charterjee said "I have seen many elections, but this one has given me a lot of pain. It is an important election and is being carried out without the participation of the people in general. This practice should be opposed."
Referring to the State Election Commissioner AK Singh, he said that looking at the number of uncontested wins it looked like Singh was being influenced. "The chain of events says that he is being influenced. I would request him not to get influenced. He holds a responsible post, and he should do justice to the chair," Chatterjee said (https://www.dnaindia.com/india/report-bengal-sec-being-influenced-says-ex-speaker-of-lok-sabha-somnath-chatterjee-2610012)
He also said that the State Election Commission (SEC) changed its decision of conducting the election in three phases and declared that it would be in one phase which put a question mark on the security aspect. "Now there are questions about adequate security personnel being available for the single phase," he said. Citing the example of Birbhum district where the ruling TMC has won all the 42 Zilla Parishad seats uncontested, he said that it was evident what was going on.
Somnath Chatterjee hinted that the Mamata Banerjee government had won many zilla parishad seats even without contesting elections. It is been observed that the violence in Bengal has reached its peak as the elections are approaching and most of the BJP candidates were attacked on streets when they arrived to file their nomination. Following attacks everywhere, the election commission had to open online portal for filing nominations to ensure security for candidates. Many women were also attacked brutally by TMC workers which has shown the deteriorating the law and order condition in Bengal.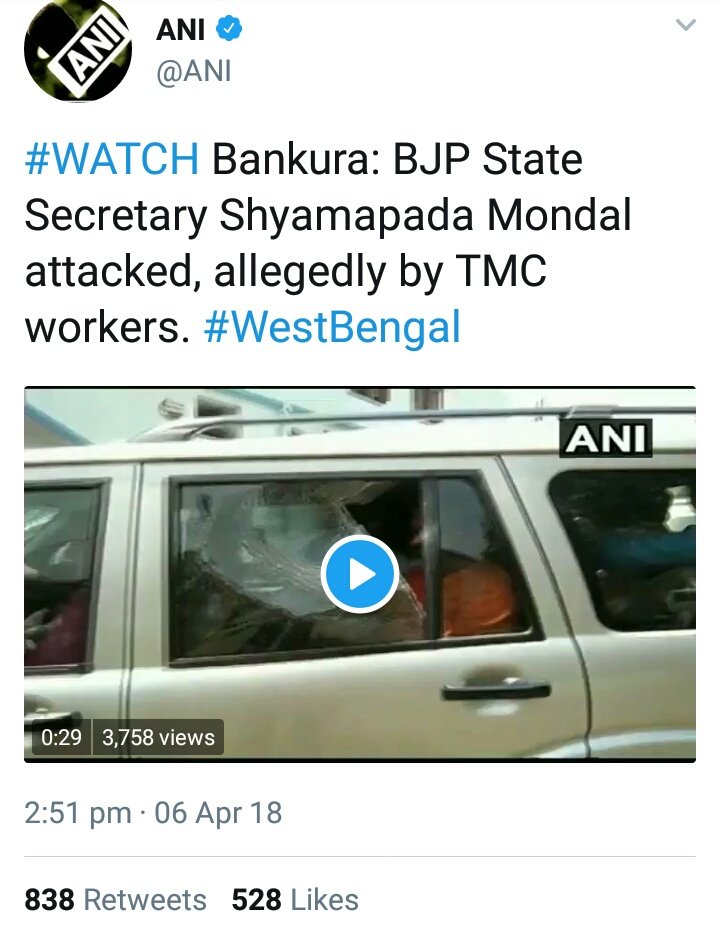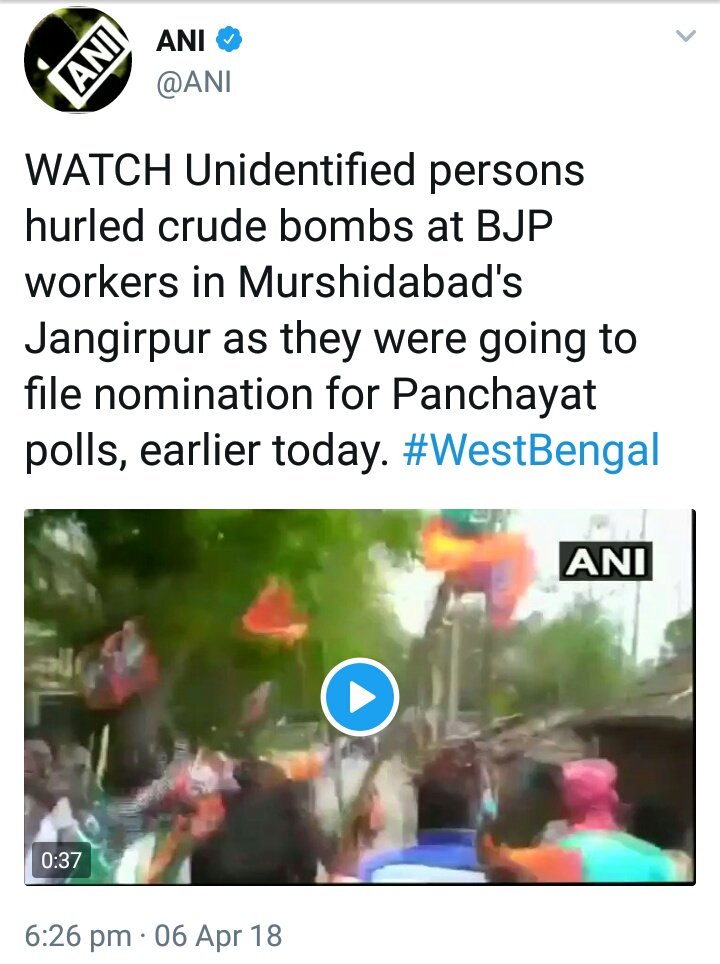 Protest March by BJP West Bengal at Shyambazar 5 Point Crossing in against of brutally Attack on our Panchayat Election Candidates and Karyakartas by TMC Goondas.

Many BJP Karyakartas are injured while one was murdered; but no arrest till now by Police. #BengalPanchayatPoll2018 pic.twitter.com/hhsdrz2bXc

— Akshay Singh (@Akshaysinghel) April 24, 2018
In fact Mamata Banerjee government has turned worst than the Left party and taken violence to the next level. What is making her desperate is that the survey reports have shown that BJP was gaining massive in the rural areas in the upcoming elections. This has made Mamata Banerjee worry and she is now trying all means to stop BJP from even contesting the polls by threatening their candidates. But seems like all her efforts are going in vain as people are now realizing the real intentions of Mamata Banerjee and rejecting her appeasement politics and hatred towards Hindus.
RT sampadscales: Yet another sample of #HealthyBengal…?

TMC goons along with MLA attack on BJP leaders & injured them in Durgapur, West Bengal..?

Listen what he says after public protest them on the spot….?#BengalPanchayatPoll2018 pic.twitter.com/a7soOW2I9L rt

— Naresh Choudhary (@naresh_nimbau) April 8, 2018
Source: https://www.dnaindia.com/india/report-bengal-sec-being-influenced-says-ex-speaker-of-lok-sabha-somnath-chatterjee-2610012
---
Power Punch