In the month of January, a video went viral on social media in which a BSF soldier claimed that the soldiers were not given good food and they were made to sleep in empty stomachs. He accused many higher officials in the army of corruption and demanded action against them. He had also accused that only BSF jawans were not being good food and the Indian army was given quality food.
But after preliminary investigations, it was found that Tej bahadur Yadav was a man who deliberately spread fake news with an intention to divide the BSF and the Indian Army. Some questions which were raised after the video went viral was, how did Tej Bahadur find a camera to record his video, because while on operation, no soldiers is permitted to carry any mobiles or cameras for personal use. Before publicly accusing the army, did he give a written complaint to the BSF about the problems he faced? If Yes, why didnt' produce them?
Tej Bahadur had uploaded a video which could have easily reveal his position in the army camp, he definitely knew it was punishable offense. Interestingly he was supported by the Pakistani nationals after he made claims against the BSF and Indian Army. This video was even repeatedly shown in all Pakistani channels maligning Indian army.
Finally the court monitored investigation proved that Tej Bahadur Yadav's claims were completely false and the quality and quantity of the food in BSF was upto the standards.
But just few days after the video went viral, many social media supporters of AAP and Congress had spread a propaganda saying that Tej Bahadur Yadav was dead and his body was found in an isolated place. But when the news was verified, it was found that the fake narrative was started by none other than the Pakistani ISI.
Personally checked with @BSF_India . Tej Bahadur Yadav is alive & well. This image was doctored by Pak ISI. Don't fall for Pak dirty tricks. pic.twitter.com/WWnmlYE7W3

— Major Gaurav Arya (@majorgauravarya) March 24, 2017
This fake news was spread by Congress and AAP supporters. The same man who made the Gurmehar Kaur video was the first one to publish these photoshopped images of Tej Bahadur and blamed the BSF and Modi government for the incident.
Looks like Indian BSF Jawan, Tej Bahadur Yadav who exposed indian army thievery & corruption & then went missing, has been killed. #Kashmir pic.twitter.com/kAlVSwW30a

— Asfandyar Bhittani (@BhittaniKhannnn) March 22, 2017
https://twitter.com/kamaaaa6/status/830032225127182336?ref_src=twsrc%5Etfw&ref_url=http%3A%2F%2Fpostcard.news%2Ftej-bahadur-yadav-really-dead-real-truth-behind-dead-picture%2F
After the enquiry showed that Tej Bahadur was lying, he was thrown out of BSF service for maligning the security forces and causing threat to the country and lives of other soldiers by posting video on social media.
Just a month after he was kicked out of BSF, he has now joined the Congress party and has been planning for a protest against Modi government and Indian army. So such protests require huge money….who is funding him? why is he holding protest against security forces if he has no vested interest?!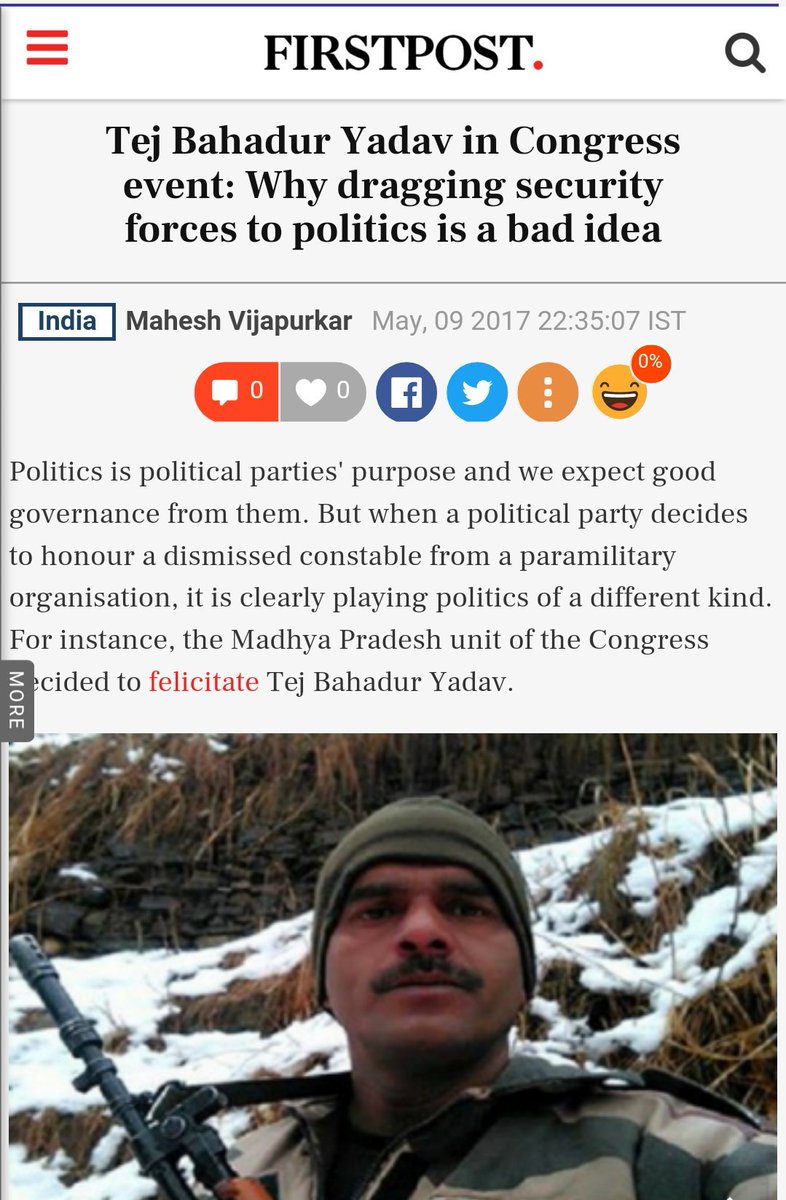 He is been meeting many Congress leaders since few days which has posed questions on his role. He is accusing that BSF has 80 percent corrupt officers. If he was really concerned about BSF or army why has he joined hands with Congress which is the birth place of corruption and known for its anti Nationalism?!
https://twitter.com/AsYouNotWish/status/864805752271228930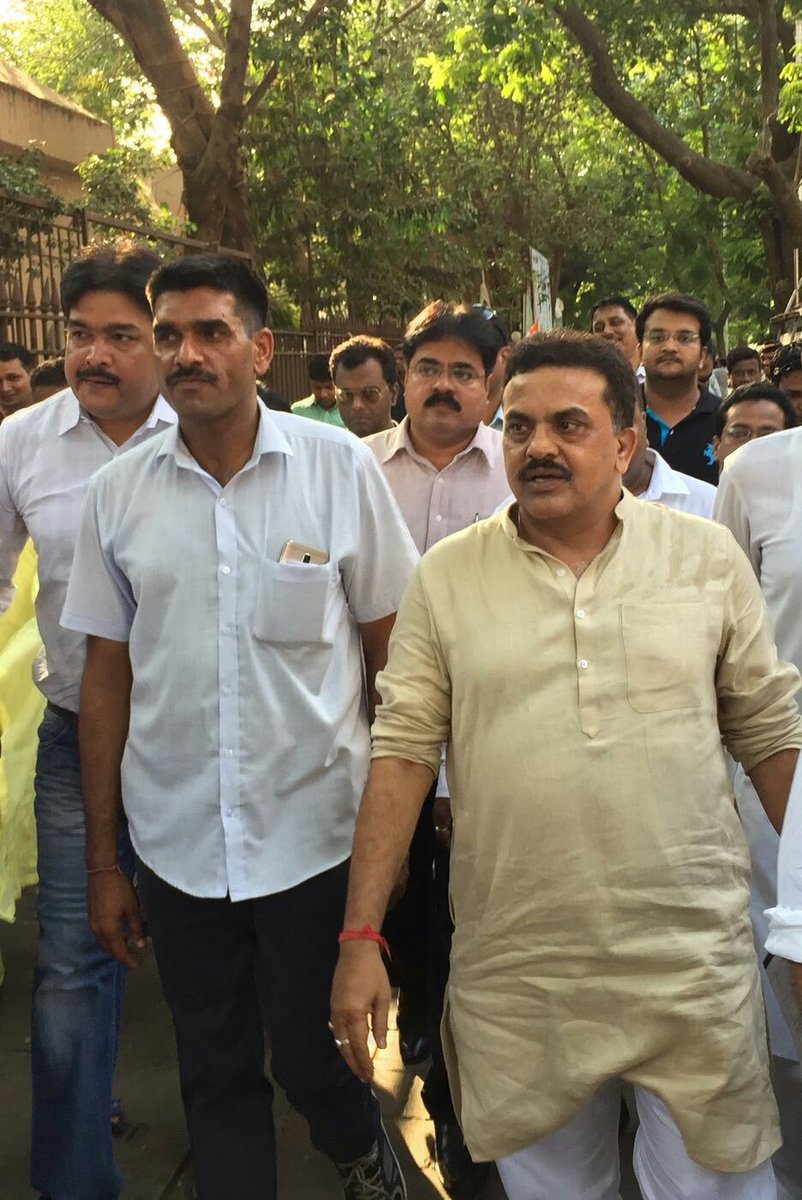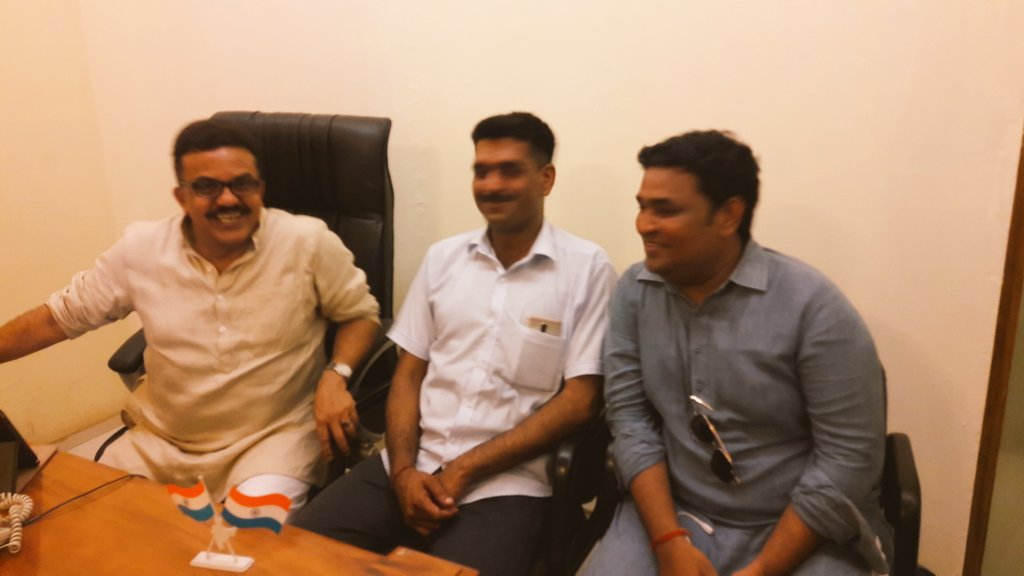 So now it is quite clear that on whose instructions this man working! This is a big lesson to people who emotionally reacted to Tej Bahadur's fake claims and believed him. Next time it is the responsibility of the people not encourage such traitors who stab the Nation for their political interest.
BSF Video Expose: Why we should choose truth and not fiction ?
---
Aishwarya S