Instead of asking what the Modi government has done to the nation, has anyone asked what not the Modi govt did? From reducing the flow of black money to Swiss bank, to stopping the infiltration of terrorists, Modi government has a fabulous report card.
But the latest news is bit different, and a normal person wouldn't have even imagined that India could do something like this. Yes, a recent report has said that the defence acquisitions council (DAC), chaired by defence minister Nirmala Sitharaman, has approved the acceptance of necessity (AoN) for the acquisition of the National Advanced Surface to Air Missile System-II (NASAMS-II) worth around $1 billion from the US.
At present the DRDO is near to completion with its two-tier ballistic missile defence (BMD) shield. This will come with the potential of tracking and destroying nuclear missiles inside and outside earth's atmosphere. But even before this project is completed, Indians have a good news as India is all set to acquire National Advanced Surface to Air Missile System (NASAMS).
How this missile system works in Washington?
The NASAMS, armed with the three-dimensional Sentinel radars, short and medium-range missiles, launchers, fire-distribution centers and command-and-control units to quickly detect, track and shoot down multiple airborne threats, is part of the air defence network guarding Washington.
It is also deployed in several NATO countries. Besides the US national capital region, Israeli cities and Moscow also have their own missile defence systems, reported Times of India.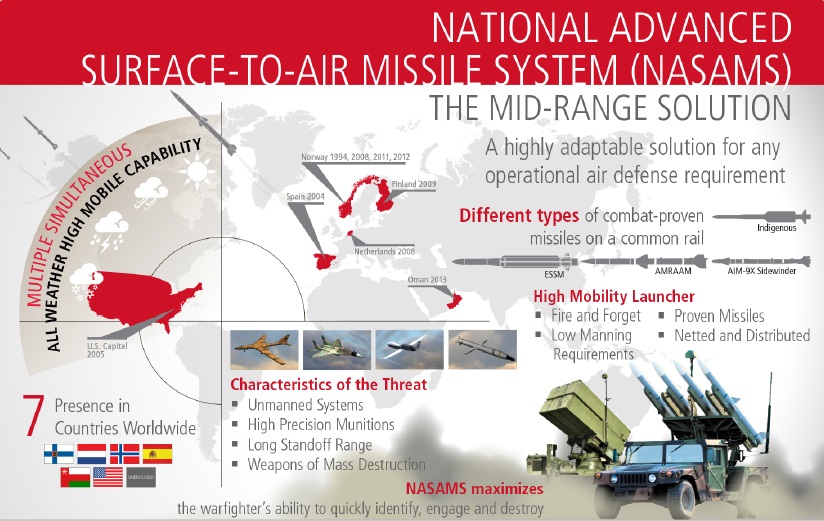 So like Washington, even India's capital city will be totally risk free from missile attacks. What is even good to hear is both NASAMS and India's BMD will be guarding the nation in the future. Yes, the sources said "Once the Phase-I of the BMD system is operational, it will be deployed to protect cities like Delhi and Mumbai from long-range missiles with a 2,000-km strike range. The NASAMS, in turn, is geared towards intercepting cruise missiles, aircraft and drones". At present, India is relying on Russian missiles to protect its capital.
The National Advanced Surface-to-Air Missile System (NASAMS) is a highly adaptable mid-range solution for any operational air defense requirement. The system provides the air defender with a tailorable, state-of-the-art defense system that can maximize their ability to quickly identify, engage and destroy current and evolving enemy aircraft, unmanned aerial vehicle or emerging cruise missile threats.
It has also stated that NASAMS is owned by seven countries and has been integrated into the US' National Capital Region's air defense system since 2005. In addition to the US, it is in service in Norway, Finland, Spain, The Netherlands and one undisclosed country. It is also currently in production for Oman.
Who else might use this system in the future gto guard their nation?
Lithuanian MoD announced Lithuania ordered 2 batteries (4 launchers)
The Australian defence minister Marise Payne announced first pass approval for the project on 10 April 2017. The Australian NASAMS will feature locally made components and be mounted on Hawkei vehicles.
Even Oman and Indonesia will be using this missile shield.
Delhi joins Washington and Moscow's elite missile shield club as Modi govt okays $1-billion advanced security system from US. Delhi would be safe during any missile attack.

— Prashant Patel Umrao (@ippatel) July 29, 2018
Source: Times Of India
---
Hansika Raj