India has long been a victim of many internal moles who have been responsible for riots, violence and maligning our country's image on an international platform. A section of people who call themselves intellects, liberals, seculars are actually serving international agencies whose main agenda is to destroy Indian economy, stop foreign investments and destabilize the federal structure of the country.
We very well know who these people are. The problems we see today is due to the constant neglect in curbing these lobbies which are working against India.
While the liberals and pseudo seculars call it exaggeration when someone terms them Anti Nationals, but their actions against India are most strong than their words of denying it. Be it since the time of Kashmir Azadi movement, certain section of people have been vocal against the country and its interest proving themselves to be nothing less than traitors.
For the first time, this lobby got exposed when they openly chanted anti India slogans in the heart of the Capital. Their defence for a terrorist like Afzal Guru said it all.  We saw who were the politicians who supported these students and shared the stage with them.
Let's face it, our country has no STRICT policy against any Anti National activities, even if there is, the courts hardly care to take suo moto action against such people either due to their political lenience or pressure from political parties.  If not, do you people who shouted PAKISTAN ZINDABAD in the capital of India would still be roaming free delivering hate speeches, mocking our army, calling them rapists?
The only reason these people display such brazen attitude is because they are being supported by some of the most powerful families of Indian politics and their lobbies. Without doubt, it is their strategy to defame, degrade and destroy India in every way possible to dethrone a  Nationalist government and place themselves in the power chair.
We can see how Rahul Gandhi who is on a vacation to Germany and UK is maligning India with his fake narratives and false information. he on record went to say that China had a better local leadership while India has a dictatorial leadership. There cannot be a bigger irony as China doesn't follow democracy by principle and dictatorial rule is the trade mark of their governance, while India follows a democratic rule where every individual has freedom to express their opinion. Rahul Gandhi should realise that  he is able to mock the government in another country is not because of dictatorial rule but because of the democratic set up and the liberty our constitution provides.
It is indeed a sad part that the President of the oldest political party took a stand against India on Doklam issue in a foreign country jeopardizing the National security. He should feel ashamed that he went on to meet the Chinese Envoy secretly when the Doklam issue was at its peak.
Let us not forget Rahul Gandhi's party members had requested Pakistan's help to remove the democratically elected Prime Minister of our country. This is not the first time that Congress leaders have gone to the extent of maligning India on a global platform but have depicted India as a rapist, poverty based, illiterate country.
Rahul Gandhi in Germany said that Indian men do not respect women and India women are under severe threat of atrocities like rape and molestation. But the sad part is, this man hasn't taken any action against his own team member who is accused of harassing and molesting a women.
Rahul Gandhi comparing an Nationalist organisation like RSS to terror group like Muslim Brother hood itself shows their prime target is Nationalists who are the main barrier which is preventing the foreign agencies from dominating India. Same Rahul Gandhi doesn't utter a word against Hizbul Mujahideen or  SIMI or PFI which have a track record of sponsoring and conducting terror operations in India. The RSS has saved over 1 lakh people after Kerala was hit with floods, shouldn't we ask how many people has organisations like PFI, SDFI helped?
This more so seems like a sinister plan by foreign funded agency which is trying hard to project India as a failed country. Just couple days back, the entire country saw as to how the Kerala Chief Minister and Congress spread a fake news about UAE donation Rs 700 crore to Kerala relief fund. This news propaganda was spread by every Congress man which became viral in India. The entire country for almost 2 days actually believed that the UAE had really offered a relief fund of Rs 700 and Modi government had deliberatly refused it. It was only after IAE government clarified did we understand that the news was a cooked up story by the same anti National lobby which had the history of supporting terrorists.
CM Pinarayi Vijayan informed that the United Arab Emirates will provide Kerala an assistance of ₹700 Crore. Kerala has a special relationship with UAE, which is a home away from home for Malayalees. We express our gratitude to UAE for their support. #KeralaFloodRelief pic.twitter.com/yfwbt9iEkd

— CMO Kerala (@CMOKerala) August 21, 2018
As soon as Kerala CM announced about 700 crore aid, the entire media lobby which is well known to support terrorists and Congress cadre and all terror sympathizers switched to active mode to malign Modi government. This was nothing but an international plot meant to directly target PM Modi that he was against Kerala.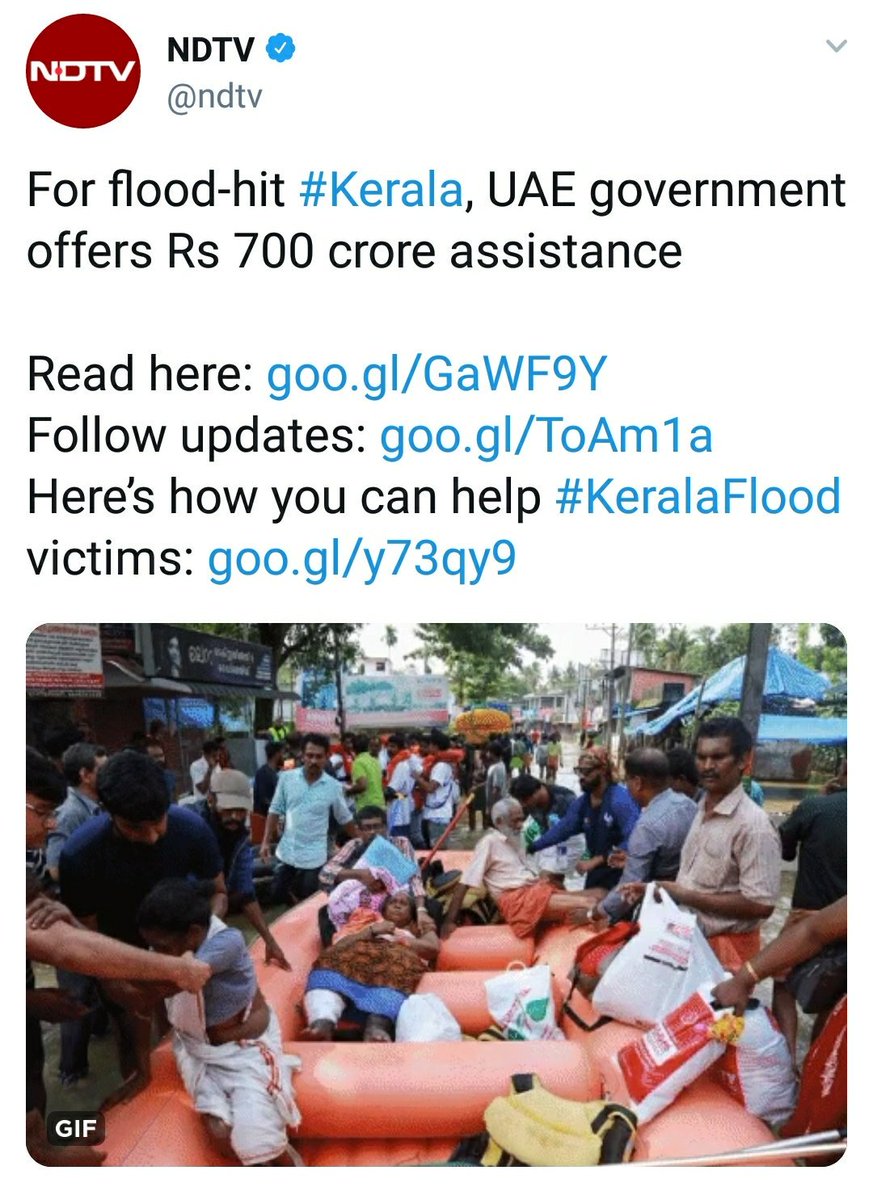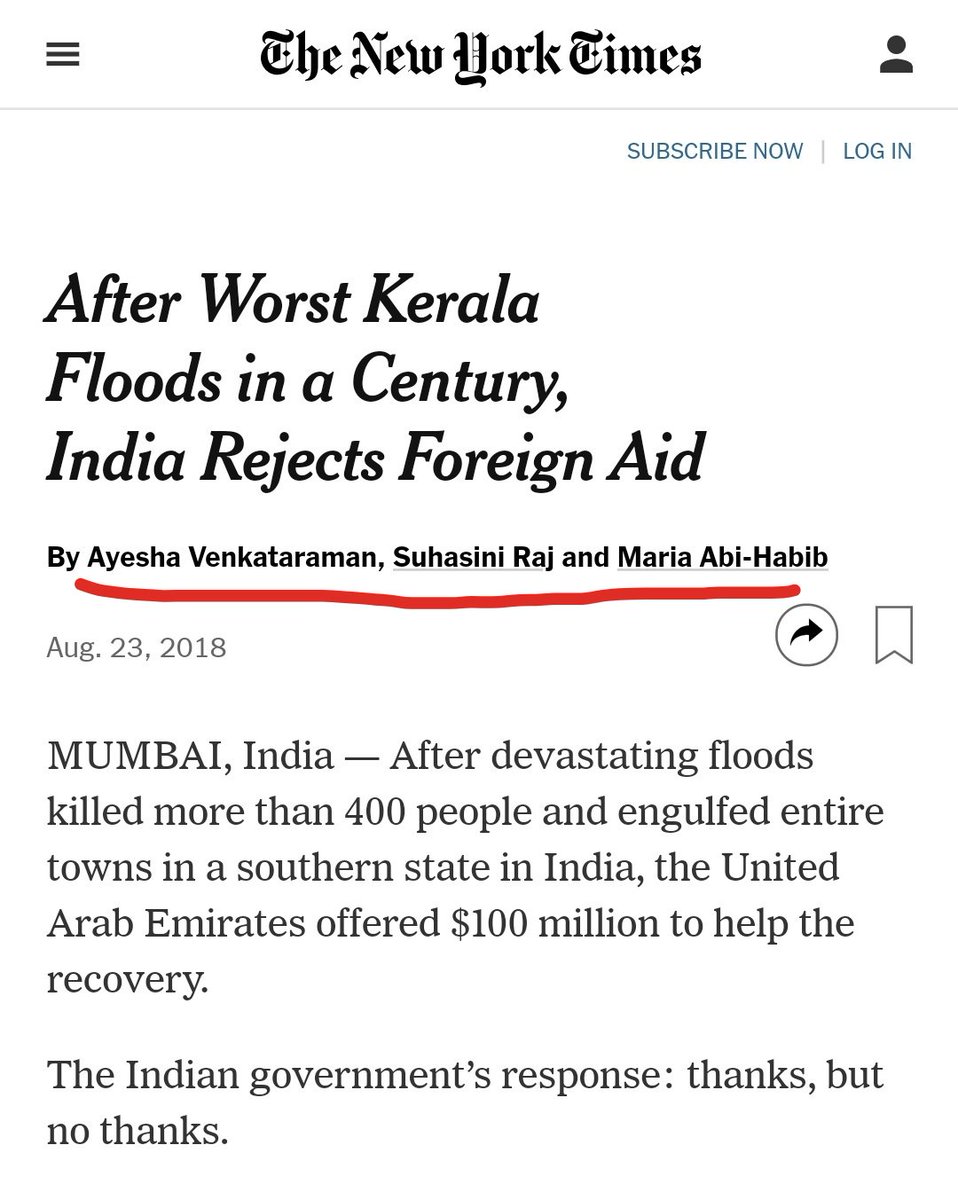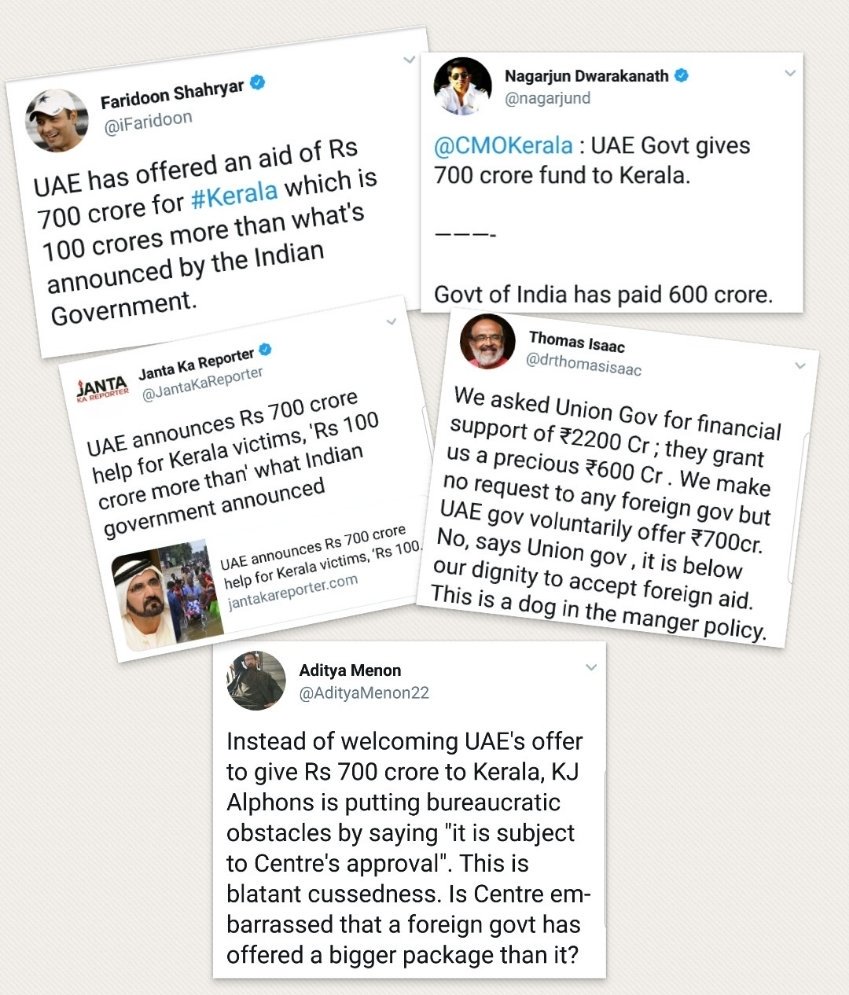 Our country has tolerated enough nonsense in the name of freedom of speech and liberalism. Speaking against country is no freedom of speech! It has only helped people to spew venom against own country. Our governments remain silent when Fake Journos tweet live army operations, speak in favour of terrorists, rallied for terrorists in universities. Separatists enjoying with our tax money, What more should we see before we speak against these people.
The president of a political party goes to another country and speaks against us and we think its funny. But on a serious note, there cannot be bigger irony of tolerating someone who is openly batting against the country.
How many more episodes of 'India Maligned' should we watch keeping ourselves muted? In any other country, if a leader of the opposition party had spoken ill about his/her country and jeopardized the National security, am sure by now he would have lost his political career. But in our country we have allowed such people to remain in politics, given them security with our tax money and opportunity to speak so that he gives us the title rapist country, communal and intolerant!
---
Aishwarya S