It was in the year 1893, a steamer that sailed from Yokohama to Vancouver saw two great men travel together. One was the spiritual guru who defined Hinduism to the world and the other was one of the greatest visionaries of all times.
Jamsetji Tata, who was a frequent traveller to abroad was traveling to Chicago from Yokohama. He booked his ticket from Yokohama to Canadian port of Vancouver and boarded the luxury Ship of Canadian Pacific Steamship Company. When he settled in his seat, he was pleasantly surprised to meet the man who he admired a lot and that was none other than Swami Vivekananda. Vivekananda was on the same ship travelling to Chicago to address the famous Parliament of the World's Religions forum. His remarkable speech opened the doors of Hinduism to the West, awakened the Hindus in India and sowed the seeds of Nationalism in British Raj.
So, when Jamsetji Tata noticed Vivekananda they greeted each other and sat together. Although both knew about each other, they had never got the opportunity to speak. But this time, they were sure of having enormous time to discuss topics right from spirituality to Science to India's future.
As they started talking, Vivekananda explained his experiences while travelling the length and breadth of India in search of truth. He highlighted how Indians were being suppressed by the British in every way possible. He expressed anguish over the continuous efforts by colonial rule to oppress and degrade the Indian culture and its core values. He even told the time when he visited Canton (Guangzhou) in China how he had found many manuscripts written in Sanskrit and Bengali languages in Buddhist monasteries. When Jemsetji Tata had asked about the his mission, Swami Vivekananda had confidently said that his mission was to take his belief to the West and erase the misconception about Hinduism and unite the major religions of the world.
The world religious conference was one of the first of its kind which invited over 5,000 religious officials, scholars, intellects, historians representing major religions of the world to which Swami Vivekananada was also invited as a speaker.
Jemsetji Tata was very much impressed with Vivekananda's ideas and philosophies and his desire to make India the world leader and expressed his vision to him. He said he was astonished with Japan's technological progress and phenomenal growth in quality goods which helped them beat many companies in the world. He said he wanted to establish Steel industry in India and make India a strong Industrial nation. He founded the largest conglomerates which has today become the backbone of the country.
Vivekananda heard his talk with great enthusiasm, adding that India's real growth lies in up lifting the ordinary citizens. He also gave an idea to Jemsetji saying that instead of importing match boxes from Japan, Jemsetji should start a manufacturing unit in India. Vivekananda's deep knowledge in Science and understanding the country's growth was something that impressed Jemsetji very much.
Their talk got so serious and Jemsetji finally requested Vivekananda to assist him in building a research Institute in India. Vivekanada smiled and answered saying "How wonderful it would be if we could combine the scientific and technological achievements of the West with the asceticism and humanism of India!"
Their simple casual talk in a boat struck Jemsetji' who then wrote a letter to Swami Vivekananda in 1898.
The letter read
Esplanade House, Bombay.
23rd Nov. 1898

Dear Swami Vivekananda,

I trust, you remember me as a fellow- traveller on your voyage from Japan to Chicago. I very much recall at this moment your views on the growth of the ascetic spirit in India, and the duty, not of destroying, but of diverting it into useful channels.

I recall these ideas in connection with my scheme of Research Institute of Science for India, of which you have doubtless heard or read. It seems to me that no better use can be made of the ascetic spirit than the establishment of monasteries or residential halls for men dominated by this spirit, where they should live with ordinary decency and devote their lives to the cultivation of sciences –natural and humanistic. I am of opinion that ,if such a crusade in favour of an asceticism of this kind were undertaken by a competent leader, it would greatly help asceticism, science, and the good name of our common country; and I know not who would make a more fitting general of such a campaign than Vivekananda. Do you think you would care to apply yourself to the mission of galvanizing into life our ancient traditions in this respect? Perhaps, you had better begin with a fiery pamphlet rousing our people in this matter. I would cheerfully defray all the expenses of publication."

With kind regards, I am, dear Swami

Yours faithfully,
Jamshedji Tata
Swami Vivekananda who was busy establishing the Ramakrishna Mission, could not accept the offer and therefore sent Sister Nivedita to meet Jemsetji Tata and work out the plan to start the research Institute.
The blue print and the entire plan of the research Institute was ready within months. But the British Viceroy, Lord Curzon who got intimidated by the development, turned down the plan. However, Jemsethji, did not stop his efforts and took the project forward. Finally in the year 1898, his dream was fulfilled when he met the Diwan of Mysore Sheshadri Iyer who got very impressed with the idea and took him to the Maharaja of Mysore Krishnaraja Wodeyar IV. KrishnaRaja Wodeyar who was well known for his generosity, humble nature and a vision of a statesman realised the importance of the research institute in the growth of the country and decided to donate a whooping 372 acres of free land in the heart of Bangalore for the research institute and with all facilities.
Finally in the year 1909, the first research Institute in Bangalore called the Tata Institute of Science was born, which is none other than today's world famous Indian Institute of Science.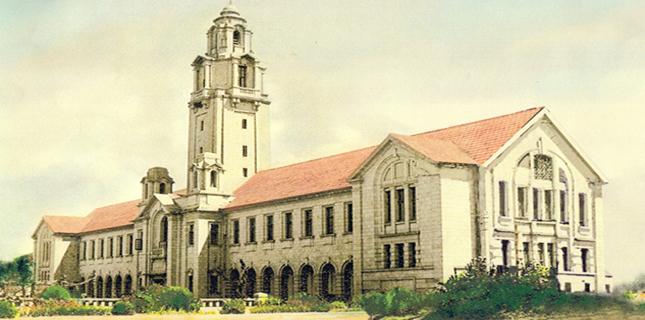 But sadly, the pioneers of this great institute, Swami Vivekananda and Jemsetji Tata both were not alive to see the future research institute flourish as Vivekananda had passed away in 1902 and Jemsetji passed away just 2 years later.
Later with the great efforts of Sir M Visveshwaraiah and the Maharaja of Mysore, the IISC was given all funds and facilities and expanded more with the help of the TATA's.
It is indeed an inspirational story to know that this great institute was the vision of the greatest philosopher and the father of Indian Industry which gave opportunity to hundreds of scientist to put forth their ideas and is today bringing laurels and awards to the country. It is our responsibility to uphold the dignity and purpose of this great institute for which it was built and not let political pressure deviate the mission.
---
Power Punch