The Indian Army chief who successfully carried out "Operation All out" in Kashmir has made the most daring statement ever. Targeting the people who are dreaming of taking away Kashmir from India, General Bipin Rawat has said that "AZADI will not happen, you cannot fight the Army — this is a dictum Kashmiri youth need to know".
General Rawat warned the Kashmiri youths that they are in a delusion that picking up the gun will get them "Azadi". He added "I want to tell Kashmiri youth that Azadi isn't possible. It won't happen. Don't get carried away unnecessarily. Why are you picking up weapons? We will always fight those who seek Azadi, those who want to secede. (Azadi) is not going to happen, never".
Fresh recruitment is done by the terrorists but its of no use!
Speaking about the killed terrorists, General Rawat said that numbers don't matter to him and the killing of terrorists will continue as it is a cycle. He also mocked at the recruitment drive of the terrorists and said "These numbers don't matter to me because I know this cycle will continue. There are fresh recruitments happening. I only want to stress that all this is futile, nothing is going to be achieved by them. You can't fight the Army".
Army chief also said that they doesn't enjoy killing the terrorists and are upset about it. He said "We don't enjoy it. But if you want to fight us, then we will fight you with all our force. Kashmiris have to understand that the SFs (security forces) haven't been so brutal — look at Syria and Pakistan. They use tanks and air power in similar situations. Our troops have been trying their level best to avoid any civilian casualty despite huge provocation".
"I know that the youth are angry. But attacking security forces, throwing stones at us isn't the way", he added.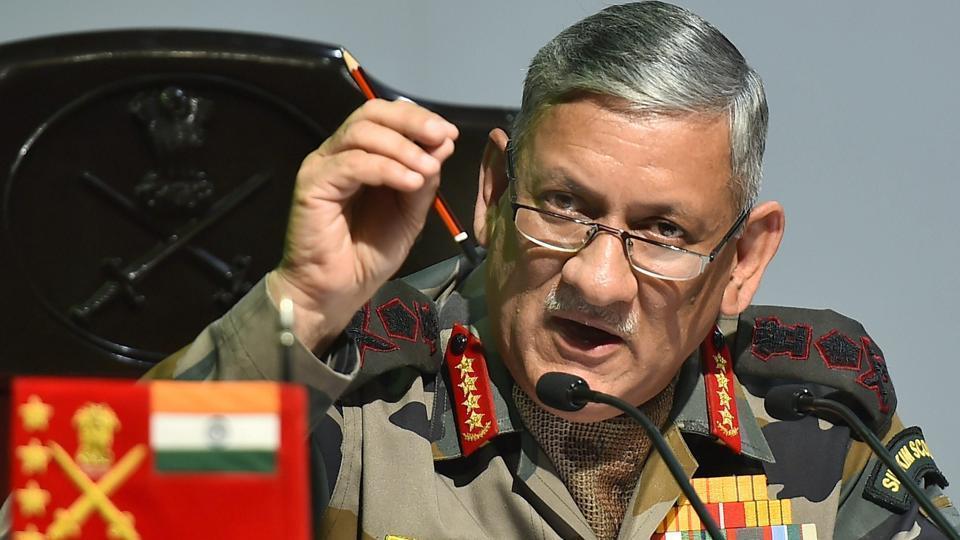 General Rawat also warned the stone pelters!
The fanatic and the lunatic stone pelters have tried to create obstructing during the anti-terror operations of the Indian Army. The valley has to face violence due to these terror sympathizers. Recently an innocent youth was killed by the stone pelters. Slamming these brutal pelters, General Bipin Rawat said,
I don't understand why people are coming out in huge numbers to disrupt our operations. Who is inciting them? If they want that the militants aren't killed, they should go and tell them to come out without their weapons so that nobody is killed.
Let anyone of them say — mein le kay aata hun (I will bring him out). We will halt our operation. We can't allow people to disrupt our operations and help terrorists to flee.
What is the opinion of General Bipin Rawat about India's current muscular policy?
It is a known fact that even though the Indian Army is among the best in the world, it equally has a kind heart to the anti-national elements. General Rawat reminded that the Army was initially not aggressive and tried giving a chance to the "break India forces" to change. But they didn't understand.
"The Army did try a soft approach too. Until June 2016, everything was fine. What is that incited people so much because of that one encounter? (in which Hizbul's Burhan Wani was killed). Everything was turned upside down in a few days time. The entire South Kashmir was out in the streets, throwing stones at us, attacking our posts. By October-November, I was getting messages that people say Azadi dur nahi hai (Azadi isn't far away)" said the General.
Speaking about the encounter of terrorists' poster boy Burhan Wani, General said "Somebody was feeding this to people, telling them Azadi was around the corner. Our posts were being regularly attacked. Stones were being pelted at our men. We had to bring the situation under control. We couldn't afford all that. We needed to tell people Azadi isn't happening. We had to establish the writ (of the state). (The Burhan Wani encounter) wasn't the first such encounter in Kashmir,'' he said. "I am still trying to understand where did all that anger come from. The youth have gotten themselves in Pakistan's trap. They are being consistently incited to attack us".
---
Hansika Raj