India witnessed many wars after independence, it witnessed many communal clashes between people. But the incident which took place on January 19, 1990 was something which shook the conscience of people. If there is anything that can be called an act of demons, the incident of January 19 is an example.
Yes, it is the Kashmiri Pandits exodus that took place 27 years back even today haunts the Nation. The brutal murder of innocent Kashmiri Pandits in the name of Islam and ethnic cleansing. It was the first indication of the dominance of separatists and Pakistan sponsored terrorism with an intention to free Kashmir from India. The azadi agenda which was propped up by Jammu and Kashmir Liberation Front (JKLF) and the pro-Pakistan Islamist groups including JIJK literally built hatred against the Kashmiri Pandits who were the native of the state. They termed non Islamic people Kafirs and called for jihadi movement which wiped out the Pandits population in Kashmir.
But the process of ethnic cleansing did not start in 1990, but started way back in 1980s when the separatists groups tagged up with few political parties started violence in Kashmir. This was part of a larger plan to turn Kashmir into a Muslim dominated state and ultimately separate it from India.  In 1990, it was decided that all Kashmiri Pandits will have to be chased away from the valley for which they planned an orchestrated attack on the night of January 19th. Before the incident happened, on January 4, Aftab, a local Urdu newspaper published a press release by Hizbul Mujahideen, the wing of Jamaat e Islami warning all Hindus in the valley to pack their belongings and leave Kashmir. The same expulsion order was also published in another local paper Al Safa.
Following this, small groups of separatists started running havoc in the city threatening the Pandits to leave the valley immediately. Farooq Abdulla who the Chief Minister of the state then abdicated all duties and remained mute. Masked men waving Kalashnikov and chanting anti Indian slogans were seen roaming in cities. Reports of separatists attacking Kashmiri Pandits in many areas started flowing and slowly the situation turned tense. Panditis feared going out of the house, women and children were threatened. Explosions, inflammatory speeches were made openly against Pandits and Hindu temples were forcefully shut down. There were posters every where in Kashmir ordering people to follow Islamic dress code, prohibiting the sale and consumption of alcoholic drinks and imposing a ban on video parlours and cinemas. The masked men with Kalashnikovs force people to re-set their watches and clocks to Pakistan Standard Time. Notices were pasted on doors of Pandit houses, asking the occupants to leave Kashmir within 24 hours or face death and worse. Some are more lucid: "Be one with us, run, or die!"
Tensed situation prevailed in Kashmir and many Pandits slowly started vacating their houses in Kashmir. But on the night of January 19th, what Kashmir saw was a literally a demonic act which wiped out Pandits from Kashmir. After Farooq Abdulla abdicated his position, governor rule was imposed in Kashmir. On the same day Jagmohan, the governor of JK took charge as the state. Based on intelligence inputs, curfew was imposed in the valley but however the separatists were prepared for the attack.
The entire day, loud speakers in mosques were used to warn Pandits and as the night fell the situation became more tense. Suddenly, all the mosques in Kashmir started announcing "Kashmir mei agar rehna hai, Allah-O-Akbar kehna hai' (If you want to stay in Kashmir, you have to say Allah-O-Akbar); 'Yahan kya chalega, Nizam-e-Mustafa' (What do we want here? Rule of Shariah); 'Asi gachchi Pakistan, Batao roas te Batanev san' (We want Pakistan along with Hindu women but without their men)."
Hundreds of separatists gathered on streets on different parts of Kashmir, they started entering the houses of Kashmiri Pandits and threw people outside their houses. They started butchering people on the streets, burning them with petrol and kidnapped women. Small children were not spared and they were beaten to death without mercy. More than 300 houses were attacked simultaneously, which turned Kashmir into a war ground. There were shouts, screams of young children and women on the streets. Terrified Pandits started to flee directionless to all bus stations and railway stations to escape from Kashmir. They got into which ever buses available and fled Kashmir in the dark night. With no place to go, thousands of Kashmiri Pandits blindly left to Delhi and Jammu to save their lives.
Amid the tensions, the police were no where to be seen, the governance had failed, no hospitals were open. The Muslim doctors were warned not to treat Hindu patients. People were lying dead on the streets, half burnt bodies were seen everywhere.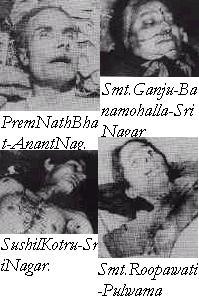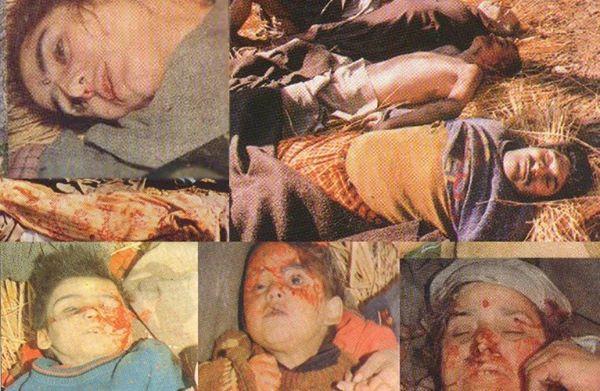 Houses of Pandits were burnt down to ashes, people hiding at home were dragged out and killed. Old people who could not flee were left to die on streets. Within hours, the beautiful city of Kashmir was tuned into a graveyard with smoke engulfing the skies.
In the morning, what was left was a silent valley, with only dead bodies on streets, burnt houses and abandoned children who had no idea what happened.
No one ever cared for the death of Pandits, no government came forward to rescue Pandits, no one arrested the demons and terrorists who killed these innocent lives. The terrorists, pseudo political parties achieved what they wanted in Kashmir. The valley was turned into land of terrorists within no time. The original natives of the land today have turned into refugees in their own country, they are living as foreigners in their own land. Even today, their tears haven't stopped flowing. Their anguish, pain and the dark memories haven't left them and continues to haunt them every day and every minute.
After 27 years, what is left is the memories of the unforgettably night, abandoned houses in Kashmir, hope less future and teary eye of thousands of Pandits anticipating to get their life back.
Ticket to exile: Bus ticket purchased by family on 19th Jan., 1990 when we were forced out of Kashmir. #KPExodusDay pic.twitter.com/dXBzVrKXoT

— Aditya Raj Kaul (@AdityaRajKaul) January 19, 2016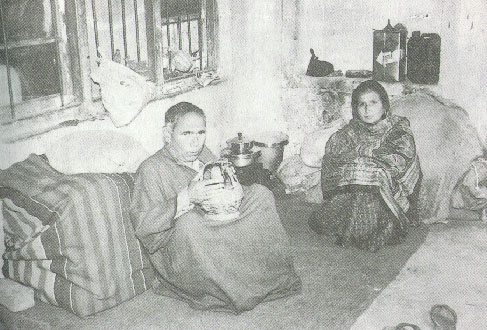 WAITING FOR THE JUSTICE THAT MAY NEVER COME!!!
---
Aishwarya S