There is a reason why few Bollywood people have earned the name pseudo-liberals and anti-Nationals. It is because of their disgusting nature of insulting the country and the people who protect it. Just when the entire country was mourning the death of Major Kaustubh Rane who sacrificed his life in the infiltration operation in Gurez sector of Jammu and Kashmir, here is a Bollywood actress whobseems to have insulted army man who had taken stringent action against blood thirsty stone pelters.
In any other country, if a person would have insulted the Army like the way this shameless lady did, they would have probably landed in jail for decades. But here is our country which has made her Bollywood actress, given her space to make money and freedom to abuse our soldiers. She is none other than Swara Bhaskar who is well known for her Placards marches, protests and selective outrage against Hindus and India.
Check what she called Army Major Gogoi in her tweet that has enraged people on social media.
Some assholes with big caste pride, tied men to a jeep, flogged them publicly and recorded it ; #ButLiberalsAreFanatics #SadhguruSays

— Swara Bhasker (@ReallySwara) August 10, 2018
Her tweet is probably in reference to Major Gogoi, the same person who tied a stone pelter to his jeep and thus prevented 300 stone pelters from attacking the Indian Army. He was criticized for taking this step by the terror sympathizers gang who went on to compare him to General Dyer who was responsible for the massacre of thousands of innocents in Jalianwala Bagh.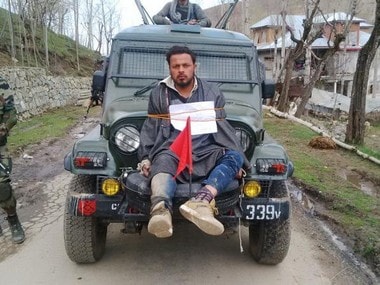 This same lady had earlier too supported anti-National clad of Kanhaiya Kumar, Umar Khalid of the JNU. But what is even more shocking is that Swara Bhaskar is the potential candidate to head the Congress IT Cell after Divya Spandana. This talk was being heard in the power corridors of Congress a few weeks back.
But after massive outrage on social media, Swara Bhaskar yesterday issued clarification saying that her tweet was not in reference to Major Leetul Gogoi but Una Dalit attack incident where Dalit were tied to jeep.
Since her tweets were not in a thread or did not have any clear reference to the issue she was talking, it easily mislead people. Given her past history of supporting anti nationals, one should not be surprised if she really ridicules army. Because it was the same clad who had tried to character assasinate Major Gogoi just few months back.
---
Power Punch