"While you are mocking at a Pakoda Wala. This man quit his job at Google to sell Pakoda (samosas), has a turnover of Rs 50 lakh".
If we are broad-minded enough to see the positive side of it …Popular chains like Cafe coffee day, Barista and many more are actually todays modern "Chai Pakoda Walas" but it is sad that THE OPPOSITION don't see it as a respected job, may be they were born in rich family but we are not and to us every job is respected job that fills our stomach.
Meet Munaf Kapadia…
Very few find the courage to leave behind a secure and stable life in pursuit of their passion. "Munaf Kapadia" quit his well-paying job at the multinational giant "Google to sell samosas". His conviction and hard work paid off and today, his company has a yearly turnover of Rs 50 lakh!
For most of the IT professionals, landing a job at Google is a dream turning to reality. Not only does it have a brand value but it also assures the employee of a good salary and stability. However, Munaf stands out of this crowd. He dared to leave his job at Google to sell samosas and is now the proud owner of "The Bohri Kitchen" (TBK) in Mumbai.
Munaf got his degree in MBA a few years ago and left the country after a couple of years of working here and started his stint at Google. However, after working for a few years for Google, he wished to explore better opportunities. The idea of starting his own business struck him and he returned to India.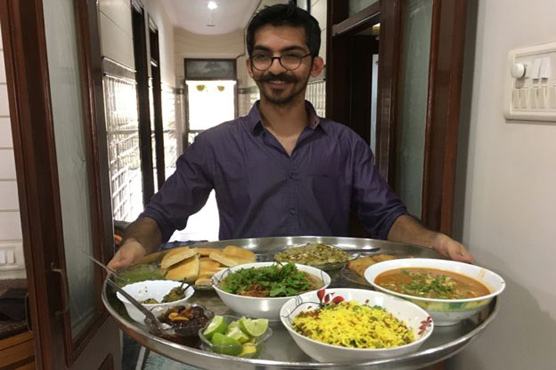 It was all for her: Munaf says
Munaf's mother Nafisa had a keen interest in watching cooking shows on television and is an excellent cook herself. Taking tips from his mother, he decided to open a food chain. He let a few people sample his mother's food. The idea to invite people over for a paid meal was a hit and that's how The Bohri Kitchen, a concept food dining experience in Mumbai, was born.
There is a demand for TBK's samosas among famous celebrities and five-star hotels. A variety of dishes other than samosas is also sold here such as Nargis kebab, Dabba gosht, and many others. The restaurant has a turnover of Rs 50 lakh. Munaf wishes to expand and increase the yearly turnover to nearly Rs 5 crore in a few years. His restaurant is so famous that people wait in long queues to get their turn. Munaf has been featured in the "Forbes under 30 list" and credits his entire success to his mother. Now that's called being a true Indian.
What do the Congressmen have to say now? Are the Pakoda and Samosa Walas still low to them?  Is the turnover of 50 lakhs still a tiny amount to them? Is Munaf stupid enough to quit his level profile job and start this venture for his mother? No he's definitely not.
Well, there can be also another reason that they find it as a low job maybe because the Congress is used to earn living by looting money from the government funds and from the funds reserved for the public. Then how is it possible for them to appreciate the importance of Pakoda makers? Has Rahul Gandhi ever worked for a living? Does Chidambaram know the pain behind a daily wage worker?  The Congressmen are against the culture of daily labour. They believe in the easiest way to earn money and that's to LOOT from those who work hard for a living.
Source: https://www.indiatimes.com/news/india/he-quit-his-job-at-google-to-sell-mutton-samosas-his-company-now-has-a-turnover-of-rs-50-lakh-325764.html
https://economictimes.indiatimes.com/news/company/corporate-trends/this-mba-graduate-quit-his-job-at-google-to-sell-mutton-samosas/the-bohri-kitchen/slideshow/59036175.cms
---
Advithi