Indians are still confused whether Rahul Gandhi is the President of Congress party or a stand-up comedian. Whenever he comitts a gaffe, the Congress leaders say that he needs time to get matured. Well, he is 47 years old and yet to be matured? When I was in Class 7th, my mother would shout, "You are in "class 7″ yet still act so immature".
The reason for this debate is that Rahul Gandhi in a hurry to entertain his blind followers has made another blunder. Mahatma Gandhi was practicing "Bramacharya" by sleeping with 2 women. But, Rahul Gandhi has mocked it today. Is this the way of respecting a freedom fighter, Mr Rahul Gandhi?
Today, he said:
RSS idea aimed at dis-empowering women. Does anyone know many leadership positions are with women in RSS? Zero. If you see pix of Mahatma Gandhi you'll find women on this side (right), this side (left) but if you see pix of Mohan Bhagwat, he'll be alone or surrounded by men.
As per youth icon Rahul Gandhi, who is still not matured as claimed  by his own people, says that if a man surrounds himself with a women, then it is the true symbol of women empowerment. Wah Rahul Gandhi, Wah. You are totally incredible and the nation truly cannot bear you as the future Prime Minister.
With his statement, he has clearly insulted Mahatma Gandhi. How can he talk so cheaply talk about Mahatma Gandhiji? Rahul Gandhi, who secretly meet women in foreign nations just to enjoy, doesn't know the real meaning of women empowerment.
"One of the most important thing to be done in the Congress is to balance the number of men we put to fight election & the number of women. I would like to invite women to join the party in Meghalaya so that we have more & more women to choose from: Rahul Gandhi in Shillong", Rahul Gandhi further added.
People couldn't stop from laughing at his choice of words!
Rahul Gandhi: If you see pictures of Mahatma Gandhi you'll find women on either side but if you see pictures of Mohan Bhagwat, he'll be alone or surrounded by men.

He's done it again!!!?????

.

— Priti Gandhi (@MrsGandhi) January 31, 2018
This was not the first time when Rahul Gandhi proved his foolishess. Months ago, in Gujarat, Rahul Gandhi had made certain sexist remark on women!
Inka (BJP's) main sangathan RSS hai. Kitni mahilayan hain usme? Kabhi shaakha mein mahilaon ko dekha hai shorts mein? Maine to nahi dekha (Their main organisation is the RSS. How many women members does it have? Have you seen a woman in shorts at their shakhas? I haven't seen any)".
"Inki thinking hai jab tak mahilayen chup rahen, kuchh bolein na, tab tak mahilayen theek hain. Jaise hi mahila ne munh khola, usko chup karvao (Their thinking is that as long as women are silent, they are okay. As soon as a woman speaks out, they silence her)".
Rahul Gandhi made the above sexist remarks in Vadodara.
This, so called youth leaders doesn't know that RSS have a women's wing, Durga Vahini. He also doesn't know that RSS has recommended three women for the top most positions in PM Modi's cabinet. Sushma Swaraj as external affairs minister, Nirmala Sitharaman as Defence Minister and Smrithi Irani as IB Minister; all three are women. Did Rahul Gandhi's Congress ever made a woman as a full time Defence Minister?
Today, Rahul Gandhi has said that surrounding oneself with women is real women empowerment. If so, then Libyan Dictator Colonel Muammar Gaddafi too empowered women?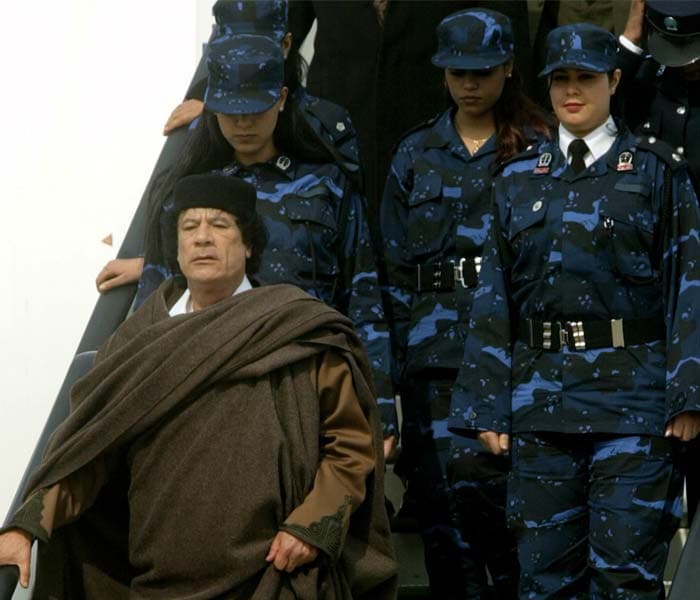 ---
Rachana