Sarcasm is the ability to insult stupid people without them realizing it…
this is a famous quote which may have to be reminded to some stupid people who cannot understand what is the difference between fact and sarcasm.
This is in reference to an article by Postcard News few days back….
Finally PM Modi has deposited Rs 15 lakhs in each and every Indian's account
This article had a very attractive headline "Finally PM Modi Deposited Rs 15 Lakh in each and every India's account" which made people read why the headline was given so! The article stated that the 15 Lakh deposition to people's account was not direct but indirect.
It explained how PM Modi with his various developmental schemes and policies has helped India save its money in every aspect. Point by point, the article describes how money going to terrorists Zakir Naik was stopped. How the surgical strike by Indian army destroyed the Pakistani terror launch pads which was causing great harm to JK and facilitated terror infiltration.
It said how demonetization destroyed the black money racket of Jammu Kashmir terrorists, separatists and naxals. How corrupts in the country lost thousands of crores and could not even complain about it. How Dawood Ibrahim lost 45,000 crores of assets after his property was seized by United Kingdom with India's intervention.
The article goes to say how the separatist activity in Jammu Kashmir was curbed by the army and all their black money source for seized which literally paralyzed all their illegal activities in the valley.
The article also says how PM Modi brought justice to Muslim women by opposing Triple Talaq and helped the petitioners win the case. How he solved the Doklam issue without letting China gain upper hand and without firing a single bullet. Any other person would have bowed down to China and jeopardized the entire Sikkim border.
The article sarcastically questioned those opposition who question on petrol price surprisingly don't talk about subsidized kerosene, wheat, sugar rates given by central government. They never realise why PM Modi requested rich people to give Up Subsidy rates on gas cylinders to help poor people. They don't understand why PM Modi promised to give free electricity to poor people?!
So, this article was meant to show how PM Modi is doing much more than what he promised to the Nation which is more worth than Rs 15 Lakh. It was  relative comparison with the previous 60 years of misrule and 3 years of Modi government.
But few people who probably do not understand sarcasm think Postcard spreads fake news on PM Modi giving Rs 15 Lakh to people.
It is sad that some of the so called leading news portals did not understand the real message of the article and called it fake.
If they say demonetization a failure, they should first answer how did PM Modi receive overwhelming support after demonetization in UP elections! They should ask why 80% people agreed that demonetization was good and this survey was conducted by their own friends in India Today. They said that 99% notes came back into system, which will only make the person pay their taxes with high interest and also came under the scrutiny of IT department. Moreover, the IT dept had clearly stated that all the money deposited in accounts will not be treated white and investigation will be conducted.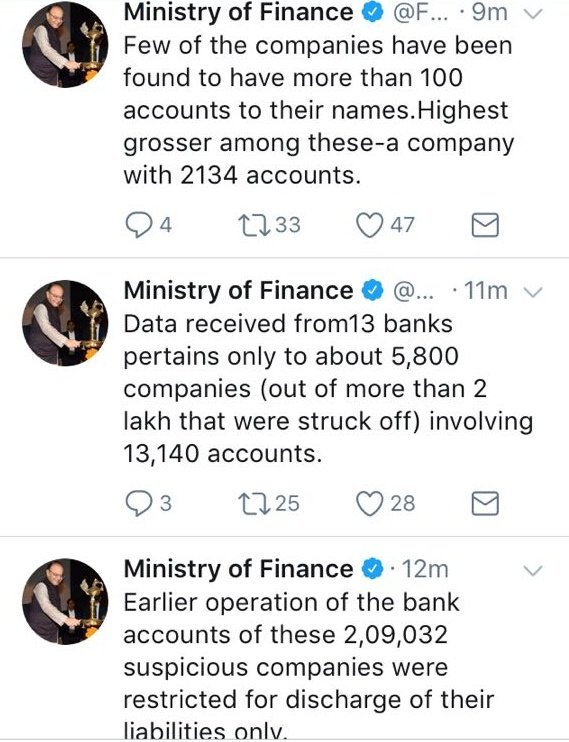 Th DailyO claims it was because of IndiaToday the NIA raided the houses of separatists. Thank God they did not claim that they run the INTELLIGENCE BUREAU of the country! NIA is an investigating agency and they know the whereabouts of terrorists better than any pseudo liberal news channel. Importantly, before IndiaToday came with their TRP oriented separatists program, the Republic and TimesNow had long back exposed the real face of separatists.
And the country well before news channels knew that separatists were playing in the hands of terrorists. So DailyO doesn't have to pat their back for their TRP hungry program.
When DailyO mocks Col Purohit and claims the only channels celebrating his bail was Modi-Friendly TV channels, should we assume the ones who were giving 24/7 coverage & support to terrorist Burhan Wani are Terrorists-Freindly Channel?!
They again mock about Sadhvi Pragya getting bail and claims "Prominent Women Activists" lamented Kid Glove treatment and called NIA caged parrot! But these people seems to have forgotten that NIA was kid of former Finance Minister Chidambaram and not BJP. Should we now ask was NIA started by Congress to create FAKE cases against Hindu outfits, to jail their political rivals and save REAL ISLAMIC Terrorists for vote banks?! And who are these prominent women activists…those who support Nirbhaya's Juvenile Rapists? those who support triple talaq? those who save naxals and Maoists? Am sorry, these are not women activists, but demons wearing a mask of women in lutyens club!!!
Supporting Rohingyas who are said to be a threat to National security itself shows what these so called liberals want! Their involvement with ISIS and Pak terror groups have been proved by NIA and IB. So keeping them in the country will no way benefit Indians and one day these same pseudo liberals may ask PM Modi to deposit Rs 15 Lakh in their account as well.
So, the fake news peddlers are not us but the so called journalists who have gained name fame just because they polish the boot of some powerful SIKULAR politician!!!
A lesson to these portals who think they are the MASTERS of journalism, writing sarcastic opinions are not FAKE news, but using innocent man's pictures to create communal violence and hatred against a religion by projecting him HINDU rioter is what is called FAKE NEWS. This shameless act was done by none other than MUMBAI MIRROR's journalist, the sister organisation of Bangalore Mirror!!
Fake news is that when Arvind Kejriwal says one ticket of Bullet train costs Rs 75,000/-, Prashant Bhushan spreading picture of some women attacked by miscreants as atrocity by UP government in BHU and top news paper calling helping volunteers as molesters during Mumbai stampede.
Ironically DailyO tag line says… "OPEN TO OPINION" which is laughable!
So before calling anyone fake, check your own history and wipe your face covered with TAR!
---
Aishwarya S