You are wrong if you think that the Ram Mandir is the dream of only the Hindus, that too "Bad Hindus" according to farrago man Shashi Tharoor. Now hundreds of leaders from nearly half a doesn't Muslim organisations have come forward demanding a Ram Mandir in Ayodhya, the home land of Lord Sri Ram.
Yes, this incident indeed took place where the prominent Muslim organisations demanded the National Commission for Minorities (NCM) to step in so that a Mandir in Ayodhya dedicated to Lord Ram would soon become a reality. This demand was so strong that the National Commission for Minorities had to even convene a meeting on 14th November.
Confirming this development, commission chairperson Syed Ghayurul Hasan Rizvi said "There was a demand from many minority organisations that the commission (NCM) should take an active stand on this. But we can't act like that. We have to act within the scope of the Constitution. But it's a fact that around four to five Muslim organisations have approached us asking us to demand that Ram Temple be allowed to be constructed at the earliest so that the inter-religious tension is eased out".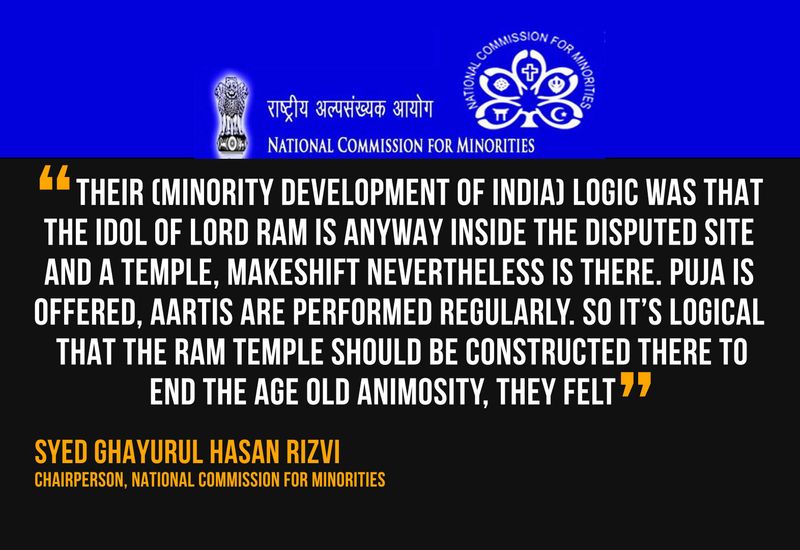 He added "Their (Minority Development of India) logic was that Lord Rama's idol is anyway inside the disputed site and a temple, albeit a makeshift one, is there. So it's logical that the Ram temple is constructed there and the age-old animosity is done away with, they felt".
This was not the first time when a Muslim organisation had backed the Ram Mandir demand in Ayodhya. Earlier, Uttar Pradesh's Shia Waqf Board's chairman Waseem Rizvi had stated "There was never a mosque on that site in Ayodhya and there can never be a mosque there. It is the birthplace of Lord Rama and only a Ram temple will be built. Sympathisers of Babar are destined to lose".
This has been like a hammer blow to the plan of the Congress party to delay the construction of Ram Mandir. According to them, if Mandir is constructed prior to the 2019 Lok Sabha elections then the BJP might sweep the Lok Sabha polls under the leadership of PM Modi. Few think that BJP might cross 300 seat mark.
Now that even the Muslim organisations are backing the Mandir demand, no one can stop the long demand of the Hindus from witnessing a grand Ram temple in Ayodhya.
This was an exclusive report from My Nation
---
Hansika Raj