West Bengal chief minister's political rivalry has reached such an extent that if any of the chief minster from the BJP ruled states pay a visit to West Bengal, then they won't even be provided with security on behalf of the state. Shocked? Yes, this is the reality of the lady who spreads red carpet to the illegal Rohingya immigrants but not to her own country mates.
The BJP had announced to carry out a three phase Rath Yatra in West Bengal and the first phase was scheduled to kick-off on December 7th. For this, from BJP chief Amit Shah to Tripura CM Biplab Deb, several top BJP leaders were said to take part. But the Rath Yatra got postponed after Mamata Banerjee's government asked court not to give permission, and is predicted to hold in the upcoming days of this month.
Now a shocking revelation has been made after the Tripura chief secretary LK Gupta complained to his West Bengal counterpart Malay Kumar De about the Mamata government's careless attitude towards ensuring the security of BJP leaders.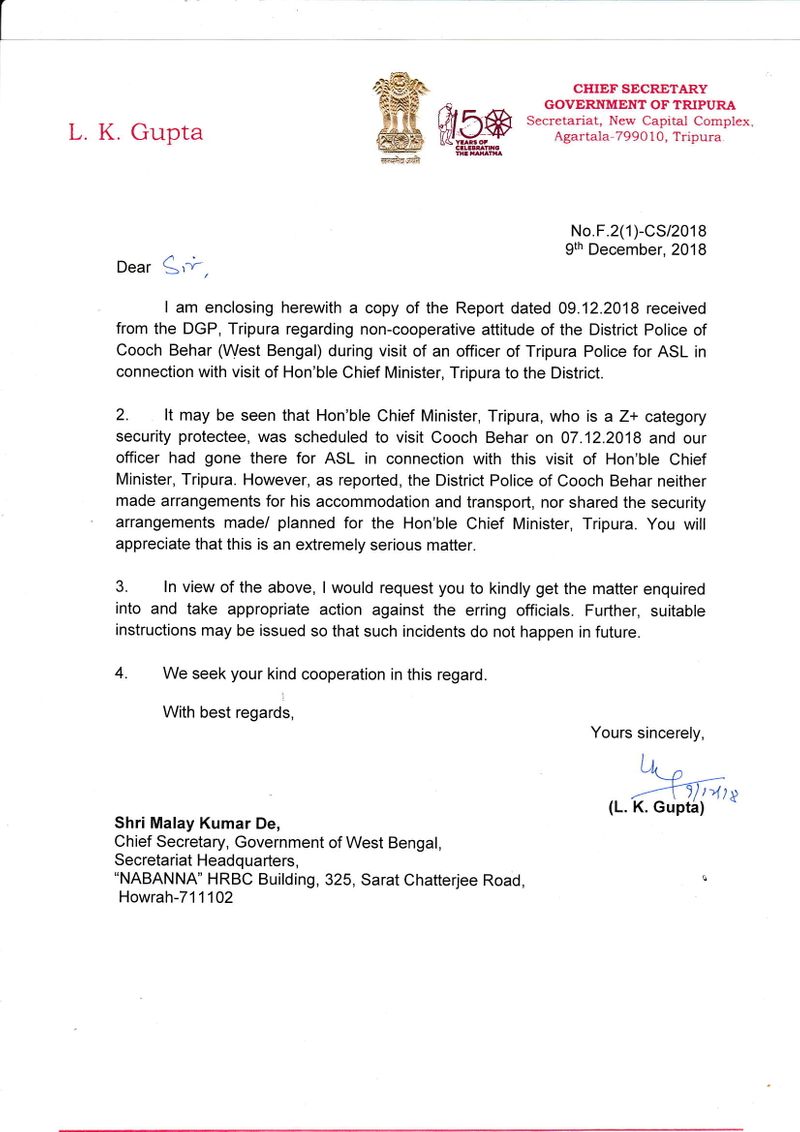 Tripura chief secretary LK Gupta had written a letter on December 9th stating "The district police of Cooch Behar neither made arrangements for his accommodation and transport, not shared the security arrangements made/planned for the Hon'ble chief minister, Tripura. You will appreciate this is an extremely serious matter".
This in indeed a serious matter and an investigation should be ordered to know whether this was done on purpose or was a lapse from the Mamata Banerjee government. Even if it was done unintentionally, the Tripura CM Biplab Dev's life was put at risk and this is unforgivable.
Note that Tripura CM Biplab Dev is a Z+ protectee and his security and accommodation had to be made 24 hours before the visit. However the fact that the Rath Yatra got postponed is secondary.
BJP's West Bengal president, Dilip Ghosh said "The Bengal officials simply refused to cooperate, stating that they don't have orders from Nabanna (state secretariat)".
This was an exclusive story by My Nation
---
Hansika Raj