With just 2 months for Karnataka elections, the Siddaramaiah government has gone full swing into appeasement politics. Today the home minister of Karnataka Ramalinga Reddy gave a press statement that all the cases against Muslim men involved in communal riots will be withdrawn. His statement has created huge controversy with people blaming the Karnataka government for appeasing Muslims before elections.
The decision to release criminals facing communal charges is a serious issue as these people will be back to their old tricks soon after they are released. Since 4 years after Siddaramaiah government came to power, there have been number of communal clashes which has resulted in the death of many people from RSS and BJP. The police had clearly stated the involvement of PFI activists in various murder case. But now Siddaramaiah government releasing these criminals will set a very bad precedent in the state.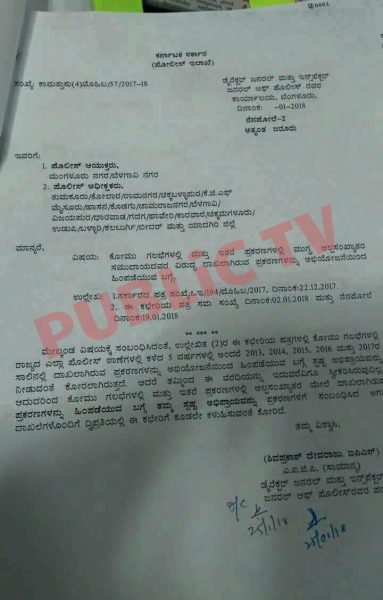 The criminals who have caused tension, riots and murders should be punished according to law, but here the Congress is all set to release them and create an unsafe environment in the state. When questioned about their decision, the Home Minister has defended themselves saying all government withdraw cases and there is nothing new. His irresponsible talk has definitely showed how these political parties use such criminals for their benefit.
Siddaramaiah Government Gives Clean Chit For Muslims In Communal Riots Cases: https://t.co/FJW3KPYb8H via @YouTube

— PublicTV (@publictvnews) January 26, 2018
Just few days back during the Mangalore violence, Siddaramaiah himself had said whether it was Hindu or Muslim, a criminal will not be spared and all actions will be taken against him. But of course his real deeds was to free Muslim criminals who are the core vote banks of the Congress party in a bid to gain their sympathy. Few months back, the Siddaramaiah government also dismissed 175 cases against PFI members involved in various anti national activities, murders and riots.
Despite NIA reports of PFI link with terror organisation, the Siddaramaiah government has given them free hand in the state.The real reason to withdraw cases against Muslims is because most of these people belong to PFI organisation. Recently Siddaramiah also met few PFI activists who had demanded the release of their men in jail. And just days after their request Siddaramaiah government has decided to release them.
This is nothing but heights of appeasements without analyzing the catastrophic effect of releasing terror supporters. Siddaramaiah has gone to an extent of protecting terrorists just like how Sonia Gandhi and Rahul Gandhi did for 10 years while they were in central government. Shameful!!!
---
Aishwarya S