When the news broke out that Sardar Patel's "Statue of Unity" will be unveiled by the Prime Minister Narendra Modi on 31st October, the self proclaimed liberals and seculars started to float strange logic on the social networking sites targeting the Modi government for construction the statue of Sardar Patel.
One of the hilarious statement of the liberals was that instead of spending over 2000 crores on the statue of unity, the money could have used at feeding the poor.
Note that the people who floated this strange logic are the same people who had shut their mouth since decades even though acres of land in the heart of Delhi is being used for memorials of Gandhi dynasty.
So at this moment, it will be wrong of us if we do not know the man behind Sardar Patel's Statue if Unity, that disturbed the sleep of loyalists of the Gandhi dynasty. Since Independence India had not done something significant to pay tribute to the man who had united India, or else which would have been split into 562 princely states.
All we did was named each and every schemes after the Gandhi dynasty. But PM Modi took up this task of paying respect to the Iron man of India by constructing his statue which would be 182 metres tall. Note that this was going to be the tallest statue in the world dedicated to India tallest leader Sardar Patel.
The man behind Sardar Patel's "Statue of Unity"!
The task of executing this project was handed over to 94 year old sculptor Ram Vanji Sutar. He had created more than 50 sculptures of Indian political leaders and now is the maker of the 182-metre (600 foot) bronze Statue of Unity. Sutar had studied over 2000 photographs to ensure that the Statue of Unity's face would resemble to that of Patel's facial feature. That's his dedication level towards his work.
Sculptor Ram Vanji Sutar is the best in the business and is the recipient of several awards. Ram Vanji Sutar had graduated from the Mumbai's JJ School of Art and had received Padma Bhushan in the year 2016. Sutar was conferred with Padma Shri in 1999 for his contributions to the arts and Tagore Award in October 2018.
Giving a brief history on his art, Sculptor Ram Vanji Sutar said "I made the first statue of Mahatma Gandhi in 1948 which was installed in a government school in Dhulia, Maharashtra, which is also my birthplace. It is 4ft tall and made of cement. Since, then, I have made over 350 statues of Mahatma Gandhi, which include a bust model, a meditation model, a walking model and one where Gandhi is walking with two children".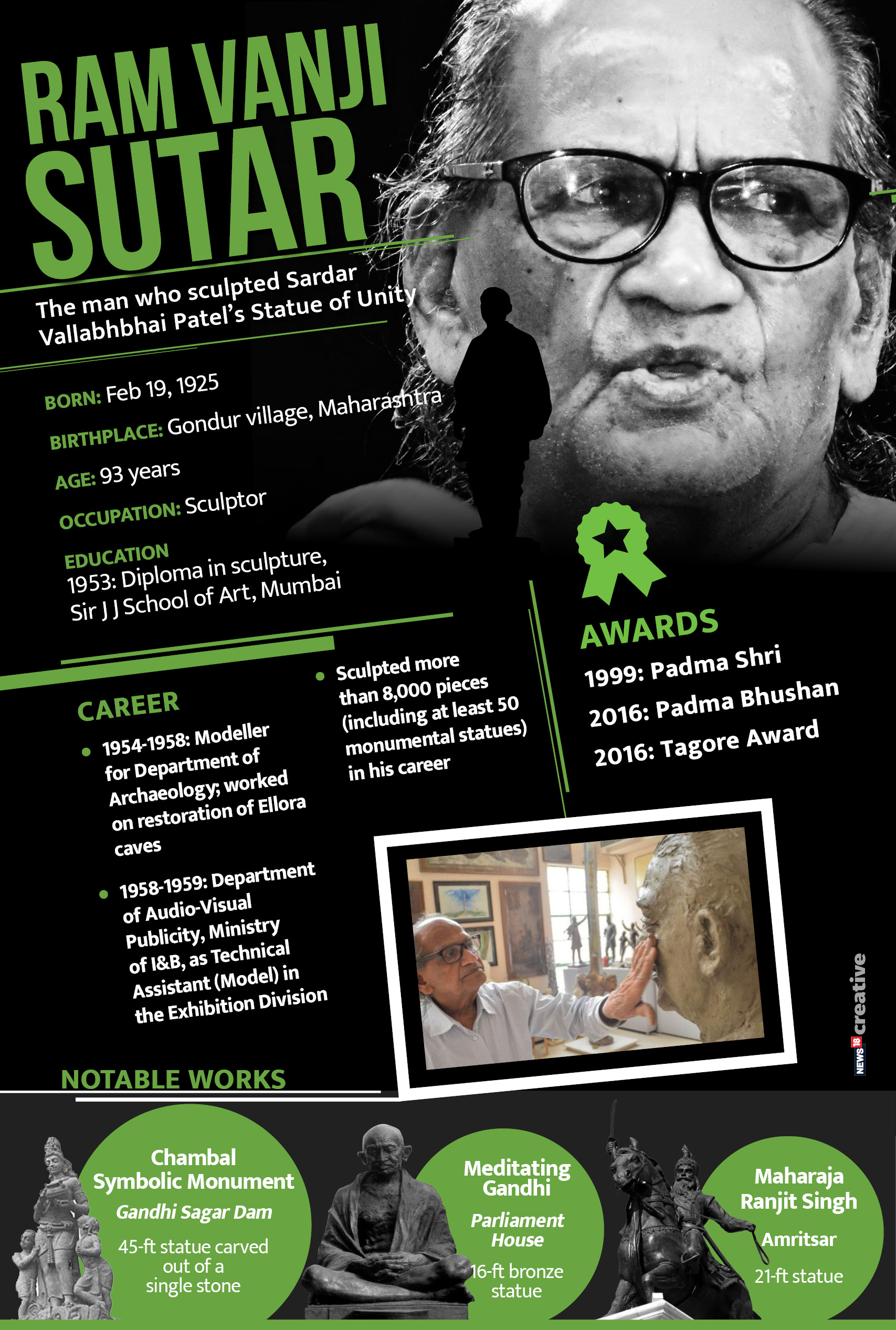 "Governments come and go but their love for statues remains. I can't even recall how many governments I have worked for to provide the sculptures of their leaders. But I do remember the story behind each sculpture I have made and why they are unique in their own way" he added.
No doubt that Sardar Patel's statue will make buzz all around the world in the coming days as it will attract a huge number of tourists.
---
Hansika Raj